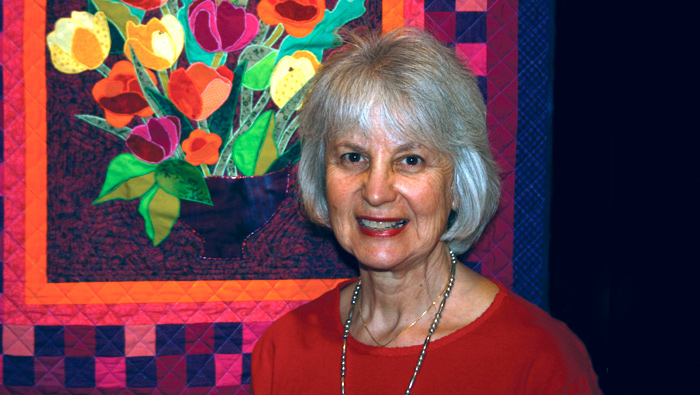 ---
Sheila Groman dreams in color and, by the looks of it, the images that float around in her head are fantastical; filled with creativity, color and design. She turns her visions into works of fiber art, also known as quilts, and has been quilting since 1974.
Art has always been an avenue for expression for Groman and talent seems to run in her family, as three of her four grandparents were tailors or seamstresses.
Sheila, who grew up in Southern California, says, "I was always surrounded by people who could do wonderful things with needles. My family excelled in stitching with an artistic bent."
As a young child, she sewed one outfit for her doll and was hooked. She eventually started taking her drawings and turning them into quilts that she made for family and friends.
With a twinkle in her eye and a huge smile, Sheila explains about her evolution in quilting. "I began quilting in my early 30s, not 1930s," she giggles. "I was self-motivated and originally used scraps from garments, curtains, clothing I had sewn for myself and my mom. My inspiration often comes from nature, as I love the beauty of nature and am inspired by it. Ideas, strangely, sometimes appear in my dreams. That is pure serendipity when it occurs."
She takes notice of her surroundings, wherever that may be and turns images she sees into works of art. Upon moving to Scottsdale in 1995 when her husband, Larry, retired, the natural beauty of Arizona began to inspire Sheila and many of her quilts feature desert landscapes.
Also, her love of Judaism has been inspirational and is splashed out with the use of rich fabrics in her fiber art. Her quilt entitled, "This Year in Jerusalem of Gold" was stolen from a museum exhibit.
Sheila explains, "It was of the famous landmarks of Jerusalem, stolen from a museum exhibit.  It had been our son's bar mitzvah gift. I created another original design of Jerusalem quilt for him to replace the stolen one. Then nine-and-a-half years later it was recovered, so there are now two Jerusalem quilts."
A busy Mom with a love for Judaism, she tried to maximize her time. While waiting for her younger son during Sunday school classes in Chestnut Hill, MA, she would design and sew.
"Judaism is important to me and I enjoy combining Jewish themes in my fiber art.  Some are: 'Children of Israel,' inspired from our Tanach, illustrating a number of symbols of Judaism; 'Festival of Lights,' which depicts the Hanukkiah all aglow on the eighth night; 'Harmony,' which is a crazy quilt philosophically illustrating important areas of my life; and 'Hexagon Star,' which is another award-winning crazy quilt of a Magen David."
Her interest in quilting and being a fiber artist has driven her to take classes with masters in her field, such as Jean Ray Laury and Jinny Beyer. She also enjoys sharing her work in a variety of capacities from donations to charitable organizations to gifts for people she loves.
"I really enjoy the excitement of designing creative pieces. Then, in a different way, I enjoy the serenity of doing creative stitchery as in my fabric embellishment on crazy quilts."  Sheila explains, "'Crazy' is a style that comes from the time of Queen Victoria. Women would use leftover scraps of material from their ornate ball gowns to create quilts. The fabrics were plush and the women would also embroider on them."
One of her crazy quilts, "Silk and Satin," is currently on display at the Phoenix Airport.  It earned 1st place ribbons at both the Vermont Quilt Festival and the Arizona Quilters Guild in 2015.
She continues, "For 10 or 15 years, my quilts have been juried into Sky Harbor art exhibits and shown in large display cases. After my first quilt was exhibited there, they contacted me, as well as a number of other artists, for submissions to their next exhibit."
Sheila shares her work in a variety of ways, both on display and by donating over 50 quilts to shelters for victims of domestic abuse for women and children, as well as to Hadassah in Lowell, MA, in Sun City West, and two for Hadassah in Phoenix. She has also donated them to the Jewish National Fund in Boston, as well to Phoenix's Jewish Family &
Children's Service.
Her works have been exhibited nationwide and awarded over 100 ribbons, including outstanding accomplishment, viewers' choice, exceptional merit and judge's choice. Her quilts are included in private collections and public buildings and have been displayed in her four museum exhibits.
Sheila has also been commissioned to create quilts for people of all walks of life: from the chancellor emeritus of Brandeis University, Dr. Abram Leon Sacher, to new mothers. Often people ask her to use specific fabrics or themes.
Later this year, in the fall of 2016, her quilts will be on display at Temple Solel in Paradise Valley. So, if your dreams are not as colorful as Sheila's, you might want to take a look and be inspired.

---
---