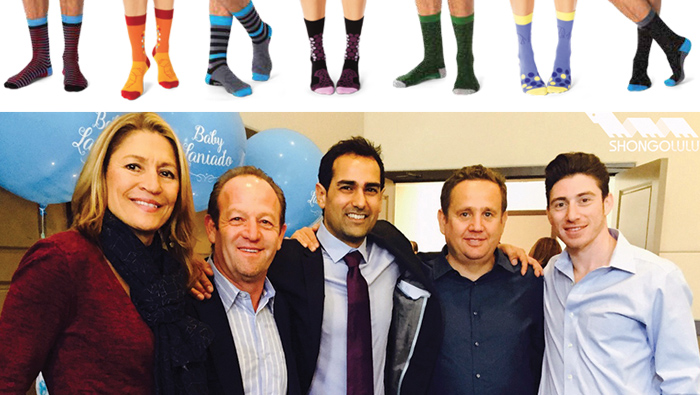 ---
It's hard to catch Oz Laniado and Adam Schechter these days. The co-founders of Shongolulu are busy spreading the word about endangered animals through fashion accessories including socks, scarves, hats and, most recently, underwear.
The vision originated during a vacation in Mexico where Oz saw a person selling bracelets on the beach with a "Save the Rhinos" message. He didn't want to purchase the bracelet, because he knew he would never wear it, but it did make him curious about rhinos, so he researched and found out about their plight, and about other endangered species like elephants and tigers.
He got to thinking about what could be made with quality, that people would actually want to wear – and if people wore it, in turn, they would expose the message. "The pilot was with shoelaces and then socks, because of the million feet marching. Socks are fun and people like socks. Socks say a lot about the person. Socks make you wild – at this point I cannot wear black socks anymore. I just can't." explains Oz. The comment "million feet marching" refers to the company's name and logo, derived from the Zulu word for millipede, "shongololo."
As explained on their website, in "The Legend of the Shongolulu" "…What appears like a simple pair of feet is actually a million feet marching together with the ultimate goal of creating coexistence between humans and animals." Adam explains further, "People will be able to show their friends and family how they are saving wildlife by wearing socks and hats and scarves that feature endangered animals. And then tell the story of this legend of Shongolulu and how it's all about the coexistence of man and animal and giving back to the environment."
Through their online sales at shongolulu.com and at community events, they are not only "saving wildlife with style," as Oz puts it, but also truly making a difference.
Shongolulu has sponsored two events, including the coordinated March Against Extinction/ Global March for Elephants and Rhinos in Los Angeles on Sept. 24. 100% of the money raised during raffle ticket sales went to their nonprofit partner, Wildlife Alliance. "When it comes to events within the community, profit is not the priority. When we are out there… it's grassroots activism, it's getting the people involved and excited and passionate about it," says Adam.
The Global March for Elephants and Rhinos happens every year in 130 cities around the world. Adam's goal for the future is, "to become a national sponsor of the march and be in cities all over the country; to make it a big event that draws hundreds of thousands of people, who will become more active in their community and stand up for endangered animals and the environment."
Their decision to partner with Wildlife Alliance stems from the fact that they are a "nonprofit organization doing most of their work out of Cambodia and Southeast Asia, protecting animals and habitats there," states Adam. Oz adds, "They are fighting against the illegal trade of animal parts and ivory. They actually have an army on the ground fighting against poachers."
One goal for Shongolulu that Oz has is, "to open a production facility in South Africa to create jobs for the local people there. When you provide jobs, you start a movement, you reduce the amount of poachers. People will have other places to work. If you offer good working conditions, they can avoid the need to hunt."
Oz also shares a darker consequence of the illegal animal trade – terrorism. "Thirty percent of the Boko Haram in Africa get their money from the illegal trade of ivory or animal parts, so it is [also] supporting that horrible mission," he says.
Shongolulu provides the ability to get involved with the cause effortlessly, "Without you paying attention, even. You are going to buy [the accessories] because it is the best product in the market, [therefore] you are going to get involved because you love the product," Says Oz. "What's leading me personally to this project, as the most dominant species on our planet, it is our privilege, but also our responsibility, to take care of the others; tikkun olam, in a way."
"When you ask where I see Shongolulu going," shares Adam, "my first vision is that we will have nonprofit partners on every continent around the world, so when we talk about our efforts to save endangered species worldwide, we can actually make that kind of impact."  He would also like to see, at the Global March for Elephants and Rhinos, "500,000 people wearing our socks so that our catch phrase of 'a million feet marching' is actually a reality."
You can "save wildlife with style" by shopping at shongolulu.com. Ten percent of every online sale goes to Wildlife Alliance (wildlifealliance.org).

---
---