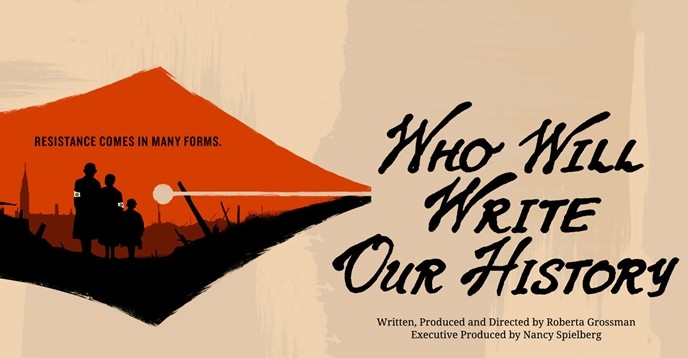 ---
This Sunday, January 27, UNESCO headquarters in Paris, France, and over 350 venues in 55 countries, will host an unprecedented screening of Director Roberta Grossman and Executive Producer Nancy Spielberg's award-winning documentary Who Will Write Our History and concurrent Facebook Live events.
The International screening events and Facebook Live, orchestrated by Abramorama, and with the support of UNESCO, the World Jewish Congress' #WeRemember initiative and multiple major partner organizations, takes place on International Holocaust Remembrance Day, and comes at a time of rising anti-Semitism, anti-Semitic attacks, and increasing concerns that the lessons of the Holocaust are quickly being forgotten.
In Arizona, the film will be shown at noon at The Loft Cinema, 3233 E. Speedway Blvd.,
Tucson and at 1 pm at Temple Solel, 6805 E. McDonald Dr., Paradise Valley.
In November 1940, days after the Nazis sealed 450,000 Jews in the Warsaw Ghetto, a secret band of journalists, scholars and community leaders decided to fight back. Led by historian Emanuel Ringelblum and known by the code name Oyneg Shabes, this clandestine group vowed to defeat Nazi lies and propaganda not with guns or fists but with pen and paper. Now, for the first time, their story is told in the documentary featuring the voices of three-time Academy Award® nominee Joan Allen and Academy Award® winner Adrian Brody. Written, produced and directed by Roberta Grossman, based upon the book Who Will Write Our History? by Samuel D. Kassow, and executive produced by Nancy Spielberg, Who Will Write Our History mixes the writings of the Oyneg Shabes archive with new interviews, rarely seen footage, and stunning dramatizations (shot on location in Lodz and Warsaw, Poland) to transport us inside the Ghetto and the lives of these courageous resistance fighters. They defied their murderous enemy with the ultimate weapon – the truth – and risked everything so that their archive would survive the war, even if they did not.
Watch the Trailer Now (Click Here to View)
"When we started production on the film seven years ago, we had no idea it would be released at a time when nationalism would be rearing its dangerous head, that refugees would be increasingly subject to demonization, or that anti-Semitism and Holocaust denial would be ascendant. Our film tells the story of people who were literally willing to risk their lives for the truth. And their story is resonating strongly in light of the recent murders of journalists and the general denigration of journalism and of the truth itself," said director Roberta Grossman.
Abramorama Chief Operating Officer Karol Martesko-Fenster added, "We are honored to be working with UNESCO, our Facebook Live broadcast team, the Al and Gayle Berg Family Foundation, and our many major event partners who have come together to enable this groundbreaking event on the 74th anniversary of the liberation of the Auschwitz concentration camp. Underscoring the global aspect of the event, we are pleased to be screening the film in English, Polish, French, German, Italian, Spanish, Hungarian, Czech, Romanian, Portuguese, Hebrew, and Russian as well as closed captioned versions."
The WHO WILL WRITE OUR HISTORY / UNESCO film screening and Facebook Live broadcast will begin at 18:30 (6:30 pm) PARIS time / 12:30 pm EST / 9:30 am PST and will include a three-part Facebook LIVE event simultaneously streaming in English, French and Polish.
Abramorama's Susan Jacobs is producing the event in Paris with George Barnes, the leading Facebook Live content creator, directing the multicamera live streams and remote interconnects along with the custom Facebook LIVE interstitial content.
12:30 PM EST – Part 1 – A livestream broadcast of the UNESCO memorial ceremony with UNESCO Director-General Audrey Azoulay, Shoah de la Memorial President Eric de Rothschild, and a Kaddish and El Male Rachamim lead by Chief Rabbi Olivier Kaufmann.
1:00 PM EST – The UNESCO anchor screening of Who Will Write Our History, starts at 19:00 (7:00 pm) Paris time and many of the screenings around the globe will begin concurrently.  As part of the Facebook Live broadcast we will have a 40-minute interstitial program (Part 2), during the screening of the film in Paris, that will be available exclusively to a global audience on Facebook.
1:20 PM EST – Part 2 – A Facebook Live one-on-one conversation with the film's director Roberta Grossman and executive producer Nancy Spielberg and special guests taking questions from the global Facebook audience. Additional content provided by a number of our partners will include: clips and outtakes from the film, content from the #WeRemember live broadcast from Auschwitz-Birkenau, and Holocaust survivor statements.
2:40 PM EST – Part 3 – A Facebook Live post-screening panel discussion and Q & A including Roberta Grossman, Nancy Spielberg, and Samuel D. Kassow moderated by Dr. Stephen D. Smith, Executive Director of the USC Shoah Foundation.  The post-screening Facebook Live will include: remote live questions from Washington, D.C. (United States Holocaust Memorial Museum), Los Angeles (Museum of Tolerance), Warsaw (Jewish Historical Institute), and audience members in Paris (UNESCO), a special greeting from the Auschwitz Memorial Museum Director, original video content about the Oyneg Shabes archive, remote statements from holocaust survivors, and more.
The most updated Facebook Live event info will be at www.whowillwriteourhistory.com/fblive and the Facebook Live broadcasts will be available at the abovementioned times on the pages below:
In ENGLISH: www.facebook.com/whowillwriteourhistory/
In FRENCH: www.facebook.com/UNESCOfr/
In POLISH:   www.facebook.com/jewishmuseum/ 

---
---