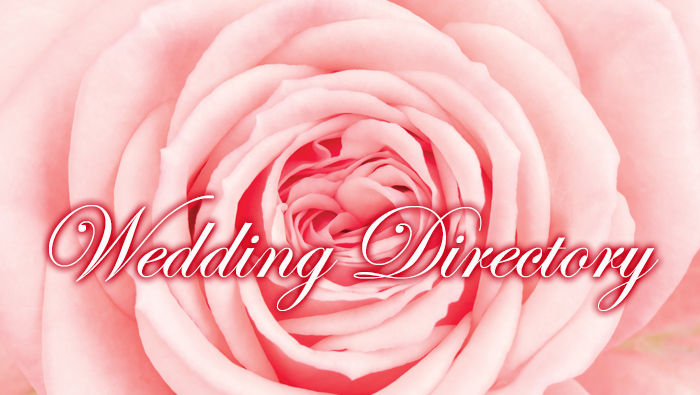 ---
BRIDAL AND FORMALWEAR
Laurie's Bridal and Formal
14891 N Northsight Blvd. #130, Scottsdale
480-699-3973 • lauriesbridal.com
We are a family-owned and operated bridal boutique, featuring hand-picked bridal gowns that offer limited distribution or are exclusive to Laurie's Bridal. We also offer a large variety of bridal, bridesmaids, mother of the wedding, prom and bar/bat mitzvah dresses, all at affordable prices.
CATERING
Chompie's
Five Valley locations
480-348-CATR (2287) • chompies.com
Chompie's Catering considers its service to be just as important as the food! With a dedicated team who will oversee all of your catering needs. Whether it's for 10 or 10,000 guests, we have the perfect catering packages for your special event. You can always count on Chompie's Custom Catering service!
GIFTS
Cosanti Originals, Inc.
6433 E Doubletree Ranch Road,
Paradise Valley
480-948-6145 • cosanti.com
Soleri Windbells, by the late Paolo Soleri, are perfect gifts. Every time they ring, their sound reminds the recipient of the occasion for which they were presented. Imagine the everlasting impression left by either the "Bride & Groom" or "Lovebirds" wedding bell models that Paolo Soleri designed to commemorate weddings!
Mazel Tov Gifts
10211 N Scottsdale Road, Scottsdale
480-922-0250
Offers a unique selection of gifts including Jewish ritual, holiday, wedding, bar/bat mitzvah, tallitot, kippot, hostess gifts, mezuzot, Jewish books, mah jongg items, children's games and toys. Items from Israel include jewelry, art and Judaica. Large selection of ketubot, wedding glasses, yarmulkes and wedding gifts.
HOME FURNISHINGS
Buffalo Collection
7044 E Fifth Ave., Scottsdale
480-946-3903 • buffalocollection.com
We offer the world's finest genuine American Buffalo leather furniture. Visit us to experience our unique pieces of luxurious furniture including sofas, loveseats, chairs, ottomans and antiques, along with our beautiful array of home furnishings such as pillows, tables, lighting and more! Specializing in custom orders.
MATCHMAKER
My Top Matchmaker
602-616-0026 • mytopmatchmaker.com/about-scottsdale
Karen Stein draws on her extensive background as a casting director and talent agency owner to help you find your perfect match. She verifies and screens her profiles for accuracy and introductions are done without the use of computer software. Let Karen put her magical intuition at work to be the conduit to true romance between kindred spirits. Book your free consultation today!
PHOTOGRAPHY
Molho Photography
111 E Dunlap Ave. #290, Phoenix
602-758-1621 • molhophotography.com
Pinina and Yaakov Molho are the two photographers at Molho Photography. They have earned the trust of many, capturing special moments from weddings, bar/bat mitzvahs, family photo sessions, business events and even pet photography. Their work can be seen in galleries on their website.
VENUES
Arizona Jewish Historical Society
Cutler-Plotkin Jewish Heritage Center
122 E Culver St., Phoenix
602-241-7870 • azjhs.org
Beautifully restored historic venue is available for weddings, b'nai mitzvah and celebrations. Open to people of all faiths. Main hall has original hardwood floors and 10-foot arched windows; also a museum gallery and lovely outdoor garden terrace.
ASU Kerr Cultural Center
6110 N Scottsdale Road, Scottsdale
480-596-2660 • asukerr.com
ASU Kerr Cultural center is a one-of-a-kind historic wedding location in Scottsdale. Affordable elegance and flexibility with catering and bar have made Kerr a rental event leader in the Valley. Kerr, a performing arts venue, offers top-notch sound and lighting services that give your event a creative, memorable edge!
Mesa Arts Center
One E Main St., Mesa
480-644-6500 • mesaartscenter.com
Mesa Arts Center offers a variety of beautiful and unique settings for your wedding event or reception. With venues ranging from casual to contemporary, we can create a memorable experience for you and your guests.
Musical Instrument Museum
4725 E Mayo Blvd., Phoenix
480-478-6000 • mim.org/exhibits/host-your-event
As a premier event destination, MIM offers a variety of options that can harmonize with any occasion. The versatility of the space, combined with its stylish architecture, high level of comfort and distinctive setting, provides the perfect blend of beauty, creativity and functionality for events of varying shapes and sizes.
Phoenix Zoo
455 N Galvin Parkway, Phoenix
602-914-4301 • phoenixzoo.org
From lush, tropical settings to the beauty of the Sonoran Desert, the Phoenix Zoo offers 15 distinct indoor and outdoor venues that welcome large formal ceremonies and receptions, smaller, more intimate affairs and everything in between. Your forever starts here.
Pollack Chabad Center for Jewish Life
875 N McClintock Dr., Chandler
480-855-4333 • chabadcenter.com
The Pollack Chabad Center event hall will fulfill your desires and exceed your expectations. Classic charm and unique architecture provide an elegant setting for your special day. With a fully-kosher prep kitchen, exquisite chuppah area and the grand ballroom, our venue will make your occasion an unforgettable experience.
Talking Stick Resort
9800 E Talking Stick Way, Scottsdale
480-850-7777 • talkingstickresort.com
From intimate bridal showers and bachelor party poker tournaments to unforgettable ceremonies and lavish wedding receptions, Talking Stick Resort offers the perfect backdrop for any wedding. Guests enjoy luxurious rooms, a rejuvenating open-air spa, five restaurants (including the award-winning Orange Sky), live entertainment, two pools plus the hottest casino gaming.
The Orchard Phx
7100 N 12th St., Phoenix
602-633-2600 • pomelophx.com
Stop your search for the perfect venue! The Orchard Phx is perfect whether you are looking to host a company event, birthday party, bridal shower or wedding – we do it all!
Tucson Jewish Community Center
3800 E River Road, Tucson
520-299-3000 • tucsonjcc.org
The Tucson J offers several unique indoor and outdoor spaces for you to create your special event. Whether you are looking for meeting/conference space, organizing a wedding, proms or birthday, we can help you customize a seamless, memorable event. We are open to all faiths.

---
---