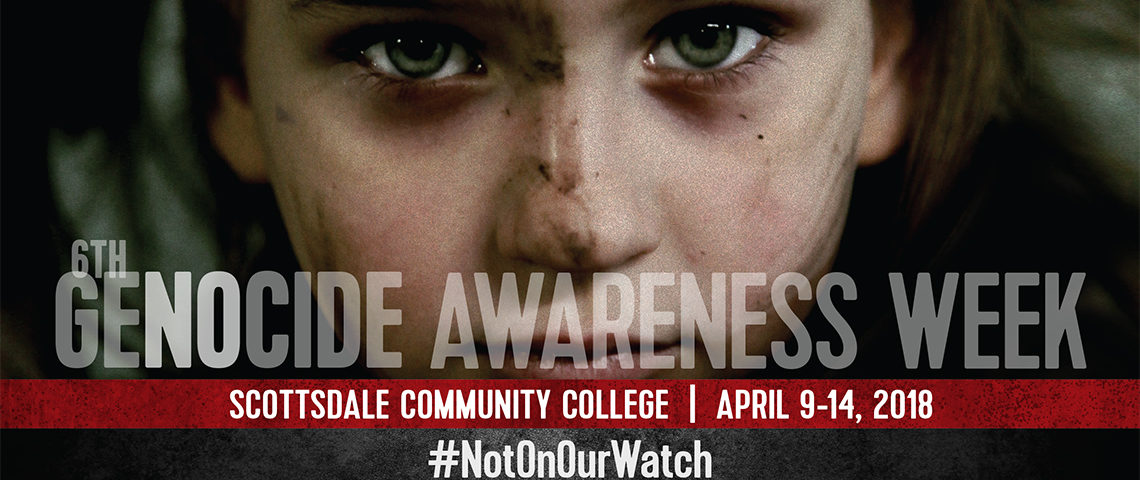 ---
Genocide Awareness Week, April 9-14, is a series of lectures, exhibits and storytelling by distinguished survivors, scholars, politicians, activists, artists, humanitarians and members of law enforcement. This week-long event seeks to address how we, as a global society, confront violent actions and current and ongoing threats of genocide throughout the world, while also looking to the past for guidance and to honor those affected by genocide.
Throughout the week, topics covered include Respect and Tolerance in Modern Society, The Armenian Genocide, Cultural Genocide of Indigenous Peoples in the 21st Century, Post-Traumatic Stress Disorder and Post-Traumatic Growth, Italian Jewry During WWII, The Looting of Artworks as a Means of Genocide and many more.
Genocide Awareness Week is hosted by Scottsdale Community College at 9000 E. Chaparral Road in Scottsdale and sponsored in part by local and national organizations. This event is free and open to the public.
In addition to the presentations, there are other events being held in conjunction with Genocide Awareness Week. These include a community kick-off event, special exhibits on display and a memorial service.
COMMUNITY KICK-OFF EVENT
The Children of Willesden Lane
April 4 at 7 pm
Scottsdale Center for the Performing Arts, 7380 E. Second St., Scottsdale
In 1938, Lisa Jura, a young Jewish girl in Vienna, dreamed she would become a concert pianist. Her dreams were shattered when German troops took over her homeland. She became a refugee, one of 10,000 children brought to England before World War II as part of Kindertransport – a mission to rescue children threatened by Nazis. Concert pianist Mona Golabek, Lisa Jura's daughter, will perform her mother's story, The Children of Willesden Lane, in a stage performance.
This concert is the opening event of Scottsdale Community College's Genocide Awareness Week. Leading up to the performance, Phoenix Holocaust Survivors' Association and its Generations After the program, in conjunction with the United States Holocaust Memorial Museum, are sponsoring Willesden Read and providing 2,500 copies of Mona's book to area schools.
Theater-goers are invited to a dessert reception after the show when they will view the Holocaust artwork of local artist Robert Sutz.
Tickets are $20 and $40. For more information, visit Maricopa.edu/GAW-Event
SPECIAL EXHIBITS
There are several exhibits on display during, and continuing after, the event:
Then They Came for Us… (March 1-April 30)
Student Center Lobby
Provided by the East Valley Jewish Community Center and Center for Holocaust Education and Human Dignity, this exhibit explores three distinct events – the Holocaust, the treatment of Black people in Europe, and the domestic struggle for civil rights.
Who Am I? Young Minds Forced to Choose (April 1-30)
Student Center Lobby
Created by the Arnold-Liebster Foundation, "Who Am I?" drops viewers into a firsthand experience of young Jehovah's Witnesses who suffered because they refused to accept Nazism and explores the difficult questions they had to answer.
We Remember: The Holocaust Art of Robert Sutz (April 9-14)
Turquoise Room, Student Center
Award-winning fine artist Robert Sutz presents a collection of likenesses of Holocaust survivors and a way for future generations to connect with the faces and experiences of those who survived the atrocities of the past.
Before I Die Wall (April 9-14)
East Patio Student Center
The wall poses a simple question: What do you want to do before you die? Over 2,000 chalkboard walls have been created in more than 70 countries and more than 35 languages, inviting viewers to connect with profound personal truths about what is really important.
GENOCIDE MEMORIAL SERVICE
There will be a memorial service held at the Scottsdale Community College Genocide Memorial on Aril 24 at 9 am. The memorial is located in the center of campus near the SL Building.
For more information, contact John Liffiton at 480-423-6447 or john.liffiton@scottsdalecc.edu. For the schedule and entire list of presenters, visit scottsdalecc.edu/genocide.

---
---