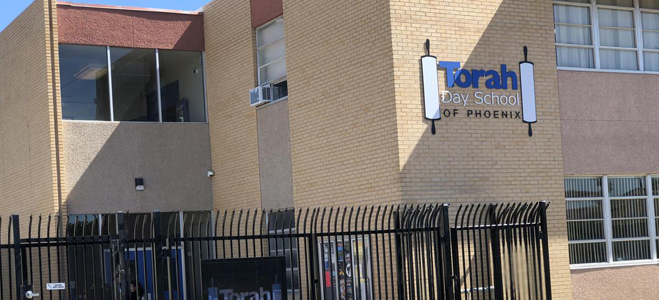 ---
Pictured above: Torah Day School
The Arizona Community Foundation and its donors announced grant, scholarship and loan distributions for the second quarter of its fiscal year. Between July 1 and September 30, 2018, a total of $15,761,526 was awarded from funds of the Arizona Community Foundation and its six statewide Affiliates in Cochise, Flagstaff, the Gila Valley, Sedona, Yavapai County and Yuma.
Funds totaling $15,355,526 in both discretionary and advised grants and scholarships were awarded in five strategic priority areas:  Health Innovations, Community Improvement & Development, Environment & Sustainability, Arts & Culture, and Quality Education.
In health innovations a total of $3.9 million was awarded to 482 organizations and programs in the areas of health, health care, medical research and a variety of human services. Among the distributions for the quarter were $80,000 in general support for First Place Arizona from the Bidwill Family Foundation.
Through its Community Impact Loan Fund,the Arizona Community Foundation will invest an additional $406,000 in loan funding to the Torah Day School. The loan – the second Community Impact Loan approved for Torah Day School – will be used to expand their capacity and reach more students at their current location. Five pre-owned modular buildings will be purchased to serve as additional classroom space and education research rooms for the school.
ACF has emerged as a national leader in impact investing through the creation of the Community Impact Loan Fund. This charitable vehicle works alongside traditional grant-making accomplishing two important goals: producing measurable social impact; and building resources for future investing. Working together with a variety of capital partners, grant-makers, and nonprofit leaders, the multi-million-dollar Community Impact Loan Fund produces capital solutions that are more robust than grants alone.
Excerpted from an article on Arizona Community Foundation's website. Read the article in its entirety here.

---
---