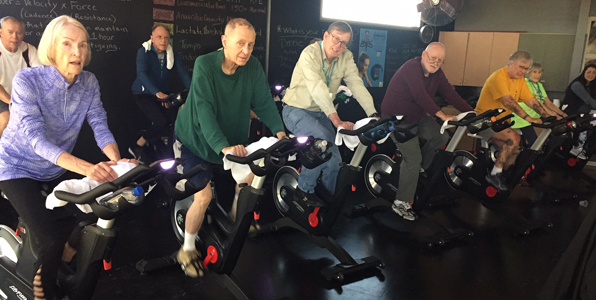 ---
Pictured above: Seniors work out at Rick German's cycle class at The J.
According to the Parkinson's Foundation's website, nearly 1 million people will be living with Parkinson's disease in the United States by the year 2020. Approximately 60,000 Americans are diagnosed with PD each year.
Parkinson's is a progressive neurological disease that affects a small area of nerve cells (neurons) in the brain. These cells usually produce dopamine, a chemical that transmits signals between areas in the brain that, when working normally, coordinate smooth and balanced muscle movement. PD causes these nerve cells to die and as a result, body movements are affected.
In Phoenix, the Muhammad Ali Parkinson Center, which is a Parkinson's Foundation Center of Excellence, is located at Barrow Neurological Institute. It  offers PD patients the best in clinical care, research, rehabilitation, education and support.
A partner of the Muhammad Ali Parkinson Center is The Harold and Jean Grossman Parkinson's Program at The J in Scottsdale. Classes offered through this program help those with Parkinson's improve functional movement through tailored exercises that target motor and nonmotor PD symptoms.
Lynn Staub, who started the program in 2016, is excited for the growth of the Parkinson's program in 2019, and says the generosity of the Grossmans has made that growth possible.
The J has been able to add classes to their PWR! Moves 1 & 2 program. PWR stands for Parkinson's Wellness and Recovery. The classes are research-based, integrated exercise and wellness programs designed to optimize the brain's neuroplasticity. Dr. Becky Farley, a neuroscientist and physical therapist in Tucson, developed the PWR! program and Lynn trained under her.
In 2018, the J added Parkinson's Boxing and Parkinson's Cycling to the class selection.
"Boxing benefits Parkinson's because of all the work with patterns in boxing," says Lynn. "It challenges their cognitive ability, and whenever there is cross-body movement through the mid-section, there is scientific research that shows that there is a change in the brain."
Cycling also has a beneficial effect. "What cycling does for Parkinson's is that it awakens areas of the brain affected by PD while strengthening the lower body and it improves motor skills," says Lynn. "Medical research has also shown that there's a temporary relief of Parkinson's symptoms directly after cycling."
Lynn says that their cycling class usually has about 12 participants and the boxing is capped at 10. Every class they offer has two instructors. "We are able to really work with our participants because of the ratio," she says.
The J will host a Parkinson's Wellness Day on April 18 (see sidebar). "Everyone is invited," says Lynn. "The participants bring their spouses and caregivers and everyone participates. A lot of times that can be the first introduction to the program."
For more information, contact 480-481-7018 or healthandfitness@vosjcc.org.
The Harold and Jean Grossman Parkinson's Day at The J
When: Thursday, April 18 starting at 9:30 am
Where: The J, 12701 N. Scottsdale Road, Scottsdale
What: Come dressed for exercise and fun! There will be a light breakfast, talks by Dr. Charles Adler and Dr. Padma Mahant and a PWR!Circuit workout.
Free, but registration required. To register, contact 877-728-5414. For more information, contact Megan Montgomery at meganm@vosjcc.org or 480-481-1756.

---
---