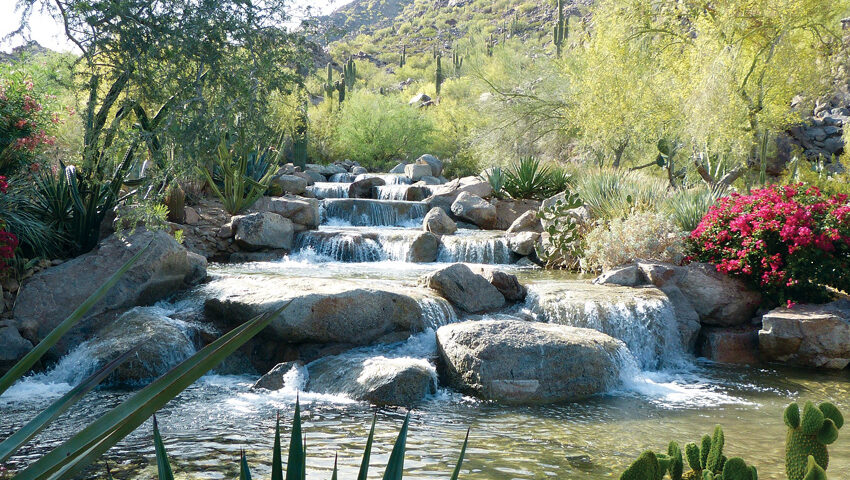 ---
A gorgeous waterfall greeted me as it cascaded down from a mountain filled with saguaro cacti. The water was mesmerizing. I shook my head in disbelief, not only at the beauty but also at the location. No standing in airport lines, no invasive and uncomfortable pat downs – only a smiling, happy person to greet me at the entrance.
I was embarking on a staycation at the Canyon Suites, an exclusive 60-room boutique hotel located at The Phoenician, Arizona's only Forbes Five Star/AAA Five Diamond hotel.
The warm welcome was extended not only with a smile but with chocolate prepared by the executive chef. The five-star treatment continued throughout out the weekend with a therapeutic bath, turndown service, and in room coffee and tea service. In the evening, an "Hour of Joy" during which complimentary wines and small plates from a new region each month are presented to guests.
The Canyon Suites presents the best of all worlds, a boutique hotel with hypoallergenic rooms, a dog-friendly program and the use of all the amenities of the Phoenician hotel, from the spa to the swimming pool and slide.
We took advantage of the amazing amenities and even enjoyed a meal at Il Terrazzo, the Phoenician's award-winning Italian restaurant, for dinner one evening. Sunday morning the food festival continued with a scrumptious brunch at the hotel. The relaxation was ongoing as we chilled out in the swimming pool after a sleep-inducing meditation class.
While it is always sad when a vacation ends, the best part is we left relaxed, happy and ready to tackle the 20-minute journey home.
Another fantastic hotel worth enjoying is the Four Seasons Resort in Scottsdale. Walk into the lobby, and the vacation sensation sinks in immediately – and the views are beautiful.
As a treat for the locals, rates are reduced in summer and staycation opportunities include a "Kids for All Seasons" program, which features a variety of daily programming. The entire family can head to the pool for complimentary "Dive-In" movies, running every Saturday night through the summer.
The resort also has a summer spa happy hour where guests can choose two 25-minute mini services for the special rate of $129, or three mini services for $179. Or try your hand at "Chef for a Day," where you spend an evening with Mel, the resort's executive chef, and plan a special meal and receive a personalized, signed menu and a chef's jacket embroidered with your name and the Four Seasons logo. The experience concludes with a private dinner in Talavera, the resort's signature steakhouse.
Finally, if you are looking for a little romance on your staycation, try the Celestial Picnic, where you dine with a picnic basket under the stars with a bottle of champagne or wine and listen to an astronomer pointing out the highlights of the Milky Way.
If you are looking for a little more excitement on your staycation and want endless choices of food without leaving the property, check out the Talking Stick Resort. It has more than 400 guest rooms, 12 restaurants and lounges, four pools and a spa. And then there's the enormous casino with more than 700 slot machines, blackjack, keno and three-card poker. This summer the resort also features its Summer Concert Series. Bands include The Steve Miller Band, 311 and Whitesnake. They will perform at the resort's pool stage, which accommodates up to 4,500 fans.
Now if staying at a resort isn't in the cards, despite the summer heat there are a few places that are pretty cool and indoors!
The Musical Instruments Museum displays more than 6,000 instruments at a time, which have been collected from about 200 of the world's countries and territories. Walking through the halls is like traveling throughout the world, because most displays are enhanced by state-of-the-art audio and video technologies allowing you to see the instrument, hear their sounds and observe them being played in their original locations.
It's even an interactive museum as visitors can check out their musical abilities and play instruments from around the world in the Experience Gallery.
This spectacular museum also caters to the contemporary music lover, where visitors can see instruments from music legends such as John Lennon, Taylor Swift, Elvis Presley and Carlos Santana to name a few.
Another wonderful, living exhibit to spend time in this summer is Butterfly Wonderland. This highly innovative, indoor rainforest environment features the largest butterfly pavilion in the United States.
After viewing a 3D movie, which will delight, visitors walk into a 10,000-foot lush rainforest environment filled with thousands of floating, colorful butterflies, sure to induce a smile. There are lots of tropical plants, waterfalls, a koi pond and many locations to take fabulous photos.
The butterflies inside the conservatory are imported from butterfly farmers from exotic locations such as Costa Rica, Malaysia, Ecuador, Thailand and the Philippines.
A great way to heat up your summer while you chill out is to investigate The Hall of Flame Fire Museum and the National Firefighting Hall of Heroes located in Phoenix.
The air-conditioned museum comprises fire history exhibits, hosting more than 70 fully restored pieces of fire apparatus that date from 1725 to 1969. Most of the exhibits are American, but there are also items from England, France, Austria, Germany and Japan.
The Hall of Flame sponsors the National Firefighting Hall of Heroes, which honors firefighters who have died in the line of duty or who have been decorated for heroism. There is also a gallery dedicated to the history of wild-land firefighting in the United States.
The museum contains a wide variety of engines, ladder wagons, parade carriages, hose wagons an aerial ladder wagon and steam-powered engines. Also on exhibit are lithographs, engravings, prints and paintings. There is a fine display of more than 100 insurance fire marks from all over the world.
It's a historical museum with interactive components that make it both an educational and experiential place to take the whole family for an afternoon of fun.
Finally, if being outdoors is the best way to cool down, check out Big Surf. The waterpark has been around since 1969 and is filled with 2.5 million gallons of water. As well as a place to enjoy the water, it has been a destination for many concerts from musicians such as Pink Floyd, Elton John, the Red Hot Chili Peppers, the Beach Boys, Chicago, Sting and Rod Stewart.
There are slides for all ages – more than 3,000 feet to slip, slide and slosh on. For the little ones there are smaller slides; daredevil kids' need for speed will be satisfied as they zoom down much larger slides.
Visitors can rent rafts, boogie boards and surfboards. Big Surf caters to groups and birthday parties, and if you buy online you can save 10%. Enjoy your summer. Surf's up!
Masada Siegel is an award-winning journalist and photographer. Follow her on Facebook or on twitter @masadasiegel.

---
---