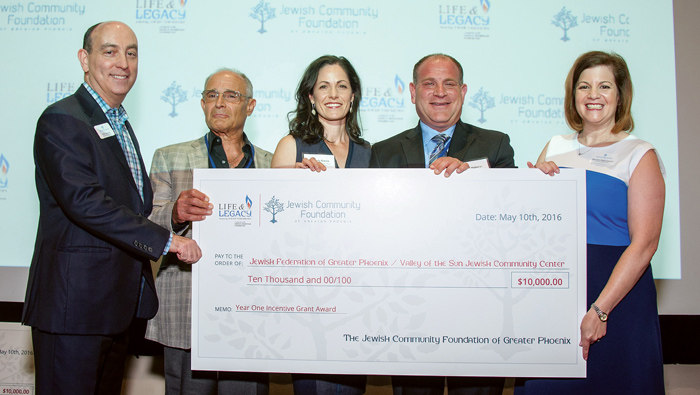 ---
It's been a busy year for the Jewish Community Foundation of Greater Phoenix, so they're gearing up to celebrate. In the first year of its Life & Legacy program, the foundation and its 12 community partners exceeded their goal and secured 347 legacy commitments, totaling an estimated $17.2 million, to support local Jewish organizations.
"I think the numbers speak for themselves," says Jewish Community Foundation President and CEO Richard Kasper. "Although we've had plenty of success in the past, numbers like this have not ever really been achieved in this community in a single year. And with respect to creating a culture change, we've heard that from the participating organizations. There's no doubt that this program has been successful."
Life & Legacy is a partnership program of the Harold Grinspoon Foundation, which focuses on securing end-of-lifetime gifts that will be held at the foundation as permanent endowments to benefit the designated organizations.
"We saw this as an opportunity to approach the entire community collectively and do something that we thought could have the potential to make some change across our philanthropic community in Greater Phoenix, with the idea that the teams would be working together and supporting one another and also helping us really build a culture of giving, particularly end-of-lifetime giving, in our local Jewish community," says Richard.
On Sept. 22 JCF will host a cocktail celebration for the organizations participating in the Life & Legacy program, their volunteers, donors who signed declarations of commitment and signers of the Endowment Book of Life. Amy Hirshberg Lederman – author, columnist for Arizona Jewish Life magazine and staunch advocate for legacy giving and philanthropy – will give the keynote presentation.
"It's really to celebrate our wonderful success and the wonderful commitment to ensure the future and vitality of our own community," says Life & Legacy Program Director Rachel Rabinovich.
The baseline goal for each organization was to secure at least 18 legacy commitments, with a stretch goal of 25 each. In the end, each of the partners secured 25 or more commitments and were rewarded with a $10,000 unrestricted incentive grant at a private luncheon in May.
As the second half of the two-year Life & Legacy program gets underway, the foundation is focused on not just meeting its goal of garnering 600 commitments, but also achieving 100% formalization of those commitments through signed gift completion forms. At the time of publication, the total number of commitments was up to 385 with 146 formalized gifts.
Rachel says that this represents a significant change as well. "People are not just saying they're going to do it," she notes. They're actually taking the steps to finalize their legacy gift, so that all of the documentation is in place.
The 12 Life & Legacy community partners are Arizona Jewish Historical Society, Congregation Or Tzion, East Valley Jewish Community Center, Hillel at Arizona State University, Jewish Family & Children's Service, Jewish Federation & Valley of the Sun Jewish Community Center, Jewish Free Loan, Jewish Genetic Diseases Center of Greater Phoenix, Pardes Jewish Day School, Temple Chai, Temple Emanuel of Tempe and Temple Kol Ami.
As word spreads through the community about the partners' successes, other organizations are showing increased interest in legacy giving. Richard sees this as evidence that the program is working. Although they cannot bring in additional Life & Legacy partners, Rachel says the foundation is happy to help any Jewish organization set up the infrastructure for their own legacy program.
Pictured above: Jewish Community Foundation of Greater Phoenix President and CEO Richard Kasper (far left) and Life & Legacy Program Director Rachel Rabinovich (far right) present an incentive grant check to Don Schon, Amanda Garcia and Marty Haberer of the Jewish Community Association. Photo by Russ Berkman

---
---