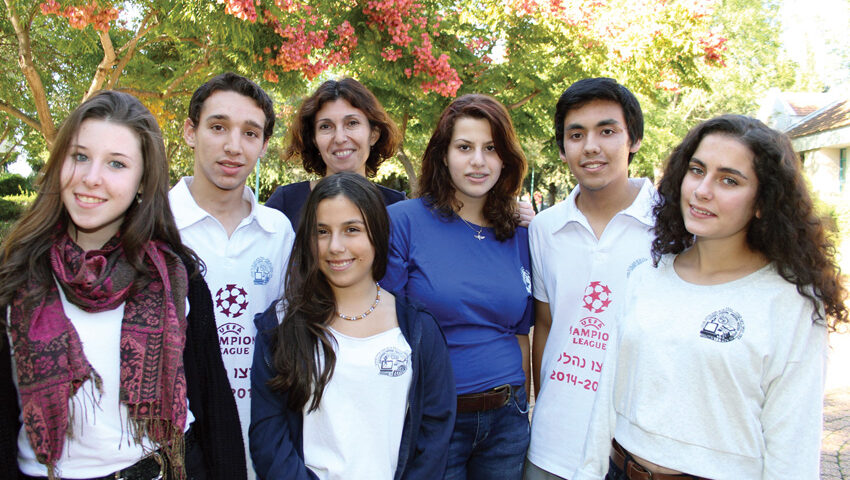 ---
Israeli engineers are highly sought after in Israel and abroad. The high-tech capabilities within the country are renowned globally, and major corporations are opening research and development operations throughout Israel. Engineers of every type are succeeding in almost every part of the globe, and yet the country is not producing enough engineers. An elite academic program in Israel aims to change the status quo.
Amit Avidov imagines herself as an aeronautical engineer who flies airplanes. This dream is one she plans to achieve in Israel through the Anières Elite Academy program, a special program launched by three educational institutions – Naale Elite Academy, World ORT and the Center for Pre-University Education at the Technion, Israel Institute of Technology in Haifa.
The Israeli-born 14-year-old grew up in Skokie, IL. She is one of about 60 international and Israeli students who were awarded science and technology scholarships to attend high school and university in Israel. The program continues until the students successfully complete university-level engineering studies. Choices include aeronautical engineering, robotics, computer science, and mechanical and chemical engineering.
"It's kind of scary because everything is planned out for the next eight years, but I have no doubt I want to be here," says Avidov. "My parents are Israeli and we were here every summer. And every summer, I told them I'm not going back, that I'm going to school here and now I'm exactly where I want to be. I'm debating (between) between robotics and aeronautics, but I've just started and have a long way to go before I have to decide.
"I am more interested in aeronautics though, probably because I've wanted to be a pilot in the Israeli Air Force since I was a kid. But I'm a girl, so I probably have a smaller chance than the boys to become a pilot. You have to be really high up there for that, which is one of the other reasons why I'm at Anières – it's a great quality education. Besides, aeronautics is cool and I really love planes."
First steps to advanced degrees
The Anières Elite Academy program addresses the need for a long-term approach to help teenagers achieve an advanced academic degree in engineering. During the first stage of the program, students live and study at the WIZO Nahalal Youth Village in northern Israel; the foreign students will study under the auspices of Naale, a well-established program that enables young Jews from the diaspora to complete high school in Israel.
Part of their high school curriculum will involve enrichment classes in physics, biotechnology, aeronautics and robotics at the Technion.
The Naale scholarship will cover all costs relating to the regular high school program (tuition, food, accommodation and other expenses), while the World ORT scholarship will cover any Technion courses the students have to complete during high school and thereafter, as well as educational field trips. The academic staff of Nahalal School and World ORT provides students with extra tutoring sessions.
"This is the second year of the Anières program," says Ira Lotman, Anières Elite Academy project manager. "We launched it in September 2013 with the first group of 20 students from the FSU. They have now joined the Israeli students in 10th grade, bringing the number up to 55 this year. In 9th grade, we have 33 students from the FSU and the West, who have taken their first steps to becoming engineers.
"The 10th grade students have all integrated very well on the program. Their Hebrew is improving daily, and while some have difficulties in some subjects because of all the terms in high-level Hebrew, they're all managing well," Lotman says.
High caliber of students
The selection process for the Anières program is extremely stringent, and the academic and intellectual level of the students is very high. Naale Elite Academy handled the first stage of recruiting the students, including interviewing and screening them.
"Naale Elite Academy has a comprehensive testing process to ensure that only students who will be able to cope with all aspects of being away from their parents are accepted. The tests determine academic ability, maturity, independence levels and psychological aptitude, to name a few," says Yeshayahu Yechieli, director and co-founder of Naale Elite Academy.
"Students who plan to attend the Anières program go through even more rigorous testing once they've been approved by Naale. This testing is conducted by the Technion's Pre-University Education Center and ensures that these students will be the best of the best," he says.
Naale: elite-academy.org
Darryl Egnal is a South African Israeli living and working in Tel Aviv as freelance journalist, editor and photographer. She has edited and published magazines, brochures and other publications over the past few decades. Since arriving in Israel nearly six years ago, she has written and edited many articles on various topics including education, the environment, travel and tourism, and Aliyah. darrylegnal.com

---
---