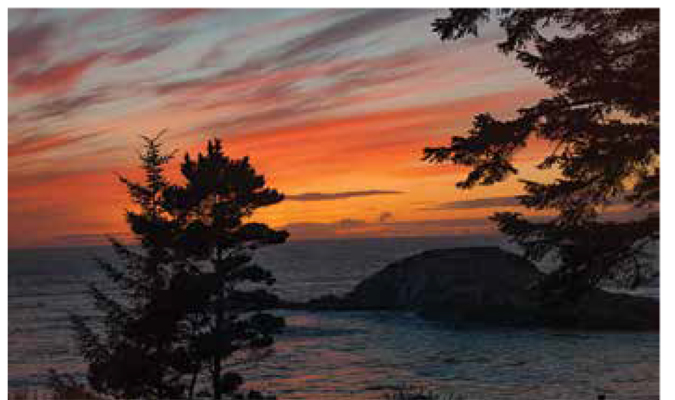 ---
Pictured above: "Pirates Cove" photograph by Bill Leibow.
They're nestled in the hills of the North Valley, some off the beaten path, but many of them have received national acclaim for their original works of art. And, lucky for art collectors, 44 of them will open their art studios during the last two weekends of November and invite guest artists to join them during the 22nd Annual Hidden in the Hills Artist Studio Tour and Sale.
A signature event of the nonprofit Sonoran Arts League, Hidden in the Hills is Arizona's largest and longest-running artist studio tour. This year's event features 174 artists at private studios throughout Cave Creek, Carefree and North Scottsdale. The free, self-guided studio tour takes place from 10 am to 5 pm Nov. 16-18 and again Nov. 23-25.
Gourd artist inspired by different cultures
The first gourd Jan Downey fell in love with was in Ethiopia. At the time, she was working as a cultural anthropologist with the National Museum of Ethiopia, helping them with their ethnographic collection.
"It was a gourd used by women in the very hot, remote desert to carry butter, and I was struck by how even a utilitarian object was designed and embellished," Jan says, adding that she later spent a summer in southern Mexico where people were still using gourds to store water, even though they had metal and plastic at their disposal.
A Chicago native who moved to Arizona from the Midwest, she was always fascinated by the multitude of ways humans have expressed their creativity.
"Humans have used gourds from prehistoric times as containers, dippers, bowls, spoons, tools and even musical instruments. Their many versatile shapes and sizes lend themselves to utilitarian service, but also makes them a great medium for artists," she says.
After she retired, she devoted her time to creating unique gourd sculptures. She uses a variety of processes in her design work including pyrography, carving, painting with acrylics and ink dyes and embellishing with natural materials.
Her Jewish heritage is important to her, especially since she had relatives who perished in the Holocaust. Jan believes she inherited some artistic genes from her grandfather on her father's side, who managed to escape the Nazis.
"My grandfather was an artist and a tailor who printed designs on fine linens," says Jan. "After he escaped, he made small dolls to represent children from each country affected by Hitler's regime."
Spiritually, she honors her religion, but she does not practice it fully. "There will always be a cultural connection that I seek out," she says.
This will be Jan's fourth year participating in Hidden in the Hills. In addition to her gourd art, she will exhibit and sell scratch art at Studio #40 in Cave Creek.
Creative couple captures beauty of nature
Long-time visitors to the Hidden in the Hills Artist Studio Tour may know Ellen and Bill Leibow, a talented painter and photographer couple who have participated in the free, self-guided tour for more than 18 years at Studio #26 in Cave Creek.
Before they got married 26 years ago, neither was an artist. Bill was a successful endodontist and Ellen worked in child health policy. Ellen was the first to delve into art, taking painting classes at Scottsdale Community College and workshops through the Scottsdale Artists' School.
"I started with watercolor and played with pastels, but I fell in love with oil," she says. "It's an almost sculptural medium, with a rich, juicy texture."
For Bill's 45th birthday, Ellen surprised him with a photography excursion to Canyon de Chelly in Arizona, a trip that would change his life. Even though he was the amateur in the group, the trip ignited his interest to learn more about photography.
Since then, the couple has planned their vacations and travel around painting and photography, both in the United States and abroad.
"I like to travel with painters rather than photographers because they stay put and allow me to get more detailed," says Bill.
Having Ellen's "good eye" also helps. "People will sometimes ask me why I took a particular photo, and I'll explain that Ellen told me to take it," jokes Bill.
The Jewish couple will showcase new work from recent trips to Iceland and Oregon's wine country.
For more information, contact 480-575-6624 or visit hiddeninthehills.org.

---
---