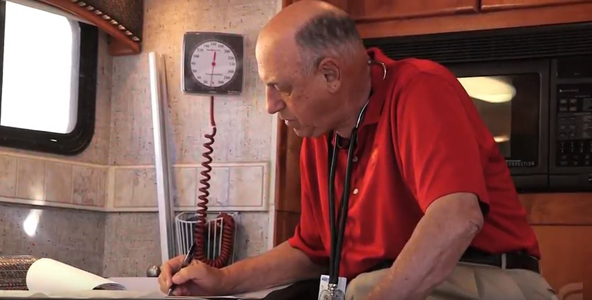 ---
Pictured above: Dr. Ira Ehrlich at work in the mobile clinic. Photo courtesy Mission of Mercy/NationSwell
A little more than eight years ago, Dr. Ira Ehrlich began volunteering with Mission of Mercy Arizona. MOM is a nonprofit that has provided free healthcare and free prescription medications to the uninsured and underinsured since 1997.
Every Thursday, Dr. Ehrlich pulls up to the RV parked in the Christ the King Community Center on East Broadway Road in Mesa and begins his shift. The assembly hall acts as a triage area, and the RV is equipped with private examination areas that can accommodate three doctors and their patients.
Dr. Ehrlich researched where he could go to keep practicing medicine after he retired. "I didn't retire because I was tired of practicing medicine, I retired because of the way the practice of medicine was going," he says.
Since he started in medicine in 1969, his modus operandi was to allow a half hour for returning patients and an hour for new patients or annual physicals. "The economics of medicine got to the point where you just couldn't do that and survive," he says. "But I wasn't going to practice medicine in any other way. I just didn't feel that was fair to my patients, or to me, so I hung it up and immediately started looking for a place to do this kind of work."
People are encouraged to register for an appointment with MOM, but doctors also see walk-ins. Some days the doctors see more than a dozen patients; other times they see only six or eight.
"We don't ask their financial or insurance status – anyone who comes in, whatever they come in with – we will see them," says the doctor. "We will treat them if we can – we can't do surgery – or we will refer them the best we can if they need it."
The best part is that Dr. Ehrlich gets to spend as much time as he wants with each patient. They have a cabinet of sample medications and antibiotics that they can dispense (they also can write prescriptions), and Sonora Quest Laboratories will run any test they offer at no cost to MOM or the patient.
"There is no paperwork for insurance, and we don't have to use an electronic medical record," he says. "I'm not a good typist, so I can't use a computer to put in all of my progress notes. I get to write them on paper, like I always did, and take as much time as I feel the patient needs."
When Dr. Ehrlich was in private practice as a cardiologist, he also preferred to be his patient's primary care doctor. "You have to be trained in internal medicine to then go on to cardiology, and I never lost my desire to practice internal medicine," he says. "I always did internal medicine on my patients because I wanted control of my patients, and I wanted to know who was taking care of them. I felt if I was taking care of them, they were getting good care."
When asked if he always wanted to be a doctor he jokes, "There was a time that I wanted to be an NBA basketball player." But when he got serious about his future, it was in front of his mind. "I did not major in college in any of the sciences because I thought I needed a broader education than that. But in the end, I did decide that I was going into medicine."
When he first started in the field, he wasn't quite sure what he wanted his specialty to be. "After standing for eight hours by the surgical table and watching surgeons try and do what they needed to do, I decided that I didn't care for that a lot," he remembers. "I took an internship in internal medicine where we rotated in all the areas, and I really enjoyed cardiology – I still do."
His father, Dr. Joe Ehrlich, was the first specialty cardiologist in Arizona, and his mother, Corinne, was a founder of Jewish Family and Children's Service in the Valley. So he comes by both his love of cardiology and volunteering quite naturally.
The younger Dr. Ehrlich says that he and the other doctors are very grateful to have the opportunity to work with MOM. "Most of us have practiced medicine for as long as I have and we are used to feeling useful and to feeling like we've done something positive for people other than ourselves. Their gratitude towards us is matched by our gratitude towards them."
For more information on Mission of Mercy Arizona, visit amissionofmercy.org/arizona.

---
---