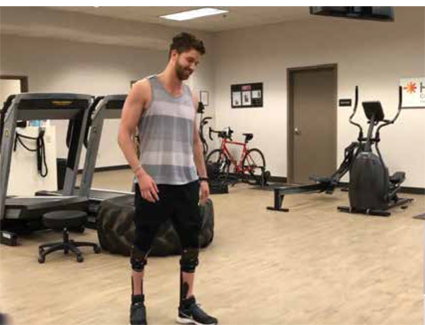 ---
Pictured above: Fernando Gotthilf can be active once again with the help of his ExoSym leg braces.
The Dror for the Wounded Foundation is a 501(c)(3) organization that has assisted more than 100 wounded Israel Defense Forces veterans since its inception in 2006. Based out of New York City, the DFW provides these individuals with financial assistance for medical and psychological treatments, career rehabilitation, small construction projects, advocacy and more. In allocating resources, DFW considers each soldier's individual situation and needs.
The DFW is pleased to share its recent success in raising $30,000 to help wounded IDF veteran Fernando Gotthilf obtain state of the art orthotic leg braces.
On July 18, 2011, while in combat on the Lebanon border, Fernando was shot in the lower back and injured his L4 and L5 vertebrae, causing complete paralysis below the knees in both legs. He underwent three surgeries in the first week after being shot to help fix the extensive damage to his vertebrae and surrounding organs. Fernando spent three months in emergency care, then another seven months in hospitalized rehabilitation. During his recovery, he was given Israeli-made leg braces to help support his lower legs so he could begin to walk. While the braces were useful, they were an out-of-date design that severely limited his range of motion and would often break – less than ideal for a previously active young man.
In January 2017, a DFW Soldier Advocate working in Israel heard about Fernando and knew they'd found a situation in which they could make a difference.
Extensive research and development by experts in the United States allowed soldiers in situations like Fernando's to have special orthotics that could reduce their pain and restore mobility. Fernando connected with Prosthetist Ryan Blanck of the Hanger Clinic in Gig Harbor, WA, developer of the ExoSym™ kinetic orthosis. They determined that the ExoSym device, made to provide more agility and enable high-impact activities, was the best fit for what Fernando needed.
DFW worked with Fernando and his family to raise the almost $30,000 it would cost to pay for him and his father to fly from Tel Aviv to Seattle, WA for a 10-day stay. During this trip, he received his custom-fitted braces and engaged in extensive physical therapy to strengthen his body and adjust to the new orthotics.
As of August 2017, Fernando is doing exceptionally well and has returned to an active lifestyle with much less pain. He walks with more stability and speed, and can even ride a bicycle. He also recently got engaged to his longtime girlfriend.
To learn more or to donate, visit DrorFoundation.org.

---
---