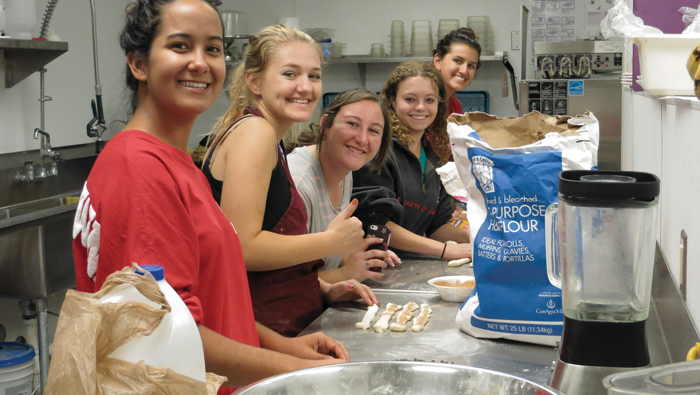 ---
Student volunteers at Arizona State University and the University of Arizona are joining a new national advocacy and research project to combat the growing problem of food insecurity on college campuses.
The Campus Hunger Project is a collaboration of Challah for Hunger and MAZON: A Jewish Response to Hunger. Since ASU and UA already have active Challah for Hunger chapters on campus, taking this next step was a natural fit. Challah for Hunger volunteers gather to bake and sell challah – donating half of the profits to anti-hunger organizations in the community and half to MAZON: A Jewish Response to Hunger.
"Our chapter plans to implement the Campus Hunger Project by interviewing members of the university administration and staff to find out to what extent hunger is present on our campus, and to figure out what can be done about this issue at ASU. We also plan to educate our campus and Challah for Hunger members about the issue of campus hunger by displaying information at our sales tables, presenting information and encouraging discussion when we get together to bake. Additionally, we are working on potentially implementing a program in which our customers can not only purchase challah for themselves, but also additional challah that will be donated to those who cannot afford to buy food or who would otherwise go hungry, as many students on university campuses nationwide do," says Arhem Barkatullah, ASU Challah for Hunger President.
As college tuition costs continue to rise, an increasing number of students cannot afford adequate housing and sufficiently nutritious food. More than 56,000 college students identify as homeless on their financial aid applications and one out of every seven students visited a food bank last year.
"UA Hillel Challah for Hunger is participating in this new national initiative to explore student hunger because it is a very complex issue that isn't widely known or really cared about. Not only is there food insecurity on the UA campus (there is a student-run food pantry on campus helping to address this issue), but students are suffering from hunger on campuses all over the country. We plan on sharing this information at the UA and helping to create projects to help defeat this problem," says Marisa Hoffman, co-chair of the University of Arizona Hillel Foundation Challah for Hunger group.
Challah for Hunger announced the launch of the Campus Hunger Project during its annual leadership summit at West Chester University in July. During its first year, 80 student volunteers from 40 U.S. colleges will be trained to research the growing problem of food insecurity on campus and to investigate how administrations are addressing this issue. While several universities and colleges have recognized food insecurity as a growing problem, few, if any, have sought to understand the scope of this issue – or to recommend long-term solutions.
"Food insecurity on campus is a hidden health crisis that we intend to address through research and advocacy with the Campus Hunger Project," says Carly Zimmerman, CEO of Challah for Hunger, which has worked with college students on hunger advocacy and education for 12 years. "We believe that if you work hard and are accepted to college, you shouldn't have to forfeit basic rights to food, shelter and safety, to pursue a higher education."
Challah for Hunger is a Philadelphia-based nonprofit that involves more than 3,000 youth annually in activism and advocacy for social justice through 80 student-led, college-based chapters in 28 U.S. states, the U.K. and Australia. To date, Challah for Hunger has raised and donated over $900,000 to these causes. For more information visit challahforhunger.org.
Pictured above: University of Arizona Challah for Hunger bakers in action – Danielle Almeida, Katelyn Starcher, Marisa Hoffman, Samantha Hymanson and Cali Nash

---
---