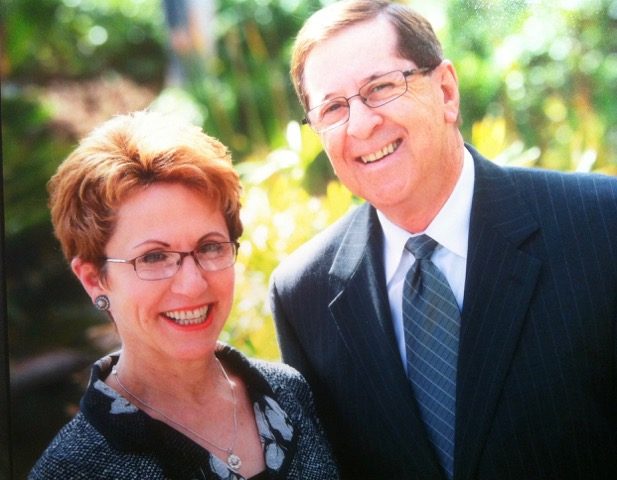 ---
Pictured above: Susan and Nestor Guzman
The Arizona Jewish Historical Society will honor Susan and Nestor Guzman with the 2018 Heritage Award. The Heritage Award is presented to individuals who have made an exceptional impact on our community through outstanding leadership, service and dedication.
Together, this couple has enriched the Valley with over four decades of volunteerism, leadership, civic engagement and philanthropy.
Susan and Nestor credit their love for one another as the glue that bonds them in their untiring commitment to working with and financially supporting organizations and projects that serve to support under-represented communities, eradicate injustices and eliminate human suffering.
With boundless energy and compassion, Nestor has served on the boards of many Jewish and non-Jewish organizations. Proud of his contribution to the renovation of the first synagogue in Phoenix, now home to the Arizona Jewish Historical Society, he also worked to transform the King David School into the Pardes Jewish Day School campus. He fervently works towards securing the survival of Israel as a member of AIPAC's National Council and serves on the Jewish Community Relations Council which provides a collective voice in advancing the cause of justice. Nestor is also an ardent supporter of the Arizona non-profit Leading For Change. He also served on Duet: Partners In Health & Aging's board of directors.
Susan's heart lies in bringing people together to do impactful work. She actively garners volunteers to support temple activities, organizes dinners to connect people and serves as the hostess at her home for charitable events. Susan's passionately seeks to help improve the lives of others. You may find her hosting a blood drive for the American Red Cross, volunteering at a Hospice of the Valley facility, helping a blind Holocaust survivor shop for food through Duet, or serving meals to the homeless at the Lodestar Day Resource Center.
The program speaker will be Bret Stephens, Pulitzer Prize-winning editor and journalist with the New York Times. Mr. Stephens served as the op-ed editor with the Wall Street Journal in the U.S. and Europe, was the editor of the Jerusalem Post before joining New York Times in 2017. He has also received many awards for his writings on national defense and economic issues. He is also the author of several books.
Proceeds from this gala event go towards the ongoing restoration of the Cutler-Plotkin Jewish Heritage Center. Originally built in 1921, this historical Phoenix landmark served as Phoenix, Arizona's first synagogue and later became a Chinese-speaking and then a Spanish-speaking Baptist Church. Purchased by the Arizona Jewish Historical Society in 2002, the center now serves as a museum and event venue open to people of all faiths. Exhibitions and programs educate the public about Jewish heritage as well as the diverse history of Arizona. The center is a Phoenix Point of Pride and is listed on the National Register of Historic Places.
2018 Heritage Award Gala Honoring Susan and Nestor Guzman
When: Saturday, Oct. 20.
Cocktail reception at 6:30 pm; dinner and program at 7:45 pm
Where: Scottsdale Plaza Resort, 7200 N. Scottsdale Road, Scottsdale
Tickets: Call 602-241-7870 or visit azjhs.org/HeritageAward

---
---