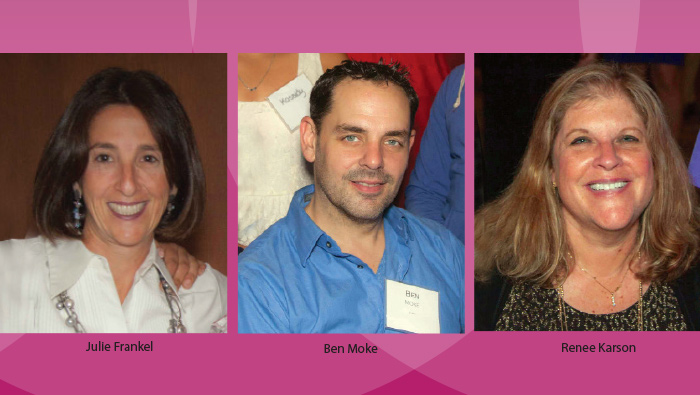 ---
Childhood obesity is on the rise in America – dangerously so. According to the Centers for Disease Control, childhood obesity has more than doubled in the past 30 years and now affects nearly 20% of children between the ages of 6 and 11. Blame it on video games, compulsive computer use or even our national addiction to junk food. Whatever the reason, you can spend your time lamenting the ever-widening waistbands of our youth, or you can get up from the couch, turn off the TV and do something about it.
Julie Frankel, Ben Moke and Renee Karson have chosen to do just that and have pooled their efforts to help keep kids fit, goal-oriented and healthy through an amazing organization called Healthy LifeStars. HLS is a nonprofit founded by Valley dynamo Ruann Ernst. HLS has developed a comprehensive program to encourage underprivileged kids to lead a healthy life through goal setting, structured fitness activities and healthy eating. To date, HLS has served more than 18,000 children and their families in Arizona, Colorado and Nevada.
The HLS vision is to launch a generation of healthy kids through its innovative LifeStar Challenge program. The LifeStar Challenge targets elementary-aged kids, especially those "at risk," by providing online and on-campus opportunities. The goal is to help kids through extracurricular programs at schools and at youth-serving organizations everywhere to learn to take personal responsibility for living active, healthy lives now and throughout their lives. The program is based on three components: I Can Do it! (setting healthy goals), I'm Active (staying active) and I Eat Right (good nutrition).
Julie Frankel is the executive for development and operations for HLS. "The LifeStar Challenge focuses on personal responsibility to help kids build the habits and skills they need to be in charge of their own healthy lives," she says. Julie also cites benefits to families and institutions when kids join the HLS program: "Partners who have implemented the program have seen their kids make healthier food choices (and) step away from video games to run around and play games with each other, and they have even seen less disruptive behavior from kids in the program."
Ben Moke, the HLS program implementation manager, spent 10 years with the JCC in Denver as its athletic and Maccabi games director. Prior to that he was a middle and high school physical education instructor who realized kids need to get involved in some sort of physical activity no matter their shape.
"During my time teaching, it was very evident that most of the kids who were overweight would resist participating or put forth a lackluster effort," says Ben. "At first glance, it may seem that they didn't like the game or exercise. But after getting to know them, you realized that they love the games and running around. They just lacked the self-confidence and felt their weight made it difficult to play with their classmates. So we created a new program where students could jog/run laps instead of playing the games."
That option created a nonthreatening way for kids to get involved in physical activity. Much like the HLS model, when Ben offered kids a way to "exercise" on their own terms, he saw them excited and eager to engage in moving their bodies. Kids who had initially lacked the confidence to participate began timing themselves and logging their miles. By the end of the school year, those same kids were often joining their classmates in team games and sports.
Ben was raised in an interfaith family that celebrated only a few Jewish holidays, but he feels a strong sense of Jewish purpose in his work fighting childhood obesity. "HLS and its vision are in line with tikkun olam," he says.
Julie attended a Jewish day school in Quebec until her parents enrolled her in a French school in third grade to facilitate her learning French. Her mother and aunt were Holocaust survivors, both surviving a year at Auschwitz.
The Holocaust is also part of the family history of HLS board member Renee Karson. Renee's mother and father both survived the Holocaust. "I believe that my Jewish heritage and unique Holocaust connection make me especially sensitive to helping people at risk, especially kids and their families," says Renee. She also credits her Jewish background for instilling within her a sense of community and encouraging the performance of mitzvot as a part of daily life. "It's just something I believe in," says Renee. "I hope I have taught my own kids both by directly encouraging them to participate in community work as well as leading by example."
Renee handles a lot of the marketing and communications for HLS. Her day job is a full-time gig as vice president at Penn Schoen Berland, a strategic market research company. She started with HLS when she offered to conduct a market research study on a potential new direction they were considering. That participation led her to leading a subcommittee on marketing and her current role as one of the lead promoters of HLS's StepUp4Kids Challenge, a weeklong event to challenge adults and kids to take the most steps they can to raise money and awareness to fight childhood obesity.
The StepUp4Kids Challenge invites an adult participant (a "champion") to partner with a child or group of children in taking the most steps during the challenge week, Oct. 12-18. Participants can monitor their steps on their cell phones or use pedometers and track the progress of their partners, friends, family and supporters. Anyone can sponsor a team or make a donation on the website at healthylifestars.org.
"The purpose of the StepUp4Kids Challenge is to raise funds to support the addition of underserved kids and sites wanting to join the HLS program," says Renee. "It takes $50 per year per child to join HLS. So that's the minimum we've set for participating in the challenge." The StepUp4Kids Challenge culminates in a celebratory dinner and silent auction Oct. 21 featuring Honorary Chair Tom Lehman, Congresswoman Martha McSally and media personality Lin Sue Cooney.
"We're very excited about this event and getting everyone to start walking and raising money to fight childhood obesity in a fun way," says Renee.

---
---