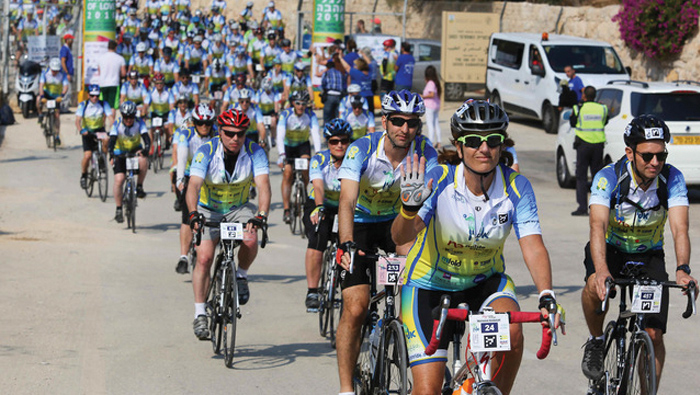 ---
Irwin Sheinbein is no stranger to community service. His family has been involved with the Phoenix Hebrew Academy since its inception in 1964, and Irwin has held positions on various boards, Federation committees, and has both raised funds and participated in the Bike-a-Thon for Yeshiva High School.
There is another bike ride that he has been participating in for the past 12 years called Wheels of Love that benefits the ALYN Hospital in Jerusalem, Israel. Each year Irwin travels to Israel the first or second Sunday after Sukkot to participate in this ride.
"Every year the course is different, and the routes alternate between the northern and southern parts of the country," explains Irwin. "Depending on the route, it can be anywhere from 275 to 350 miles over five days." Irwin rides his bike year-round and also tries to get a spin class in once a week to keep in shape for the ride.
ALYN Hospital is a private hospital that gets some funding from the Israeli government but mostly relies on private donations. The bike ride will try to raise 3 million dollars this year by the fundraising efforts of its participants.
The hospital initially specialized in treating children with severe congenital disabilities, but they have expanded to treat adolescents and young adults who have been either hurt due to an accident or injured because of terrorist activity.
"What is so remarkable about the hospital is that their patients have such unique and debilitating illnesses that they have to come up with these incredible ways to try and treat the patient– as well as working with the families to help them take care of their child," says Irwin.
The hospital also takes in patients from all over the Middle East. Irwin shares a particularly remarkable story about a young girl living in Gaza who was caught in the crossfire between Hezbollah and Israeli soldiers. As a result, her father and brother were killed, and she was severely injured. "The Israeli government came to ALYN and said to them, "We want you to take care of this young lady, and we will foot the bill." After six months of rehabilitation the girl was ready to go back to living in Gaza, so the government said that they would cease paying the hospital for further treatment. ALYN's response was, 'We don't care if you pay us or not, we are not letting this young girl go back to Gaza until we are satisfied that there is someone there that can take care of her." So the hospital spent three months training a person and then released the girl to that caregiver.
That is just one of the fantastic stories that Irwin has heard over the years. The first year he participated in Wheels of Love he took a tour of a new wing of the hospital for older individuals age 18-26. "The exterior of the hall looked like a street in Jerusalem," explains Irwin. "They used Jerusalem stone, and you didn't think you were even in a hospital when you went down that wing."
Irwin goes on to explain, "Each room was assigned a post office box from the Israeli postal system. There was a young man who had paraplegia who was good with computers. The hospital gave him space to bring in computer hardware, and he set up a company and ran it out of the hospital."
On Irwin's fundraising page for the ride, he explains that the hospital's need is even greater this year due to the Ministry of Health's ruling that staff must be increased, but insurance companies have reduced reimbursements.
"I set my goal every year, and this year we are trying to raise 3 million dollars from all the riders," says Irwin. "I have certain people that I go to every year, and they never turn me down."
Riders come to Jerusalem from all over the world to participate, and this year they've capped the number of entrants at 440. Irwin notes that there are other riders from Arizona, but he is "the senior veteran" having participated the most number of times.
Because of the size of the group, there are four tracks riding simultaneously. Each track has security, a medical team and bike mechanics. On the last day, everyone rides into Jerusalem together, ending at the hospital.
"A lot of people return every year," says Irwin. "It's like going to adult camp for five days."

---
---