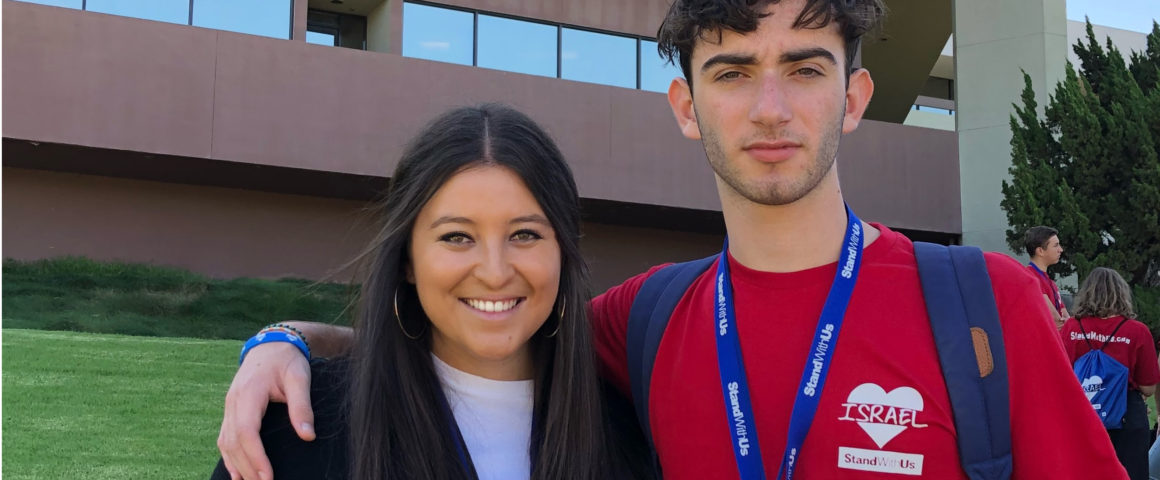 ---
Pictured above: StandWithUs' Southwest High School Coordinator, Kate Chavez with High School Intern Jacob Miller at the August conference.
Once again, StandWithUs meets the challenges of the 2018-19 school year with its campus Emerson Fellows and High School Interns.
Both programs select and train 90 student leaders from 90 schools throughout North America to educate their peers about Israel. The Emerson Fellows also combat anti-Israel rhetoric. The high school internship prepares students for the challenges they may face at university and in the community about Israel.
Although Arizona does not have an Emerson Fellow this year, we do have a representative in the High School Internship Program. Jacob Miller, who is currently a junior at Brophy College Preparatory in Phoenix applied to the program because, "I read about BDS at universities and wanted to educate myself so that I am prepared to combat anti-Semitic and anti-Israel rhetoric on campus."
He attended training in August where he learned organizational, leadership and debate skills; how to run effective programs and form coalitions with other groups; how to counter BDS campaigns and to utilize SWU's various resources including the legal department and social media. One important session explained when legitimate criticism of Israel crosses the line into anti-Semitism. Importantly, he bonded with two new coordinators – Kate Chavez for high school and Charline Delkhah for campus.
The year-long program will also include two national conferences, ongoing education online workshops and funding to run programming in his high school and youth group. Once he completes the program, he will become part of the StandWithUs alumni network and will be able to continue with his Israel advocacy on a college level. Jacob will also continue to receive support from StandWithUs throughout his college career and beyond.
This summer, Jacob was also awarded The Bronfman Fellowship, a network of more than 1,200 pluralistic young Jews from Israel and across North America. The program includes a five-week, all-expenses-paid trip to Israel where fellows explore deep existential questions and Jewish ideas while building friendships with peers who challenge and inspire them. He is also on the board of directors for the Jewish Community Foundation's Youth Philanthropy Board and is currently serving as Religious and Cultural Vice President for Temple Chai's youth group.

---
---