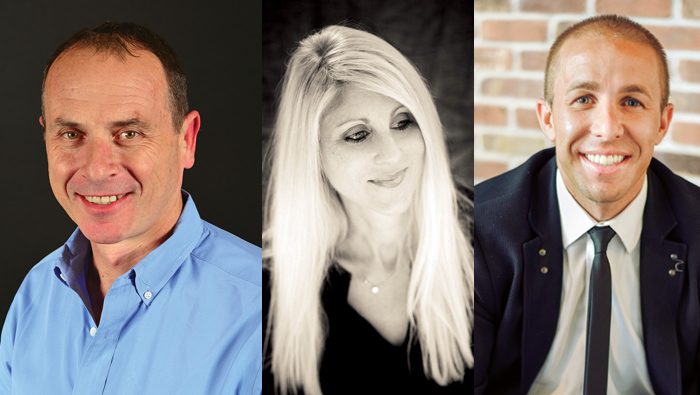 ---
Jewish Federation of Greater Phoenix Business & Professionals Groups hosts its annual Corner Office: Lessons Learned from Jewish Business Leaders on Wednesday, May 3 from 5:30-8 pm at the Phoenix Plaza at 2929 N. Central Ave. in Phoenix. The panelists for this event will be Rory Carder; president of DAVIS; Mitch Ginsberg, CEO of CommLoan; and Joshua Simon, president of Simon CRE. The panel is moderated by Adam Goodman, president & CEO of Goodmans Interior Structures.
The B&P, and its three divisions – the Cardozo Society for legal professionals, the Real Estate & Finance Division, and Chai Tech for the technology industry – provides an opportunity for business people to expand their professional and social circles while making a difference in the community. Events held throughout the year include speaker series, networking receptions, briefings on Israel and Jewish affairs and more.
"This year's Corner Office explores innovation from three perspectives: Josh Simon's real estate investments are made with an eye toward capitalizing on future technologies. Mitch Ginsberg is disrupting an old, entrenched business model and Rory Carder is thinking deeply about how place influences innovation," says Adam Goodman, who is also the B&P chair.
Part of the mission of the B&P is to strengthen relationships among Jewish professionals through education. All of the panelists involved in Corner Office will be sharing their business knowledge with young professionals in the audience. "There's no substitute for experience. And there's no better learning experience than having a strong mentor to teach you the rights and the wrongs as a young professional," says Joshua Simon. "I've been blessed to have numerous mentors in my life, and they have, without a doubt, pointed me in the right direction and helped me become who I am today."
Rory Carder may be the only woman on the panel, but she has sage advice on being a business leader. "I believe in leading by inspiration and radiating genuine intensity attracts like-minded people," she says. "I believe in collaboration. I encourage the development of meaningful personal connections to unite people and spaces and endeavor to support our team in simplifying the chaos of everyday life with design brilliance as a catalyst for ambitions and dreams."
The cost to attend for professionals is $36 and $18 for students. Price includes a cocktail reception and hors d'oeuvres. Dietary laws observed. The event is sponsored by Perkins Coie.
For information and to register, contact 480-481-1754 or visit jewishphoenix.org/corneroffice.

---
---