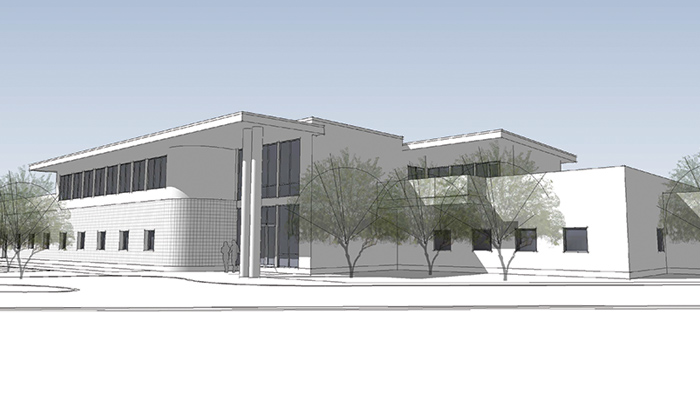 ---
It's time. After more than 25 years of squeezing into a renovated ranch house, next door to the Tucson Hebrew Academy, the Jewish Federation of Southern Arizona is, at last, launching a capital campaign to build a new facility right around the corner, on the Jewish community campus.
"When I started here 20 years ago, I asked Bruce Beyer, one of our most active lay leaders, if he would chair a committee to oversee our facility, our little house. He said, 'Sure. If you promise me that we're going to be replacing it someday,'" says JFSA President and CEO Stuart Mellan. That day has arrived.
The property on River Road was purchased in the 1980s as a temporary home for the Tucson Jewish Community Center until its new building on the corner of River and Dodge was ready in 1989. When The J moved out, the federation and the Jewish Community Foundation of Southern Arizona moved in. As both organizations grew, the foundation moved off campus in 2007, because there simply wasn't enough room under one roof.
Since the Federation coordinates the timing of capital campaigns among the beneficiary agency partners, Mellan says they waited for the other organizations to accomplish what they needed before ramping up efforts to expand their own digs.
"At the moment, all of the facilities are updated sufficiently, and it's our turn," says Mellan. "So we are proceeding to create a professional office on the campus, which will unify the federation and the foundation into one facility." Mellan also points out that the new facility will be "very security conscious. The world has changed sufficiently and it's really vital to have a security orientation around our offices."
Deanna Evenchik chairs the "Next 70" campaign, which formally kicks off this fall, marking JFSA's 70th anniversary. "We'll be asking the community to participate throughout our federation campaign season," says Mellan. The current estimated goal is $4.5 to $5 million to cover the construction, some operating costs for the building and security upgrades throughout the grounds of the campus.
The new 18,000 square-foot building will sit at the northwest corner of the Jewish community campus and will be connected to the Tucson J by a promenade walkway. It will also include a social hall, which will be managed by The J, to provide additional meeting and rental space. Construction is slated to begin Dec. 1, with completion targeted for the end of summer 2017.
Fred Mascia from CDG Architects designed the building, with inspiration from the film "Raise the Roof" about the reconstruction of a Polish synagogue. Mellan says that Mascia chose to incorporate the structural imagery of a Turkish tent from the reconstructed synagogue ceiling into the lobby. It also has biblical echoes of Abraham and Sarah welcoming strangers into their tent. "A tent could be a very meaningful image for an organization that wants to be welcoming and inclusive," Mellan says.

---
---