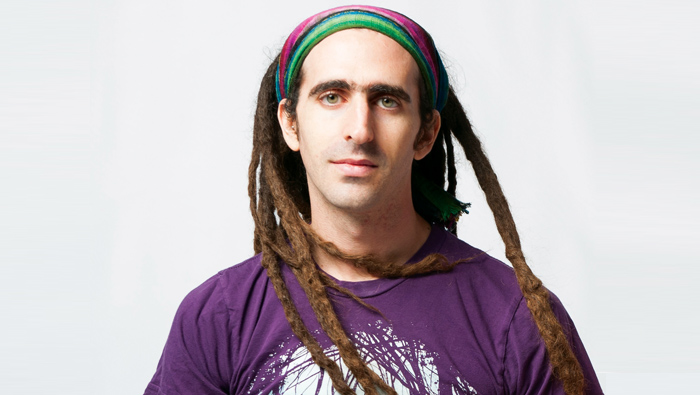 ---
Once upon a time, there was a storyteller by the name of Jordan Wiley-Hill. And Jordan dreamt of a way to use his creativity as a storyteller, pedagogic skills as an educator and awareness of the benefits of mindfulness and meditation to help students succeed in school.
So Jordan created the Mindfulness Education Exchange. His goal was to give students tools to develop basic skills: staying focused, controlling impulsiveness, managing stress, regulating emotions and enhancing interpersonal awareness.
"These are skills that we've often just taken for granted because they are so fundamental and yet they are entirely trainable. How often do teachers say to kids, 'Pay attention!'? And how much time do we spend training kids to pay attention? If a kid can't pay attention, they're going to have a hard time in school," says Jordan, pointing out that this impacts other areas of their lives as well. If they can't pay attention, they'll have a hard time in gym, in band, on the football field or with friends. "And the same is true for a lot of the social-emotional skills that emerge out of mindfulness training."
There is an increased emphasis on social and emotional learning (SEL) – developing skills to understand and control emotions, choose and achieve goals, feel and demonstrate empathy, establish and keep positive relationships and make responsible decisions. Jordan says that mindfulness helps develop the capacity to self-monitor and self-regulate, which is crucial to implementing SEL skills.
"You might have a great approach that you've learned through social-emotional learning, like, 'When someone says something mean to you, you can say this…' But if you just hear the mean thing and then instantly react, then the script doesn't do you much good. If you've got some mindfulness training, you can see your reaction, feel your reaction, know what it is and in an instant, have that space to make a choice whether or not you're going to react. In that space, the SEL learning has a chance to flourish and be applied."
This has many payoffs, Jordan notes: well-being and health (especially in light of the data of the effects of chronic stress), emotional and mental health. It also supports kids functioning more effectively in school settings – managing stress, dealing with test anxiety, paying attention to their class work and more.
The benefits of mindfulness training in schools are being documented through a growing body of scientific research, Jordan says. His website, mindfuledex.com, cites a study showing significant improvement among students in several areas: focus in the classroom, calming themselves down when upset, overall emotion regulation, self-esteem, executive function (attention regulation, working memory) and respect for others (Meiklejohn et al., Mindfulness, 2012). Another source indicates improved academic skills, based on 15% better math scores (Reichl et al., Developmental Psychology, 2015). Assessments completed by the Mindfulness Education Exchange team during their programs in the schools affirm this.
"The kind of mindset we're cultivating has to do with a lot of positivity and acceptance and kindness, internally and interpersonally," says Jordan. "The extent to which we can cultivate some of that internal openness, acceptance and kindness, we can also do it with others. Those are the kind of core skills that we're looking at. How to work with your mind, how to work with your feelings, how to work with what it means to be a human from the inside out."
Jordan was a classroom teacher for many years, including six at the Tucson Hebrew Academy Jewish day school, and has taught in various informal settings, like religious schools, Jewish camps and teen programs for over a decade. While teaching students at Tucson Hebrew High a few years back, "I had a lot of open space to experiment with Jewish concepts and approaches with the kids. I started trying some meditative approaches to engaging with Jewish content," he says, describing how he began to form his own unique crossbreed of mindfulness and Jewish education.
He was discovering what he calls "the blossoming field of mindfulness education where mindfulness skills were being transmitted to children." Together with the special education teacher at THA, he started an after-school program on mindfulness for children, which was then brought into the school day as an elective tefillah/mindfulness hybrid for middle school students. "We were deepening their experience of Jewish prayer in the morning service, while at the same time training mindfulness skills, using the prayers as the platform for that."
In May 2015, Jordan left his full-time position at THA to create the Mindfulness Education Exchange with co-founder Shelly Hubman, an educator with similar interests. They started last fall teaching mindfulness to children at six schools, accompanied by professional development and parent training, to maximize the effectiveness of their curriculum. Over the past year they expanded into early childhood education, after school programs and even working with adults, athletes and seniors. They have plans to branch out into company settings as well.
Jordan, who was born in South Africa, studied literature at Brandeis University where, during his last semester, he discovered his love for storytelling. With thick dreadlocks pulled back in a bandanna and trailing down his back, Jordan is a captivating and dynamic storyteller. I've seen him work his magic with young children, teens and even grownups, always drawing his audience in with his intensity, energy and authenticity.
"I do storytelling work as well as drama-based education, using drama games to teach and bring content to life. That gives me a pretty unique background," Jordan says. "There are some stories that are being used to teach mindfulness to kids, but storytelling as an oral form and the use of folktales and legends and stuff really extensively and systematically to train mindfulness isn't being done very purposefully in the field. And then the drama games – the capacity to make the material really fun and engaging and bring it to life – make it more external and interpersonal, which kids really need."
Jordan has plans to develop an online store to sell tools, crafts, toys and lesson modules that are effective for teaching mindfulness, especially to kids. His staff is also working on developing programs and professional training for schools and organizations outside of Tucson, to help them develop their own institutional capacity to have mindfulness at their site.
He also sees potential for fleshing out the mindfulness-based prayer curriculum that he started at THA and bringing it to other Jewish day schools, religious schools, youth groups and summer camps. "This is such an awesome hybrid approach to prayer education," he says.
For more information about the Mindfulness Education Exchange, you can reach Jordan at 520-222-6577 or jordan@mindfuledex.com.

---
---