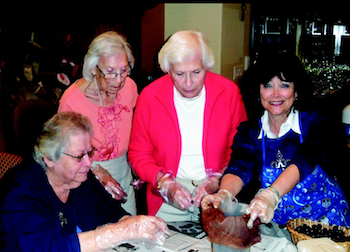 ---
"A sheynem dank," "Molto grazie," "Many thanks."Dr. Herbert and Seema Liston and Joyce Stutzer are all enjoying their new retirement homes at La Siena, so whether they say it in Yiddish, Italian or English, they're glad they moved into the lifestyle-focused senior-living community in north Phoenix.
Named for and taking some of its architectural styling cues from the Italian city of the same name, La Siena, at 909 E. Northern Ave., is just four years old, and in that short time has already received five silver awards from the National Council of Senior Housing. In addition to its design excellence, La Siena offers Stutzer, the Listons and their neighbors resort-style living to meet their individual needs.
On five acres, in view of Phoenix's second-highest point, Piestewa Peak, the four-story, 190-unit community offers residents outstanding accommodations, premier community amenities, friendly neighbors and the opportunity to celebrate their Jewish heritage. "I didn't live too far from here – and I am happy I moved on my own choice and not my children's," says Stutzer, who moved to the Valley 36 years ago from Minneapolis with her husband, Gerald, who died a few years ago. For years, they ran a retail clothing business in McCormick Ranch.
She and one of her sons, Wayne Stutzer, a financial planner and senior vice president of RBC Wealth Management in the Valley, chose the community late last year because of its conve- nience, the option of either independent or assisted living, and because they can rent rather than buy. Her other son, Michael Stutzer, Ph.D, is a professor at the University of Colorado in Boulder. "Wayne and I loved La Siena immediately, and I knew it was a new home I would enjoy," says Joyce Stutzer. "It's such a lovely place, and the people here are marvelous."
The Listons moved to the community in September 2012 for the same reasons: "We thought it was the best location and we wanted to stay in the area where our children grew up," Seema says. Married for nearly 56 years, they have lived in Phoenix for 50 years, where Herbert practiced podiatry for 30 years. The couple has three children: Aaron, who lives in Corvallis, OR; Sally, who lives in Glendale, CA; and Elaine in Los Angeles. They have four grandchildren who are working or in colleges here in Arizona and California.
One of 17 communities operated by SRG Senior Living, based in Solana Beach, CA, La Siena features "destinations within the community" that encourage and enhance resident socialization, explains Mary Poisson, the community's director of sales and marketing.
These spaces include the 41-seat surround-sound movie theater where residents can also watch sports events or the news and even play Nintendo Wii's bowling game. The second-floor clubhouse has an extensive library, where Stutzer and the Listons can also play bridge or mah-jongg and discuss books with other residents in the community book club.
And, in the craft room, the community schedules Monday and Friday morning ceramic classes and greeting-card creation and painting sessions Thursday afternoons. Salon PS, a full-service salon and spa, offers manicures and pedicures, massage therapy, facials, makeup application and hair and barber services. "They really know how to deal with an older person there," Stutzer says. Dining offers two options: the formal Grande Canal restaurant, with outdoor seating, and the more casual bistro. Here, too, is the always stocked Bud's Pub, named for Bud Brown's Barn, which once occupied the site. The community also employs an onsite fitness instructor, who coordinates activities in the heated pool: "Our residents love do- ing laps and water aerobics," Poisson says.
In addition, there's yoga, workouts in the fully equipped gym, shuffleboard, the Dance Studio or the putting green. Within three miles are the Moon Valley and Phoenix country clubs, both with 18-hole golf courses. The community offers its challenging Brain Fitness classes designed to help reduce short-term memory loss. "These signature programs can often help rejuvenate your memory," she explains.
Stutzer and the Listons are enjoying their homes, with features such as granite countertops, stainless steel appliances, washer and dryer, walk-in closet, covered patio or balcony and climate-control settings. They are also happy to live in a mainte- nance-free community without the burdens of household tasks. "A lady comes in once a week to clean," Stutzer says, "and I don't have to worry about paying bills such as the electricity." Seema adds, "This gives us the opportunity to do the things we want to do without chores such as grocery shopping or even tak- ing care of appliances."
Stutzer uses this time to go to the nearby Paradise Valley Mall and take part in the community singing group, The Hipsters. She also attends services whenever she can at Temple Chai, where she has been a member for 15 years. With La Siena's program director, Logan Johnston, she is also discussing enhancing La Siena's gift shop. Seema, who has a little more mobility than Herbert, takes education classes at the Women's Jewish Learning Center at The New Shul. And, there are regular community excursions to venues and events such as the Phoenix Art Museum, Desert Botanical Garden, Herberger Theater Center and Chase Field to see the Arizona Diamondbacks.
All three say they appreciate the many opportunities La Siena provides for them to enjoy their religious and cultural heritage, with events such as Rosh Hashanah services onsite and organized trips to activities at the Jewish Community Center in Scottsdale. "This Hanukkah season we had Linda Feldman, the fantastic daughter of La Siena resident Ann Robin, who was a big part of our scheduled events," Poisson says. "We lit the menorah and enjoyed the holidays in a very comfortable setting," Seema adds. On the first Friday of every month, a Shabbat dinner and service is led by cantorial soloist Patricia Bruner. "It's very nice, and Cantor Bruner is very good," Stutzer says. "I wish we would do it every week!"
David M. Brown (azwriter.com) is a Valley-based freelancer.

---
---