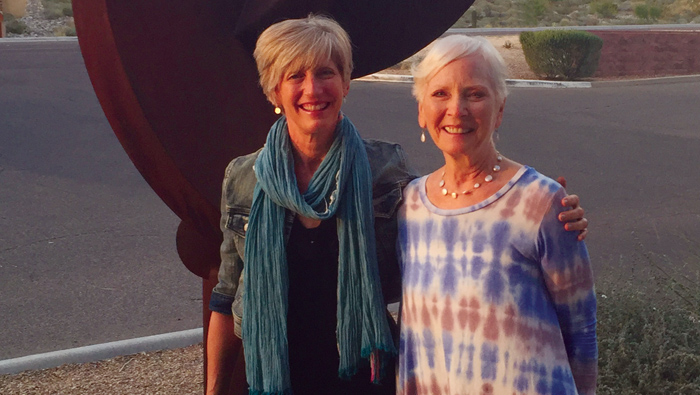 ---
Ester Leutenberg and her daughter Kathy Khalsa were inspired to write their first book together in 1987, in response to their son and brother Mitchell's death by suicide the previous year. It provided a path to healing for them, while creating a tool to help others. With illustrations by her younger daughter, Amy, their Life Management Skills activity book for mental health facilitators expanded into a series of eight workbooks and launched Ester's career as an author, publisher and advocate for those suffering from loss and mental illness.
Based on Kathy's experience as an occupational therapist and the research Ester did trying to help Mitchell cope with mental illness for eight years, the duo created a format that was unique at the time, with reproducible activity pages that could be customized and shared. "My intent was helping the Mitchells in this world. Kathy's intent was helping her clients, and other's clients," says Ester.
The three of them went on to write and illustrate a total of 15 books together, including the SEALS (Self-Esteem and Life Skills) series for teens and Meaningful Life Skills for older adults, along with therapeutic posters, board games, bingo games and card decks. We shared their story in the very first issue of Arizona Jewish Life magazine (azjewishlife.com/its-all-about-mitchell).
"The only way I make sense of my son's struggling – not his life, but his struggling and his death – is to help other people. That's what keeps me walking around, that I'm helping other people in his situation. And if I ever had to stop writing books, I'd be miserable. It's what warms my heart," says Ester, who has written or co-authored more than 90 workbooks for mental health group therapists. Kathy became a professional life coach and is currently the interim manager of senior behavioral health at Oro Valley Hospital in northwest Tucson.
It's been a decade since the Tucson-based mother-daughter duo collaborated on a book. But recently, they decided the time was right to pen a series for behavioral health facilitators working with seniors. Released earlier this year, Optimal Well-Being for Senior Adults I also features illustrations by Amy, a social worker and artist who lives in Cleveland, the Leutenberg's hometown.
"We tried writing a book that really focused on what older adults need," says Kathy. She notes that their life experience and issues of concern warrant special consideration, yet there were no therapy activity books meeting this niche. "It could be used in a mental health unit, or a senior circle, a church group for older adults or even a weekly support group."
Topics include anxiety and stress, coping, expressing emotions, grief and loss, life balance, reminiscence, self-awareness, social skills, staying young at heart and thinking skills. Each topic includes five activities of different levels of understanding – from basic concepts that are easy to grasp to more abstract ideas for discussion. A leader's guide is provided for each activity, along with tips for facilitators of senior adult groups. The second book in the series will be released in January 2017.
Kathy emphasizes the importance of providing tools for group leaders. "There's a magic that happens within a group context. There's a certain energy that we all get from each other. There's the collective of being in a group and I believe that changes learning. If we can help that process along, if we can empower therapists, counselors, teachers and activity leaders to be bold, to take a group activity and just try it, they usually feel success because it's pretty clear cut."
Ester and Kathy both walk the talk, too. Kathy uses these tools for groups in the hospital. Ester leads a support group for caregivers in Sun City Oro Valley, where she lives (just 20 minutes from Kathy's home near Saddlebrooke). They stress the importance of creating community, especially for older adults, who may no longer live near their families or may have left their friends to be closer to children and grandchildren. "We have a handout for that, too," Kathy says.
"It's that human connection that we create. If we can be a part of that, then I think that we're doing good work," says Kathy.
For more information about Ester's books, visit wholeperson.com or email her at ester36@gmail.com.

---
---