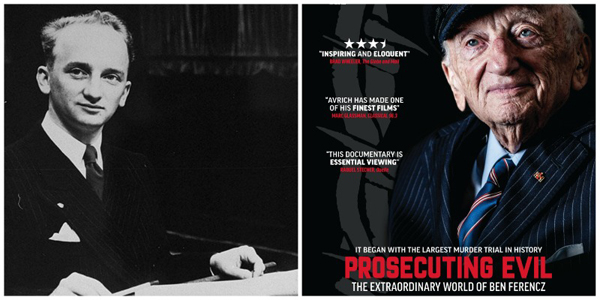 ---
In conjunction with Holocaust Remembrance Day, three Valley Jewish nonprofit organizations will co-host a screening of the new documentary film, "Prosecuting Evil: The Extraordinary World of Ben Ferencz."
The Greater Phoenix Jewish Film Festival, Bureau of Jewish Education and Phoenix Holocaust Association have joined forces to show the film on Monday, May 6, at 7 pm at Harkins Shea 14 Theater located at 7354 E. Shea Blvd. in Scottsdale.
Barry Avrich's gripping documentary tells the fascinating story of Ben Ferencz, the last surviving Nuremberg trials prosecutor and lifelong advocate of "law not war" and his lifelong quest for justice for victims of crimes against humanity.
Born in Transylvania before his family fled to the United States, Ferencz grew up in a tough New York City neighborhood, persevering as a gifted law student, then enlisting in the Army in WWII. At 27, he was thrust upon the world stage as chief prosecutor in the historic Nuremburg trials, trying Nazi Einsatzgruppen members, history's most significant murder case. His crusade for a new justice system based on tolerance and compassion led to the formation of the International Criminal Court in The Hague. With a vivid memory and tenacious personality, the vital nonagenarian and last surviving Nuremberg prosecutor, reflects on his life and career in his own powerful words, underscoring an absolute need for vigilance in the fight for justice and peace. His fight for justice continues today at the age of 99.
The elder Ferenscz's nephew, Steven Ference, will introduce the film. The Honorable Wendy Morton, a Maricopa County Superior Judge, will lead a post-screening film discussion and conduct a question-and-answer session with Ference and the audience.
The cast includes Ben Ferencz, Alan Dershowitz, Justice Rosalie Abella, and General Wesley Clark.
WHAT:  Screening of "Prosecuting Evil: The Extraordinary World of Ben Ferencz"
WHEN: Monday, May 6 at 7 pm
WHERE: Harkins Shea 14 Theater, 7354 E. Shea Blvd., Scottsdale
PRICE:  $10 ticket in advance at BJE office; $11.50 ticket online in advance; $12 ticket at the door (if available); $36 reserved seat tickets; free for Holocaust survivors
DETAILS: bjephoenix.org

---
---