Pictured above: Participants at last year's camp for young adults. Photo by Yoav Magid
Who says summer camp is just for kids? Now young adults can relive (or discover) the unwired fun, creativity and friendship of Jewish summer camp.
Presented by Moishe House, Camp Nai Nai Nai offers a weekend of adventure for young adults in their 20s and 30s. (Minimum age 21 since alcohol will be served.)
The camp debuted on the East Coast two years ago and returns there for Memorial Day Weekend, May 24-27, at Capital Camps in Waynesboro, PA. Last year Camp Nai Nai Nai added a West Coast location. This year's West Coast camp will be Aug. 23-25 at Kennolyn Camps in Santa Cruz, CA. Last year the average age at the West Coast camp was 30, with most being single.
Publicity for the camp promises the Shabbat experience of a lifetime among free-spirited friends (new and old) from around the country and against a picturesque backdrop of a campfire, lake and sprawling night sky full of stars. Campers are encouraged to the most of their getaway weekend with creative Playshops (there is no "work" at Camp Nai Nai Nai), refreshing dips in the lake, spirited song sessions, color wars, cozy all-camp meals and more.
During every activity block there are 10 to 15 activities to choose from including yoga, bubble soccer, archery, Jewish text study, sports, art and hikes.
Like the young adult events created by Moishe House residents around the globe, Camp Nai Nai Nai is open to all young adults whether they are affiliated, just Jewish or "Jew-ish."
"It's a really diverse crowd," says Camp Nai Nai Nai Director Lisa Klig. "We run the gamut of religious observance and sexual and gender identity."
"You can be the best Jewish version of yourself at camp in a way you can't do in your day-to-day life," she says.
A COUNSELOR'S EXPERIENCE
Last year Shayna Sigman worked as a camp counselor at Camp Nai Nai Nai in California. As an inclusion coordinator at B'nai B'rith Camp on the Oregon coast, Shayna has plenty of experience working with campers. She also has lots of experience planning events for young adults since she lived in Portland's Moishe House for two years. Residents of Moishe Houses in 27 countries get subsidized housing and a programming budget to host events for other young adults.
Of her experience last year, Shayna says:
I really love the Moishe House professional staff, and it was great to have a chance to work with them. A great part of Camp Nai Nai Nai (and Moishe House in general) is how intentional they are about everything. The staff were very focused on helping create a warm welcoming environment for everyone. 
We didn't have cell service at camp, so it was really great seeing everyone connect without technology and without having to worry about work emails or whatever was waiting for them back at home. We see the same mental health benefits with our kids at BB Camp, who get to connect with each other over arts and crafts or playing soccer together instead of over video games or social media. 
One of the most interesting parts of camp for me was that I had so many deep, personal conversations with people over the course of the weekend and yet, when I got home, I realized that we had never discussed what we did for work, our degrees or other topics that seem to come up in other settings where you meet adults for the first time. Being in a space where you can connect through play and shared experiences creates really amazing friendships.
Shayna says she would love to return this year, but isn't sure her BB Camp schedule will give her enough time.
A CAMPER'S EXPERIENCE
Adam Dobrusin started the Phoenix Moishe House with a couple of friends in 2013, and he lived there for two and a half years. Until last year, he worked for Moishe House as the national director of expansion. As a youth he spent summers at Camp Pearlstein (now Camp Stein) and was on staff at Camp Newman for one summer. He attended Nai Nai Nai on the East Coast two years ago and was at last year's West Coast inaugural camp.
Following are some of his experiences as a camper:
The team putting together Camp Nai Nai Nai tapped into many of our nostalgic camp memories like color wars, bug juice and even Shabbat-o-grams from my counselor.
There was never a shortage of fun things going on at any time. Running around in nature and making new friends from all over the country will bring out the best in anyone. Some of the highlights for me were riding the mechanical shark, mud-obstacle course, genderful co-ed cabins, an aquatic spin class, live band karaoke, knockerball and a '90s bar mitzvah-style party. There was even a flash mob! 
The last two times I've been (to camp) have been some of the best weekends of my life.
Adam says he "most definitely" plans to return to camp this summer.
Registration for Camp Nai Nai Nai opens March 1. Fees are $375 to stay in a cabin of eight to 10 people (girls, boys or coed) or $525 for a private, hotel-type room. Early bird registration for the West Coast camp is $315 until June 9. First-time campers can sign up for $300.
campnainainai.org | seeyou@campnainainai.org | 858-367-3684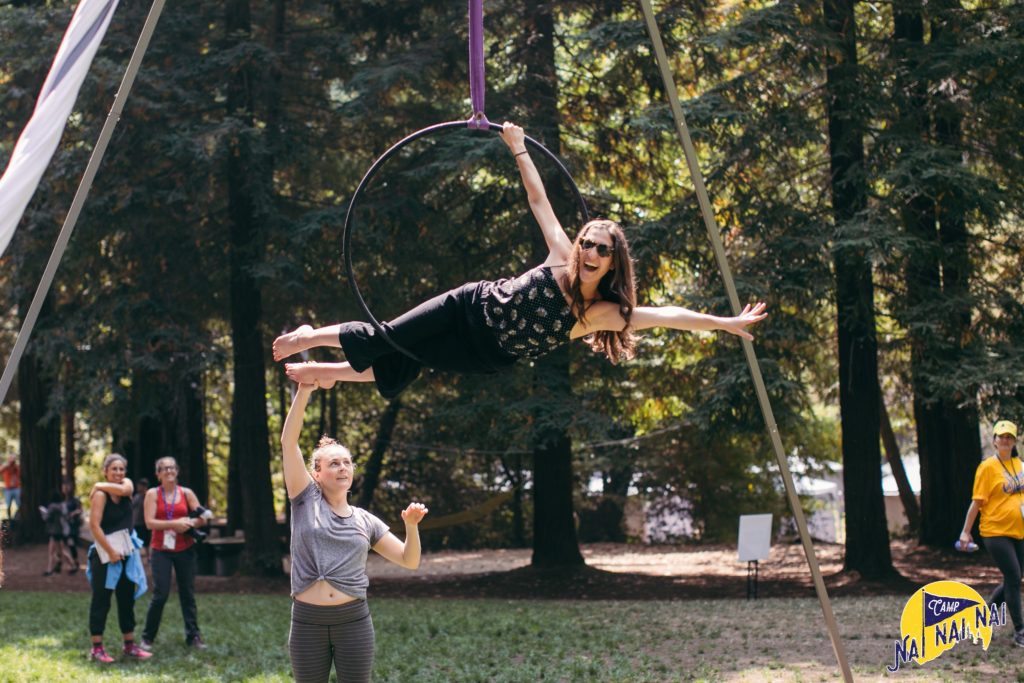 Aerials is one of many activities to choose from at camp.