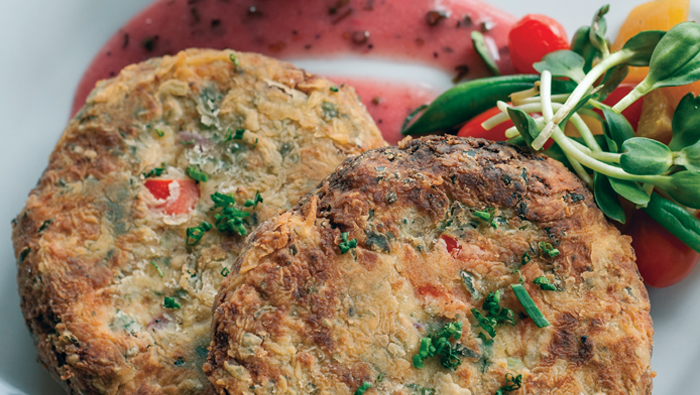 ---
I love the culinary challenge of creating fun foods that make Passover memorable. I'm a big fan of gefilte fish, and have enjoyed it many different ways. The simple ingredients consist of white fish, onions, starch, and eggs, and have been an object of culinary delight and a linchpin of "Jewishness" for decades.
Gefilte fish emerged in Europe as a savvy solution to meet a financial and a halachic (Jewish legal) dilemma. Impoverished Jewish women of Eastern and Central Europe could feed their families the cheapest kosher fish, and eat it without violating the prohibition against removing bones on Shabbat. Eating fish on the Sabbath signifies fertility, and the numerical value of the Hebrew word for fish, "dag," is seven, symbolizing the seventh day of the week. This is why fish is considered a very holy food.
Now for those who pass up the traditional gefilte fish, you may like this salmon variation of the dish. It's amazingly easy to make, and can be prepared a day in advance.
May you be blessed with happiness, prosperity, peace and good health on Pesach and always.
Happy Passover!
Herbed Fish Cakes with Green Horseradish Sauce
Ingredients:
1 3/4 to 2 pounds skinless salmon fillets,
cut into 2-inch pieces
1 cup (generous) minced red onion
1/2 cup chopped fresh Italian parsley
1/2 cup chopped fresh cilantro
3 1/2 tablespoons plus 1 tablespoon (or more)
extra-virgin olive oil, divided
1 1/2 teaspoons coarse kosher salt
3/4 teaspoon coarsely ground black pepper
wasabi or green horseradish sauce
Directions:
Line a rimmed baking sheet with plastic wrap. Place 1/2 of the fish into a food processor and pulse until the fish is finely chopped (do not puree to a paste); transfer to bowl. Repeat with remaining fish.
Mix the onion, parsley, cilantro, 3 1/2 tablespoons oil, salt and pepper into the fish.
Measure 1/4 cup of the fish mixture and using wet hands, shape into 3"x2 "x1/2" cakes. Arrange on prepared baking sheet. (If making ahead, cover and refrigerate until the next day.)
Heat 1 tablespoon oil in large skillet over medium heat. Working in batches, sauté cakes until opaque in the center (about 4 minutes per side), adding more oil to the skillet, by tablespoonful, as needed. Transfer to platter.
Serve warm or at room temperature with wasabi or green horseradish sauce. You can easily make your own green horseradish by adding chopped cilantro and parsley to prepared horseradish.
Lucia Schnitzer and her husband, Ken, own Luci's Healthy Marketplace in Phoenix. The local coffee shop and marketplace opened in 2009 in Lucia's honor after her successful battle with breast cancer. She successfully manages her career, her growing family (four children), her personal well-being and the countless demands of the day.

---
---