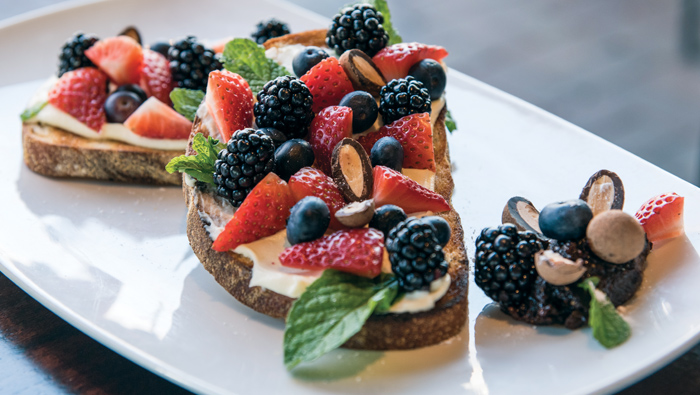 ---
One of my favorite foods I enjoy feasting on are "tartines," also known as open-faced sandwiches. Endless topping variations allow you to create a meal for any time of the day.
Tartines are a staple in France, but you can find these open-faced sandwiches all over the world, representing the tastes of that region. Here in the U.S., we're seeing open-faced sandwiches becoming a fast favorite in contemporary restaurants and cafés.
Topping ideas include roasted parsnips, sliced fresh pear atop an aged blue cheese and my favorite: mashed avocado seasoned with cumin, gray sea salt and lemon zest, topped with an over-easy egg.
Here's an interesting fact about the origins of tartines: Thin slabs of coarse bread were used as plates during the Middle Ages; then the food-soaked bread was consumed at the end of the meal. This practical way to make stale bread palatable has turned into a sophisticated and enjoyable meal idea, delicately presented on a single slice of toast.
Enjoy a sweet variation that will put a smile on anyone's face: Pair your tartine with your favorite bubbly beverage and chocolate-covered almonds!
Berries and Mascarpone Tartine
Ingredients:
3 tablespoons butter, softened
4 slices of brioche or other fresh bread
1/4 cup sugar
handful of mint, chopped
8 tablespoons mascarpone cheese
1/2 cup blueberries
1/2 cup raspberries
1/2 cup blackberries
1/2 cup strawberries, hulled and halved
1/2 cup champagne grapes (seasonal)
edible flowers or mint leaves for garnish
juice of 1 lime
Directions:
Preheat oven to 350 degrees. Butter the brioche and bake in oven for 2-4 minutes, or until golden and crisp.
In a small bowl, mix together sugar and chopped mint.
Toss the berries and lime juice in a bowl and add enough of the mint and sugar mixture to sweeten to taste.
Spoon the mascarpone over the toasted brioche and top with the berries. Sprinkle with the remaining mint sugar and garnish with edible flowers and mint leaves.
Lucia Schnitzer and her husband, Ken, own Pomelo (a full-service restaurant), Luci's at The Orchard and Splurge (a candy and ice cream shop), all at The Orchard Phx, 7100 N 12th Street, Phoenix. They also own Luci's Healthy Marketplace, 1590 E Bethany Home Road, Phoenix, which they opened in 2009 in Lucia's honor after her successful battle with breast cancer.
Photo by Matthew Strauss

---
---