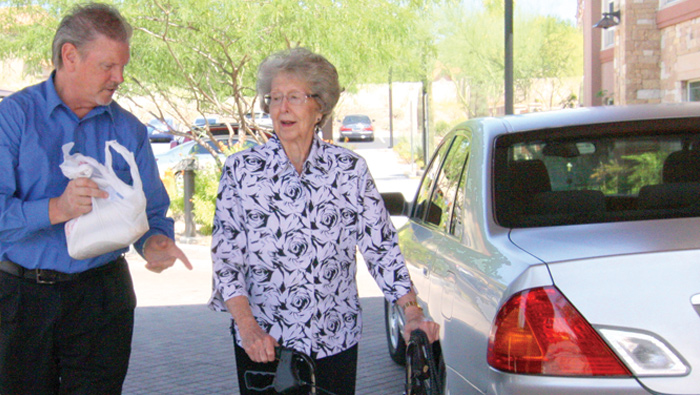 ---
For many elderly Americans, giving up or losing their driving privileges can be a frightening proposition. Having no car often feels as if one is losing his or her independence and is solely reliant on others – family, friends or vendors such as taxi drivers and ride-share services – to make physician appointments, go shopping or conduct daily business.
The 2009 National Household Transportation Survey found that more than 30% of seniors age 65 and older rely on others for at least some transportation. A more recent study from 2014 by the National Association of Area Agencies on Aging listed transportation as the No. 1 concern for seniors. Usually adult children, friends or neighbors help with the driving duties, but if the children are out of state and the friends are busy, the senior's health needs may go unfulfilled.
Andy Beran, a Scottsdale entrepreneur and active member in the Scottsdale Jewish community, heard what many members of his congregation were saying.
Andy believes taxis and app-based ride services don't work well for seniors, as they tend to be expensive and confusing for them. He also feels that those drivers couldn't deal with the special needs of seniors who require a little extra help with stairs or packages.
Transportation is nothing new to Andy, who owns Quality Transport Services of Arizona, an assisted transportation service helping people who are not ambulatory – those who require a wheelchair or a stretcher. He began thinking of what a business model for a separate, independent company would look like if it were focused on ambulatory clients who could get in and out of a vehicle on their own or with some slight assistance. He wondered if drivers could became companions who help with rides and much more. For example, what if a driver also helped during errands by carrying groceries? Drivers could also accompany seniors to medical or social appointments, as would a family member.
In 2012 he developed the base plan for Envoy America, an enhanced ride-share program that offers a door-to-door service instead of the standard curbside service of other transportation companies. To help get Envoy America moving, Andy partnered with his longtime friend and colleague, Karim (K.C.) Kanaan. K.C. was born in Nablus in the West Bank and grew up in Jordan. He met Andy when the two worked for Intel in Northern California; they remained close as each pursued different business opportunities with success.
Andy, a former president of the Jewish Federation of Sacramento, CA, who remains very active in AIPAC, acknowledged people sometimes ask him what it's like working so closely with a Palestinian. "K.C. has been a close friend for years," he says. "I can't think of a more genuine, caring person who respects and wants to help every person within our community."
At Envoy America, both men use their skills to grow the business. Andy is involved with the internal operations – finance, administration, legal and employment – so that as the company expands, everything will grow in a predictable manner. K.C. focuses on growing the company – increasing the customer base, pricing, marketing and working with partners.
As the two shared their plans, help in various capacities came from K.C.'s friends and several members of Andy's synagogue, Or Tzion in Scottsdale, including Judy Freider, Efram Lieber, Steve Ference and Josh Weiss. All are active in working on the growth and success of the company.
After months of planning, Envoy America launched its service in May 2015, covering Scottsdale, Fountain Hills, Paradise Valley and north Phoenix. The company provides ride services for seniors that include companionship – the driver will assist clients from their house to the car, drive them to the appointment and help them as needed during the trip.
Clients choose either a subscription-based or a pay-per-ride service, which is typically 10 to 20% less than private pay services such as taxi or app-based ride services. Payment is arranged ahead of time and tipping is not allowed.
K.C. says the customer's children often contact Envoy America and pay for the service. "For adult children, our service to them is peace of mind," he says.
Typical trips include doctors' appointments and pharmacy visits, shopping trips and worship services. "Our drivers will help our clients with everything, including pushing a shopping cart through a grocery store and picking items from the top and bottom shelves that are difficult for some seniors to reach," K.C. says. When the trip is over, the driver will walk the client back into the house and make sure he or she is safely inside.
Envoy America carefully screens its prospective drivers using Reliable Background Screening, a national background-check firm based in Scottsdale and owned by Rudy Troisi (another member of Or Tzion synagogue) to ensure they have the best drivers available for their clients' safety. "We treat each of our clients as a precious trust, and we devote every possible resource to ensure a safe trip," K.C. says.
In the short time the company has been in operation, Andy notes that many drivers have become more than just drivers for their clients. "We have about 15 or 20 active drivers – drivers who are working several times a week. When a new client calls, we always ask if they prefer a male or female driver, and we accommodate that request," he says. "After each ride, we call the client to check how things went. One of the questions we ask is if they want the same driver. What we are seeing is that many clients are requesting a favorite driver."
After a recent article appeared in The Arizona Republic, Envoy America saw an upsurge in new subscribers and received more than 400 inquiries from people who wanted to drive for the company. "We were astounded by the response, and we reviewed every single application," K.C. says. "We have about 50 people in the pipeline who could become drivers soon."
That response has Andy and K.C. looking to grow the service in other parts of the Phoenix metro area and perhaps to expand to other cities with similar demographics.
Andy and K.C. are very big on community service. This year, Envoy America provided free transportation for local seniors attending High Holiday services at Congregation Or Tzion and a discounted rate for longer drives to services.
They also work with Stepping Up For Seniors, a local nonprofit that helps seniors who don't have the means to afford transportation, by providing free rides just to help. Several independent-living facilities also refer their residents to Envoy America.
K.C. adds they are looking for other faith-based and service groups who work with seniors.
"We want to give back to the community; we are a part of this community," K.C. says. "We want to help people who can't drive or are not in a position to get to the service. Once they give us a call, we will go out of our way to help them."
Josh Weiss contributed to this article.

---
---