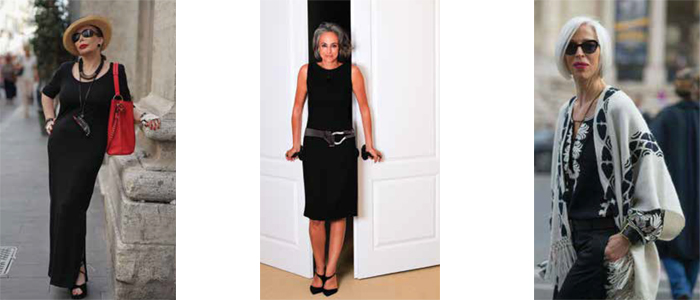 ---
When it comes to women's style, there have always been rules stating that "women of a certain age" need to dress in "age-appropriate" outfits. But what does that even mean? You get to a certain age and can no longer follow trends, wear stylish separates and bold accessories? I think not! Just because you've reached a mature age, doesn't mean that you have to turn in your fashionista flavor for a frumpy getup. I'm in favor of showing your true style in how you dress, no matter how many trips around the sun you've taken.
Yes, there may be some trends like midriff bearing styles that should be left to the younger girls, but let's face it, there are countless up-and-coming trends that can work for a woman of any age. So here's how to evolve your wardrobe as you do:
Dump Your Dowdy Duds. The first step in owning your age and stepping up your fashion game is to retire less-than-stylish items. I'm talking about your velour sweat suits; worn out and tattered clothing; items with dated trends (vintage isn't always a good thing); and pieces that no longer fit properly like unflattering, baggy pants or tops that are a little too tight.
Load Up On Your Staples. After you've cleaned out your closet, it's time to restock with the must-haves. These are items worth investing in because you can mix and match them to make countless different outfits for different occasions. The staples you need are neutral pants in black, grey, camel or navy; dark wash jeans; a denim jacket; wide-legged pants; a black dress; a tailored black jacket; a leather jacket; an oversized cardigan; a trench coat; a classic white blouse; and a leather jacket. These pieces can be put together to form sophisticated and dressy outfits or trendy, cool looks.
Dress to Impress. Now that you have a wardrobe you can work with; it's time to put those pieces to work for you! Here are five go-to looks that will turn heads for all the right reasons: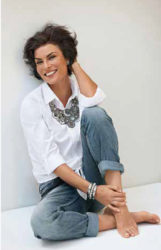 Denim Day
What used to be a fashion faux pas is now an envy-worthy casual style. Denim on denim is a look a woman of any age can get behind. Take a dark, straight-legged jean, pair it back to your classic white blouse and throw on your denim jacket in a similar blue hue. This outfit is crisp, cool and chic without being too polished. Dress up the look with a patterned flat or a leather chunky heel and a statement necklace.
Classic Black
Take your sophisticated black dress that hits below the knee and layer a cashmere cardigan or tailored black jacket over the top for more coverage. Pair with a beautiful black pump with an interesting detail, like a metal buckle, to add an inspiring flair to the classic black outfit.
Edgy Woman
Show your personality through your fashion choices. If you're feeling a little bit rock and roll, try an oversized trench coat left open over an oversized black top with a fringe, stud or tie detail for added interest. The trench is an easy way to feel comforted by a loose silhouette, without compromising your fashion prowess. Pair this back to a black denim pant with a straight leg and choose a snakeskin bootie or studded sneaker for an extra edge.
Leather Love
Your leather jacket is the easiest way to add a little "oomph" to any outfit. For example, wear it over a polished blouse and wide-legged trousers to take your sophisticated style from pretty, to pretty cool. Leather can be worn head to toe, so finish off the look with a sassy leather boot to match.
Casual Friday
Try an athleisure inspired look that's as comfortable as it is fashionable. Layer a soft silk or sheer bomber jacket zipped over a camisole. Pair it with a blue jean or a black pant with stretch that has a minimal pattern on it like a splatter paint or studded detail. Top off the look with a cute slip on flat with a white rubber sole. This outfit is funky, yet practical for running errands or grabbing a casual lunch.
Ladies, you are sophisticated and confident in your age. Own it and show it in how you dress!

---
---