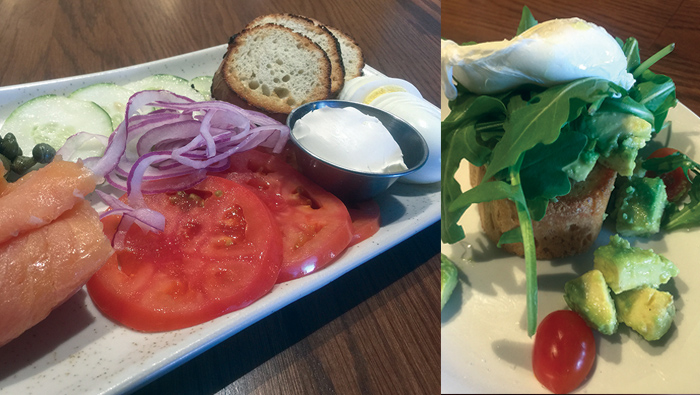 ---
Joy Bus Diner
$$
3375 E Shea Blvd., Phoenix
602-595-5884
thejoybusdiner.com
Two things you need to know right up front: it's a mitzvah to eat here and the food is good! The combination of doing good while eating well is a joyous experience and reflects the very name of this restaurant.
It's a mitzvah because the Joy Bus Diner, organized as a nonprofit, uses its proceeds to fund support and relief to people battling cancer, and the food is good because chefs from around the Valley have contributed their talent, helping to create menu items unique to this culinary ride.
I think people who eat here know they are supporting a good cause. This sets a whole different tone and creates a vibe you will only find here. That, and the fact the staff (many of whom are volunteers) want to be there and strive for perfection, so you will come back and support the cause again, is what brings it all together. The kicker, the icing, the cherry on top, is delicious food, served with a smile.
They are not heavy-handed with their message. There are little tell-tale signs what they are about.  You will see things like, "Today's eggs are donated by Hickman Farms," but you almost have to ask how it all works to get the answer – that the proceeds help pay for chef-cooked meals delivered to homebound people trying to beat cancer.
The restaurant is well run, cute, with an open kitchen so you can see, hear and enjoy the meals as they journey toward happy customers. They are open for breakfast and lunch, though you can order either throughout the day. Over the course of several visits, here is what I had:
Avocado Woods Toast  $4
(with poached egg, arugula and tomato)
As a poached egg lover intrigued by the price, and the fact that it was the first item listed on the breakfast menu, I ordered it. A perfectly poached egg came gingerly perched atop a mound of arugula and beautiful looking toast, surrounded by bits of fresh avocado and tomato. I love sopping up egg yolk with toast. I had to ask why it was called "woods toast" and the answer is because Clint Woods of Fox Restaurants gave the bread recipe to the Joy Bus Diner. The bread is like a French baguette and served as the perfect vehicle for egg and avocado to reach my mouth.  The arugula was fresh, slightly bitter, healthy for you, and made this $4 meal filling.
Lox Plate  $9
(cold smoked salmon garnished with caperberries, red onion, egg, cucumbers, cream cheese and woods toast)
Again intrigued by the price, I ordered this Jewish classic. For $9 there was plenty of lox and all the traditional trimmings. Also there, the woods toast, which was fast becoming a favorite of mine. There was so much lox that I had to ask for more toast and cream cheese which was happily brought to me.
Chiliquilles  $8
(crisp chile drenched tortillas with an egg sprinkled with queso fresco and drizzled with crema Mexicana)
This dish is as much a feast for the eyes as it is the belly. There is a heaping helping of tortilla chips that have been toasted to a crisp, gently coated with a house made roasted chile sauce (like and enchilada sauce) with a fried egg on top, some onions (not mentioned in the description but certainly welcome) and some savory additions of queso fresco (a mild, unaged Mexican white cheese), and crema Mexicana (a rich sour cream). Caution – spicy! Good spicy, the kind that burns a little but you can't stop eating it. You have to like the heat to enjoy this wonderful breakfast. Here's a tip, sour cream takes away some of the sting of spicy foods. Take a bite of the sour cream by itself every now and then to cool your tongue.
Chicken and Waffles  $10
(double-dipped crispy chicken breast served alongside savory waffles, drenched in maple syrup)
The origin of chicken and waffles began in the South.  Establishments catering to late night revelers on their way home, some of whom were looking for breakfast, and some of whom were looking for dinner, concocted this perfect solution.
Confession, I like dark meat chicken, but I ordered anyway expecting disappointment. I was happily surprised by the golden dark brown, generous serving of what I would soon learn was delicious fried chicken. The waffles were dusted with powdered sugar and not drenched in maple syrup as described. Instead, it was served on the side which was good for me because here comes another confession; I ate both the chicken and the waffles with my hands, happily dipping away (bites of chicken too) in the syrup. I kind of still wish there was a dark meat option.
Tuna Sandwich  $8
(tuna salad served on 9-grain bread)
I made a small substitution here and asked for rye bread, toasted. The sandwich comes with fries and I love the combination of cold tuna salad and hot French fries. I grew up on this lunch.
The tuna salad was wonderfully cold, wet (I like that) and had a little spice to it that I couldn't place so I asked. It turns out there are bits of pepperoncini in the mix. I liked it. It's not a hot spice, but there's a little heat here, so the squeamish have been forewarned. The toasted rye was fabulous, and even more fabulous was the golden brown, seasoned fries. Between the sandwich and the seasoned fries, there was a lot of flavor going on here. Again, generous portions which seem to be the Joy Bus Diner modus operandi.
The Joy Bus Diner is a celebration of food and life. You feel good about eating there even if you're munching on fried chicken or French fries. Everyone is friendly, the staff knows their stuff, and I saw servers stuffing their tips into a donation jar. How nice is that? The restaurant is located just east of State Route 51on Shea Blvd., so there's no excuse not to drop by. You will be happy you did, maybe joyful. Come along for the ride.
Contact A. Noshman at a.noshman@azjewishlife.com

---
---