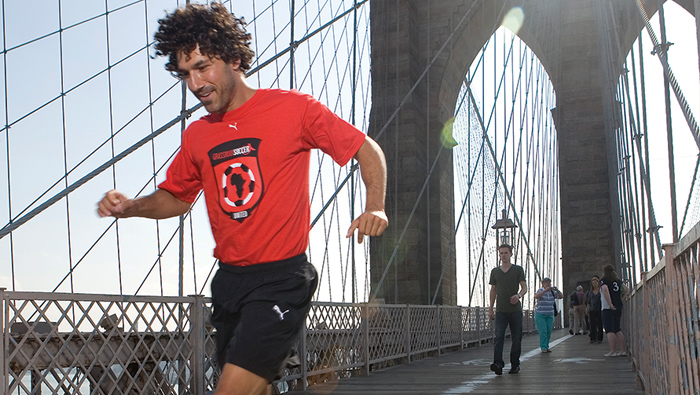 ---
Although many people remember Ethan Zohn as the winner of "Survivor: Africa" from 2002, the philanthropist, sports analyst and nonprofit entrepreneur is so much more than a reality TV star.
And he attributes his success, primarily, to the Jewish values he learned in his youth.
"The Jewish community was a huge part of my upbringing. The values I learned growing up, I personally believe, helped me do well on the show Survivor, helped me do well in my professional life and also helped me get through and overcome challenges like cancer," Ethan says.
He will share how these values shaped his life choices as the keynote speaker for the Jewish National Fund Arizona Women for Israel Luncheon on Dec. 7, from 11 am to 1 pm at Chateau Luxe in Phoenix.
"Ethan's love for Israel and some of his life experiences correlate to our motto for this year: 'Meeting the challenges, overcoming obstacles and building the dream,' which Israel exemplifies. Ethan has had to overcome some challenges and he has found a way to build dreams," says Shirli Borenstein, who co-chairs the luncheon with Pam Meyer. "We hope that his charisma and energy will bring inspiration to the women who are coming together to support Israel and share their love for Israel."
The $1 million Survivor prize money enabled him to cofound Grassroot Soccer, a nonprofit that trains former professional soccer players and coaches to teach African children about HIV/AIDS prevention and other health issues. His connections with Judaism, soccer and AIDS victims in Zimbabwe all coalesced to turn his desire to help into reality.
"Judaism was a huge part of my upbringing," says Ethan, who was born in Lexington, MA, where he attended Temple Emunah. "I didn't love Hebrew school, but I enjoyed the other stuff," including USY events, competing in soccer at the JCC Maccabi Games in Detroit the summer of his junior year in high school, and service projects such as gift drives at Hanukkah and honoring a Russian boy at his bar mitzvah.
He became a bar mitzvah at the Conservative congregation where his father, Aaron, was vice president. Just a year later, in 1988, his father died of colon cancer and Ethan just wanted to retreat into his room. He says his mother, Rochelle, and older brothers, Lenard and Lee (all of whom still live in Massachusetts) and his soccer friends all helped him cope with the loss. But he says the embrace of his Jewish community was vital.
"The Jewish community reached out to me," he says. "I went to minyan every day for the first year. The support and sense of community from the Jewish people in my life reinforced all the values we live by as Jews."
Those values and connections have resurfaced at important times throughout his life.
After graduating from Vassar College, his professional soccer career took him to Zimbabwe, where he played for the Highlanders FC; he was one of only two white players in the 18-team league. Shortly after he arrived in Zimbabwe, he stayed with a white Jewish family and quickly became integrated into the small Orthodox community, where mothers "lined up to set me up with their daughters." He enjoyed frequent invitations to Shabbat dinners and attended the small town's one shul frequently.
He also witnessed firsthand "how HIV and AIDS destroy communities." He saw a teammate die a horrible death – ostracized and alone.
"I saw AIDS was a huge problem, but I didn't know what to do; I did nothing at the time," he says.
"Fast forward a few years to Survivor in Kenya," Ethan says. After one challenge during filming, he started to play soccer with a bunch of local children in a hospital parking lot. "I found out later they all had HIV. … To be on a silly little reality TV show and have that experience – it made me think that if I won, I would use the money to do good."
He did win and "had my 15 minutes of fame." And he reconnected with three of his soccer friends from Zimbabwe, Methembe Ndlovu, Kirk Friedrich and Dr. Tommy Clark, who was just finishing his medical school residency.
"Four soccer dudes who didn't know what we were doing came up with the concept," says Ethan. "Soccer players are the heroes of this community. Dr. Tommy Clark had written a one-page ethics paper in medical school about using soccer players to teach children (about AIDS prevention)."
With Ethan's $1-million prize money, the four launched the program at one school in Zimbabwe in 2003, with a carefully developed curriculum to train soccer players and coaches to teach life skills and AIDS prevention to Africa's youth. Nike became one of the first corporate sponsors, and now "We're in 50 countries and we've graduated 1.8 million people from the program."
Over the past 13 years, Grassroot Soccer has expanded to include malaria, gender-based violence, drugs and alcohol. There are specialized programs, like an all-girls track that addresses sexual health and pregnancy, too. "When kids graduate, hopefully, they're better equipped to make healthy decisions in life," says Ethan.
Grassroots Soccer also provides professional development for the former athletes who teach the curriculum, giving them tools to further their lives in terms of their own education or job opportunities. "They are between the ages of 18 and 25. After their time working with Grassroot Soccer, about 70 percent go on to get employed with an employable skill or they go back into some educational or certificate program," says Ethan.
In 2008, to raise awareness of the AIDS epidemic and funds to help Grassroot Soccer battle the spread of the disease, Ethan embarked on a 550-mile journey from Boston to Washington, D.C., dribbling a soccer ball the entire route, breaking a world record in the process. Then he created the Grassroot Soccer Endurance Team, which helped 200 athletes compete in the New York, Boston and Los Angeles Marathons to raise funds for more than 20,000 children to go through the program.
Soon Ethan was facing his own battle for survival. He was diagnosed with a rare form of Hodgkin lymphoma and received an autologous stem cell transplant, using cells from his own blood. Just 10 months later he captained the GRS Marathon Team and finished the 2010 NYC Marathon in just under four hours.
"On Survivor you push your body to the absolute limit and then push it some more," says Ethan of one lesson his experience on reality TV had reinforced. From Survivor and his days as a professional athlete, Ethan says, "I knew how far I could push my body. I knew the body is pretty remarkable."
After a 20-month remission, the cancer returned. But Ethan ran in the 2011 NYC Marathon while undergoing chemotherapy. This time, doctors decided he needed an allogeneic stem cell transplant from a matching donor. Fortunately for Ethan, one of his brothers was a match. However, knowing that siblings have only a 25% chance of being a donor match, Ethan says he now encourages everyone to "get swabbed and get on the Gift of Life registry," which helps find lifesaving matches for people needing bone marrow or stem cell transplants. "People think there are unlimited people out there who can donate their stem cells to save a life, but it's not necessarily the case. Any ethnic diversity decreases your chance of finding a match."
He also encourages people to participate in the many fundraising events that enable cancer research to progress.
Ethan says he can personally speak to what that money means to those battling cancer. "In the 20 months I was in remission, a new drug emerged for a select group of people in my situation," he says, adding if his cancer had returned earlier, "I might not be here. The fact is that there are new drugs in the pipeline and they are saving lives."
He feels the skills he learned growing up Jewish have played a role in his success in both Survivor and his survival of cancer.
"I believe they helped me win Survivor and they helped me through my hardest moments with cancer," says Ethan. He attributes his win on Survivor to competing selflessly as part of a community with honesty and a moral compass.
He reconnected even more with his Jewish roots after he was selected to participate in the ROI Summit in Jerusalem in the summer of 2013. The annual summit sponsored by the Schusterman Family Foundation brings together young change-makers to connect and create to transform Jewish life.
"It was a really exciting experience for me," says Ethan, noting it had a much greater impact on him than his first trip to Israel in 1997 as a member of the USA Maccabi Soccer team, during which sports, not Judaism, was his personal focus. "This second trip was very transformational. We visited the Wall and it resonated. … I feel more connected to my faith and religion."
The trip was transformational in another way as well. Following the summit, Ethan was joined by his non-Jewish girlfriend, Lisa Heywood, and the two rented a car and toured the Jewish state for 10 days. While they were in Jerusalem, he made sure he found a tour guide who could make Judaism come alive. "I told him, 'Listen, you need to sell her on Judaism. We need to get her to turn the corner.' He did a good job," says Ethan. Apparently so – Lisa embraced Judaism, joined the tribe and the couple married in July.
The newlyweds moved out of New York City to a small cottage in the woods of New Hampshire. Ethan says they are committed to living off the grid as much as possible. Although it's not exactly a repeat of Survivor, he's excited about the new challenge.
"The way I play the game is the way I live my life," says Ethan, noting that Jewish values continue to carry him on his journey.
By Nancy Ben-Asher Ozeri  and Deborah Moon
Photos courtesy of Ethan Zohn

---
---