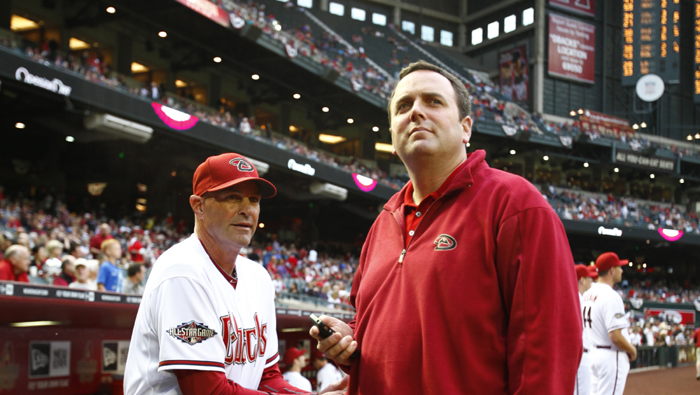 ---
By Deborah Moon
For Arizona Diamondbacks President and CEO Derrick Hall, Judaism and baseball go together like America and apple pie.
"As a people, we're about bringing people together and bettering our community, which is what the Diamondbacks are about as well, which is why it's such a perfect fit for me," says Derrick. "If we can serve our community and make it a better place to live, we are doing our job. We can put smiles on faces – that's the beauty of the industry we are in."
Jointly, Derrick and the Diamondbacks have been working together to improve their community since Derrick joined the club in May 2005 as Senior Vice President of c=Communications. He was named President in September 2006 and added the title of CEO in January 2009. Now 44, he is one of the youngest major league presidents. As a team, the Diamondbacks have given Arizona plenty to smile about. They are known in the sports world as something of an upstart – in only their fourth season as an expansion team, the Diamondbacks won the World Series (2001). And when their young president took the helm, the young team continued its winning ways. Since Derrick arrived, they have won the National League Western Division twice (2007, 2011) and reached the NL Championship Series once (2007). But the 15-year-old team is also one of the largest philanthropic entities in the Valley, donat- ing more money each year than all the other local sports teams combined, and it is near the top in donations among all baseball teams, Derrick says proudly. In its short history, the Arizona Diamondbacks Foundation and organization have provided $33 million in charitable giving, including more than $19 million during Derrick's seven years of leadership.
Volunteering is also a priority. Derrick says Diamondbacks employees from the front office to players volunteer "without cameras because it's the right thing to do." "Tikkun olam is a passion of mine and an alignment for me to baseball … philanthropy is common in the industry, but we are near the top. From management to players, the Diamondbacks have a strong philosophy of giving back, which aligns with my Jewish upbringing," he says.
On a personal level, Derrick is a force all his own. He serves on 25 boards, including the Arizona Mexico Commission, Great Hearts Academies, Arizona Chamber of Commerce, Greater Phoenix Convention & Visitors Bureau, Muscular Dystrophy Association (national vice president), National Advisory Coun- cil for Pancreatic Cancer, US Airways Education Foundation, Make-A-Wish Foundation and Positive Coaching Alliance.
A frequent keynote speaker on leadership, customer service and culture, he donates all speaking engagement fees to the Arizona Diamondbacks Foundation and other nonprofits he supports.
Though he doesn't serve on any Jewish boards, he says he is involved with AIPAC and Temple Solel, where his wife, Amy, serves on the board of trustees. Their sons Logan, 17, and Hayden, 14, each became a bar mitzvah at the Reform congregation in Paradise Valley, and daughter, Kylie, 11, already has her bat mitzvah date scheduled. Derrick calls Rabbi John Linder "a dear friend."
And the rabbi reciprocates the feeling: "I count as one of my great blessings in serving as Temple Solel's senior rabbi my cherished friendship with Derrick and the Hall family."
"Derrick Hall is a great Jewish role model," adds Linder. "Given the public nature of Derrick's position, he is aware that his actions reflect upon the Jewish people as a whole. We couldn't have a better ambassador! Derrick and Amy understand that to be a Jew is to be in community. Both at the helm of the Diamondbacks and personally, Derrick's influence to help all those in the community in need, Jews and non-Jews, reflects the core biblical dictum: 'Love your neighbor as you love yourself.'"
Perhaps that explains why Derrick serves on so many boards. Or maybe he just doesn't know how to say no. "When you call Derrick to ask for anything, he is unstintingly generous with his time and resources," says Linder.Ask Derrick why he is so involved, and his answer isn't that different: "Personal connections who ask if I could help." After a friend asked him to visit a facility for blind children, he felt he had to help. Since many Jewish families have children with autism, "I feel I have a responsibility." Because the 26-year-old wife of a Diamondback's employee was diagnosed with melanoma, he became a Stand Up 2 Cancer Melanoma Dream Team Sponsor. Cancer organizations have a deeply personal pull on Derrick. As the Diamondbacks were battling for the pennant in 2011, Derrick was diagnosed with prostate cancer. In December of that year, his father died after a three-year battle with pancreatic cancer.
Of his diagnosis, Derrick says: "I look at a challenge as an opportunity … for me to drive awareness to get men to get out and get tested." This year Derrick and Amy plan to launch the Derrick Hall Pro-State Foundation. "That's Pro state of mind, not prostate cancer," he explains. Derrick wants the foundation to be a resource for those who have been diagnosed with prostate cancer and for their families to help them understand the challenges and choices they face and how they can maintain a "pro" state of mind. For Derrick, the epitome of a "pro" is his dear friend Sandy Koufax, whom he deeply admires for having chosen not to pitch on Yom Kippur during the 1965 World Series. "He is a man of dignity, character and strength. He is so private."
Derrick says he enjoyed meeting his friend for dinner while Koufax was in Arizona for Spring Training, and he's also proud to be on the Jewish Baseball Players lithograph with Koufax and 25 other famous Jewish baseball players. The players are arrayed in front of the dugout, but a few Jewish baseball execs, including Derrick, are portrayed in the stands behind the dugout. Sitting in the stands and interacting with fans is how Derrick likes to experience the game.
George Weisz, who co-owns two of the Diamondbacks minor league affiliates, says he sits a few rows behind Derrick at Diamondbacks games. "He sits in the stands, not some luxury box. He is foremost a true fan of the game. Whether they are staff or the fan who wants to just say hello, he always has a smile and outreached hand. He likes, and yearns, to get input from the fans. He likes to encounter fans, whether they have complaints or compliments, so he can ensure that they have the best possible experience at the park."
Giving fans the best possible experience is a formal policy of the Diamondbacks. Derrick focuses the organization's efforts in five areas called the "Circle of Success" – fan experience, perfor- mance, community, culture and financial efficiency. With a focus on creating the best fan experience in all of sports, Derrick named and created a FAWTSY (Find A Way To Say Yes) customer service policy throughout the organization, ac- cording to Josh Rawitch, senior vice president, communications. And the team offers the lowest Fan Cost Index in Major League Baseball. Josh explains that is calculated based on ticket price, parking, food and a souvenir.
"We take pride in being the most fan-friendly team in sports," says Josh. The Diamondbacks home, Chase Field, has "a safe and friendly area – The Sandlot – on the second deck with a play area for kids from toddlers through 8 or 9 and batting cages for older kids." Additionally, Josh points out that Derrick has created a workplace culture that made the Diamondbacks the first sports organization to be named among the "Best Places to Work" by the Phoenix Business Journal and BestCompaniesAZ for six consecutive years.
"What Derrick has created with the team is a family and community," says Josh. "People truly love working for the Dia- mondbacks," says Josh, and he should know.
Josh says Derrick promised him a fun, rewarding place to work when he recruited Josh from the Dodgers front office. Josh left the team he started working for as an intern at age 18 and joined the Diamondbacks 18 months ago. Both Jewish, the two had worked together when Derrick spent parts of 12 seasons with the Los Angeles Dodgers, joining the organization's Single-A Florida State League affiliate as an intern in 1992 and departing as the club's senior vice president of communications in 2004. Josh says he and his wife have yet to join a congregation, but their children attend preschool at the Jewish Community Center in Scottsdale. He calls the JCC and the preschool "the center of our social world."
Josh, who lived out his player fantasy playing in Dodger Stadium for the city high school baseball championship, says that for those who can't play professional ball, "the passion of the front office is how we express" that love for the game. "Being part of a game that is part of our country's history" fuels that passion. "Jackie Robinson breaking the color barrier is part of the fabric of our country and our own lives," Josh explains.
Diversity in baseball is another area where Derrick plays a major role. He serves on the MLB diversity committee and on Baseball Commissioner Bud Selig's on-field diversity task force.
"I obsess with baseball because it brought my father and me close early in my childhood," says Derrick. "His love for the game was passed on to me and became my passion in life."
Now Derrick hopes his push to enhance the fan experience and make Diamondbacks games relatively inexpensive for families will complete the circle. And what could be better than transmitting the Hall family's deeply rooted love for America's pastime to a new generation?
JEWISH COMMUNITY DAY WITH ARIZONA DIAMONBACKS
May 26
The Arizona Diamondbacks offer discount tickets for the fourth annual Jewish Community Day May 26. The Diamiondbacks will take the field against the Padres at 1:10 pm. A portion of each ticket sold through the flyers or dbacks.com/jewish for Jewish Community Day will be donated to Camp stein and Council for Jews with special needs. Each group will receive $1 per qualifying ticket.
Cantor Melissa Berman of Congregation or Chadash will sing the national anthem before the game. Kids can run the bases after the game. Chase Field allows you to bring in kosher or any food items in clear plastic bags or a soft cooler that fit under a stadium seat. Sealed or empty water bottles and sealed single serving juice boxes are allowed. Mo metal or glass containers or hard coolers are permitted.
For tickets, visit dbacks.com/jewish. Use password: jewish. For accessible seating or groups of 12 or larger, please contact Johanna Kasdorf at 602-462-4113 or jkasdorf@ dbacks.com.

---
---