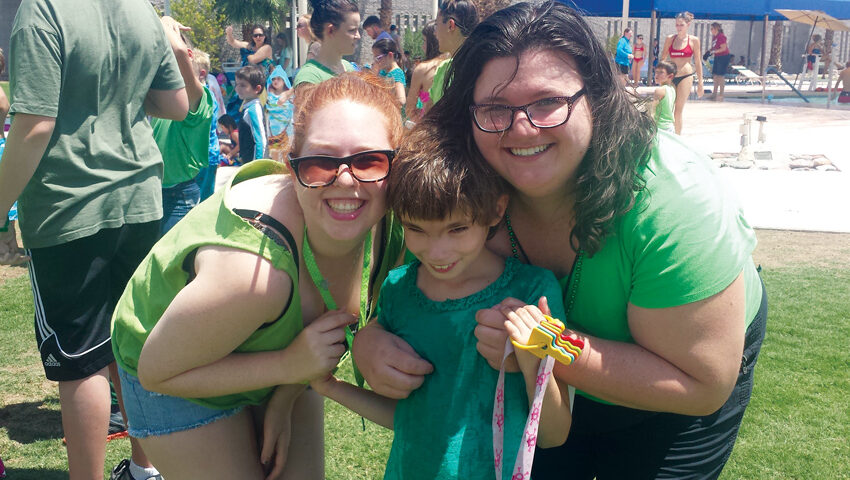 ---
Tucson J Special Needs Counselors Emily and Adina make sure Audrey is included in the summer fun.
Inclusion is a term we're hearing more and more of these days. It connotes open, welcoming arms, an acceptance of differences and a way to celebrate the uniqueness in each of us.
The National Inclusion Project has partnered with the Tucson Jewish Community Center to enrich its Summer Camp 2015 program. The goal of the partnership is to provide an inclusive environment where children with and without disabilities can play, learn and laugh together. As part of the partnership, the National Inclusion Project provides $10,000 in grant funding, the Let's ALL Play program model, training, expertise, annual Power of Play Conference and a wide network of inclusion experts ready to problem-solve and share best practices to ensure no child sits on the sidelines.
Even before its rollout this summer, the program has proven wildly popular and was full at press time. But the J has a waiting list and encourages families to call to be put on the list. Call Kristin Taft, director of special needs services, at 299-3000 ext. 172.
The Tucson J is one of 13 new organizations the National Inclusion Project chose to partner with in 2015. "We believe our partnership with The Tucson J will get us one step closer to making the inclusion of children with disabilities the expectation and not the exception," says National Inclusion Project Executive Director Jerry Aiken.
Tucson J President and CEO Todd Rockoff says, "We are proud of the work that we do and are honored to partner with the National Inclusion Project."
Children with disabilities have been welcomed at the Tucson's J's summer camp, Camp J, since 1997. This partnership with the National Inclusion Project will help the Tucson J enrich staff knowledge of inclusion methods through new training methods, ensure the J's program adheres to best practices, incorporate new games and activities, and provide scholarship funds for children with disabilities who otherwise could not participate due to financial need.
"We are eager to undertake new staff training opportunities and serve additional campers through our partnership with National Inclusion Project," Kristin says. "Inclusion is such an important part of the Camp J experience, and these additional resources will help us reach our goal of continual improvement."
Research shows overwhelming evidence that the Let's ALL Play model helps children with disabilities improve self-esteem, social skills and confidence, while those without disabilities improved their leadership, problem-solving and empathy skills. The model makes it possible for all children to come together and participate in recreational activities such as swimming, arts and crafts, community service, physical fitness and more. More importantly, it allows children with and without disabilities to create friendships that may have not been possible in other parts of their lives.
The National Inclusion Project was cofounded in 2003 by entertainer Clay Aiken and serves to bridge the gap that exists between young people with disabilities and the world around them. By driving the movement for social inclusion in afterschool programs, summer camps and community-based activities, children of all abilities learn, play and laugh together. Over the last 12 years, the project has provided training, curriculum, and support to YMCAs, JCCs, Boys & Girls Clubs, 4-H, Camp Fire USA, children's museums, zoos and other community organizations looking to become inclusive or enhance their inclusive programs. For more information on the National Inclusion Project and to help ensure no child sits on the sidelines, visit the website inclusionproject.org.
The Tucson J is located at 3800 E River Road in Tucson. 520-299-3000, tucsonjcc.org

---
---