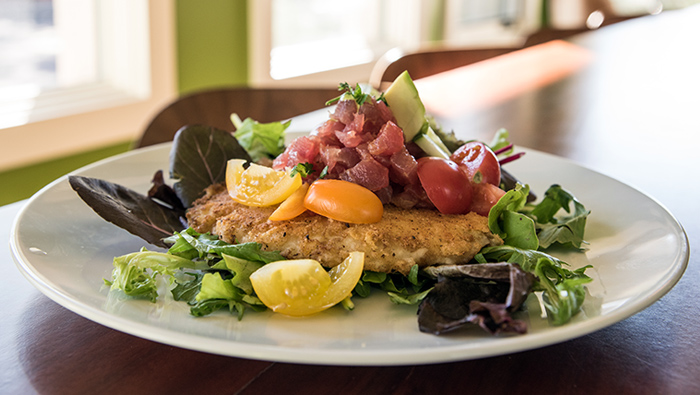 ---
Hanukkah enlightens and revives for me the many faces of miracles that reveal themselves every day: my children, life, health, love and so many more. It's the gratitude that builds up inside that reflects an everlasting flame that flickers and bursts each time I witness G-d's grace in my life and in others.
The oil that lasted eight days signifies why we fry foods during Hanukkah, including sufganiyot (jelly doughnuts), latkes and other kinds of fritters. The oil you use should handle high temperatures without browning and turning toxic. Some oils to consider are avocado, coconut, grapeseed and safflower. Traditional latkes (fried potato pancakes) are topped with applesauce or sour cream, but there are many other creative variations for pancakes and toppings. This year, try organizing a latkes bar, including mini latkes, with sophisticated toppings.
This recipe offers a delicious variation for a main dish or appetizer: soft potato pancakes with fresh tuna tartar. May the miracle of the lights remind you of the many miracles in your own life. Happy Hanukkah!
Potato Pancakes with Tuna Tartar
Potato pancakes ingredients:
1 1/2 pounds Idaho or other baking potatoes
1 Spanish onion, finely chopped
1 tablespoon olive oil
2 tablespoons butter
1 large egg, lightly beaten
kosher salt and freshly ground black pepper
1 tablespoon extra butter for frying
2 tablespoons canola or frying oil
Tuna tartar ingredients:
12 ounces sushi-grade tuna, cut into 1/2-inch cubes
1 tablespoon chili powder
3 tablespoons olive oil
2 shallots, minced
2 garlic cloves, minced
1 tablespoon minced ginger
1 teaspoon mustard
juice of 2 limes
salt and freshly ground black pepper
4 basil leaves, chopped
Directions:
Dice tuna into medium-size pieces. Place in a bowl.
In a separate bowl, mix all other ingredients with a whisk. Fold mixture into tuna, season with salt and pepper and finish with basil.
Wash potatoes and place in pot. Cover with salted water and simmer until done.
Peel the potatoes, then grate them on a box grater or mash them with a fork. Place in a large bowl and add the onion, olive oil, butter and egg. Mix well. Season with salt and pepper and divide the potato mixture into 4 parts.
Heat butter and oil in an 8-inch skillet over medium heat. Add one quarter of the potato mixture and cook for 4 minutes or until golden brown on the bottom. Turn the cake and cook another 4 minutes or until browned on the bottom side and cooked through. Transfer to paper towels to drain then to a baking sheet. Keep warm in the oven while you cook the remaining pancakes. Serve with tuna tartar.
Lucia Schnitzer and her husband, Ken, own Pomelo (a full-service restaurant), Luci's at The Orchard and Splurge (a candy and ice cream shop), all at The Orchard Phx, 7100 N 12th Street, Phoenix. They also own Luci's Healthy Marketplace, 1590 E Bethany Home Road, Phoenix, which they opened in 2009 in Lucia's honor after her successful battle with breast cancer.
Photo by Matthew Strauss

---
---