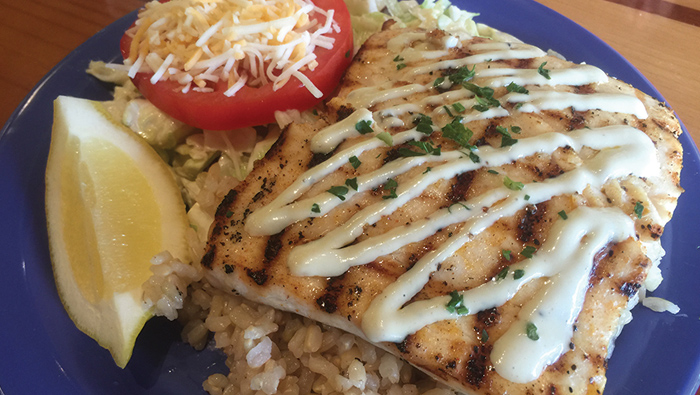 ---
Coconut's Fish Cafe
$$
7366 E Shea Blvd., Scottsdale
480-596-2987
16640 N Scottsdale Road, Scottsdale
480-275-6690
1155 W Ocotillo Road, Suite #1, Chandler
480-247-7900
coconutsaz.com
Normally, I don't review chain restaurants, but when it originates from the Hawaiian chain of islands… well, that's a chain I can link to.
I love Hawaii and have been to four of the eight major islands. Each is unique, from the stark volcanic landscape of the Big Island of Hawaii, to the lush mountains of Kauai with its 460 inches of rain per year. Despite the differences among the islands, there is a constant sense of peace, spirit, and knowing that you are but a speck of something grander. Island people are easygoing, full of joy and surrounded by a bounty of food swimming in the blue waters of the Pacific. Hawaiian cooking has absorbed the best influences of nearby islands and Pacific Rim countries and fused them into traditional dishes. Combining those techniques and flavors with the freshest fish from the Pacific (I just now realized that Pacific means peaceful in character or intent), and you've got a dinner that makes your tummy and all of you happy.
Maui, considered the most romantic destination of the chain of islands, is the birthplace of Coconut's Fish Cafe. The family-owned restaurant expanded from Maui to the Valley of all places (in three locations) and we are the better for it. The desert could use some pacifying.
One of the things I like about Coconut's Fish Cafe is that I have never waited more than eight minutes for the food to arrive from the time I order. In a way, it's fast food, except it's healthy and delicious; two words that often do not go together.
Their location on Shea Boulevard is small. I counted eight tables shaped like surfboards and a long counter, with additional seating on a large, misted outdoor patio. You place your order at the counter, are given a number and the food is brought to your table on real plates; a real meal at an excellent price. It's hard to fathom this combination of ordering like fast food but receiving grilled fresh fish as good as, if not better, than any pricey seafood restaurant. The fish is flown in fresh from Hawaii four times a week and cut fresh daily, and you know that in the first bite.
Over the course of a couple of visits, here is what I had:
Ahi Poke   $11.99
(Hawaiian classic, raw Ahi marinated in soy, garlic and green onions. Served with house-made taro chips.)
Poke Poke (as I always called it), is a raw fish salad served as an appetizer. Think of it as Hawaii's answer to ceviche. Coconut's version is made with fresh Ahi (white tuna). The freshness overtakes your taste buds and you are transported to the ocean. Mixed in are fresh avocado, sesame seeds and an Asian sweetness that makes the salad delightfully refreshing. Taro is a root vegetable that can be sliced thin, salted and fried (or baked but these were so good they had to be fried). It's like a potato chip only better. I stack the Ahi on the chip and use it like a cracker. Sushi lovers, ceviche lovers, this is definitely for you.
Grilled Mahi Mahi Local Style Cooked "Asian Flair"   $10.99
(Grilled and seasoned, served over brown rice, with tomato and cheese or substitute steamed vegetables [add $1] and "famous" coleslaw.)
There are three types of fish to choose from but six different ways to have them prepared. So if I do the math right, this makes 18 different items and the choosing gets a little daunting, but I persevere. I go with mahi mahi, or dolphinfish (not from the dolphin family and yes, it's kosher), and choose "Asian Flair" for the cooking style, and though I'm not a fan of brown rice, I stick with that, too. Eight minutes later arrives a beautifully grilled, generous piece of fish resting on a bed of rice with coleslaw on the side.
Again, the first bite reveals the freshness of the fish. It is perfectly seasoned and grilled, flaky, moist, delicate and drizzled with an aioli made with ginger and wasabi that provides the slightest bit of heat and compliments the dish very well. Remember how I'm not a fan of brown rice? I am now, at this place. The rice doesn't seem as brown or as firm as usual. It's softer, more delicately flavored, and a perfect pairing for the fish on top. The famous coleslaw is made with coconut milk, I think. I found it crisp and delicious but wouldn't say it's famous, instead sort of ordinary but fresh. I liked it being ordinary, though. There were so many flavors going on that it was almost like a cool palate cleanser between bites.
A quick note about serving lemon with fish. To me, it's like serving ketchup with steak. I love ketchup, but I wouldn't put it on a steak. I love lemon, but I love the taste of fish more and lemon to me, masks the flavor. Why do that to seafood?
Fish Tacos $10.99
(Two fish tacos made with 17 ingredients including ono and mahi mahi, white corn tortilla, organic tomato salsa, house-made coleslaw and mango salsa, gluten-free)
The fish tacos are what the restaurant is famous for ,and they have a quote from Zagat on the wall claiming them to be the "perfect fish taco." Well, they're right. Ono (also called wahoo) is in the mackerel family and is a white, delicately flavored fish (also kosher).
I am again served within eight minutes despite the fact the restaurant is packed and I sit at a long counter awaiting the famous tacos. There are two large fish tacos, colorful as could be, hot and ready for me to dive in. They give me a fork, but I'm not exactly sure how I'm supposed to eat this. Embracing the fact that I am facing a wall and no one can see me, I pick it up with my hands as best I can and start eating big bites. Absolute heaven. The fish is nicely grilled and chopped into bite size pieces. The salsas are sweet and not hot, and all of the fresh ingredients including the tortilla just sort of combine and melt together in your mouth. There are crisp and crunch from the coleslaw, and in all, just a tasty taco. Not a fan of gluten-free foods but this tortilla works and is probably very smart marketing.
There are steak and chicken tacos on the menu as well, even some chicken pasta, but I didn't go there. There are also Hawaiian brewed beers on draught, but my focus was fish. Funny how an Arizona born and bred boy digs the ocean. You've got to love the price, quality, friendliness and above all, freshness of Coconut's Fish Cafe. Catch this wave, brah!
Contact A. Noshman at a.noshman@azjewishlife.com

---
---