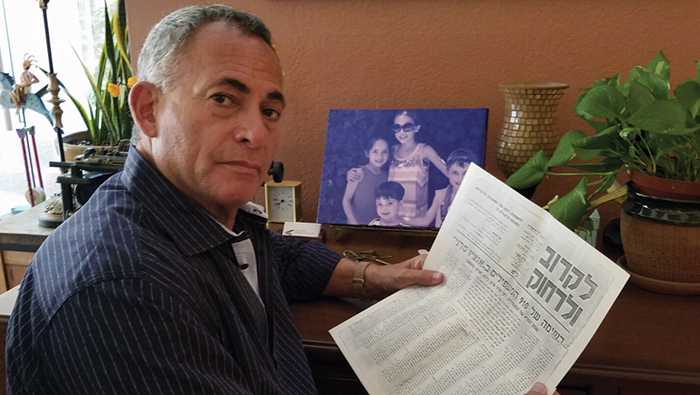 ---
For inspiration, Meir Jolovitz doesn't have to look farther than his late mother and father. He explains that his father survived an unprecedented 13 camps and his mother also endured the Holocaust and war years. "They never stopped talking about their experiences," he says, "and they always told me how fortunate I was. That is how I was raised."
Post-liberation, his parents, both born in Poland, met in early 1946 on a boat (meant for 90 passengers but carrying more than 900) headed to Palestine. The British captured the refugees in the waters not far from shore and imprisoned them for almost two months. The pair wed soon after their release, and Meir and two of his siblings were born in the Jewish state. A younger brother was born 15 years later in America, after the family had spent years in Northern Rhodesia (now Zambia) where Meir learned English. Distant relatives had touted the country as a land of opportunity, but yet another family member enticed them to Canton, OH where the family ultimately made their home.
"Not religious but very proud of Israel," Meir experienced what he calls "a life change," when, as a sophomore majoring in art at Ohio's Bowling Green State University, he heard a visiting lecturer, a U.N. representative, "trash Israel" in a political science class of 300 students. Meir couldn't hold back. "I eviscerated him," he says, "when no one else stood up to make the case for the Jewish state. It was on me." A professor who heard Meir that day encouraged him to change his major and he came to Arizona State University in Tempe to do just that. He went on to earn a master's degree in political theory and international relations, eventually defending his thesis, "The Politics of Terrorism in the Middle East: A study of ideology, strategy and tactics."
Word got out in the Valley about this ardent activist/zealous Zionist on the ASU campus and Meir was found to be a "perfect fit" to join the faculty, on a part-time basis, of Hebrew High, more formally known as the Phoenix High School of Jewish Studies. His twice-weekly "all Israel-related" classes, over a six-year period, were a big success, he recalls, and classrooms were packed as he espoused a "hard-core, militant, big pro-Zionist message." He says his was not a "typical Jewish American liberal view." His lectures emphasized his belief that American Jews were not doing enough to perpetuate Jewish survival and that they had failed to rally around the Jews of Europe during World War II.
Meanwhile, Meir was teaching a political science course at ASU with the goal of earning a doctorate in international relations. Additionally, he was hired by the Jewish Federation of Greater Phoenix as the "tough, pro-Israel" inaugural staff professional to head the nascent local Community Relations Committee. His was the voice of the Valley on behalf of Israel, reaching out to both Jewish and non-Jewish groups to make Israel's case. Meir recalls dealing with and documenting a spate of anti-Semitic incidents within the Jewish community.
He went on to serve as full-time director of Judaic studies and adult education for the Jewish Community Center in Phoenix.
And then, in the late 1970s, at an ROTC-sponsored event at ASU, Meir met, listened to and was inspired by Meir Kahane, the controversial American-Israeli Orthodox rabbi who headed the New York-based Jewish Defense League. "I already liked what I knew about him, but I saw that he embodied and championed the philosophy I was raised with: 'Never again.'"
In early 1981, "because [Kahane] continued to reinforce my parents' message that I had an obligation to the Jewish people," Meir moved to New York with his wife, whom he had met in Tempe. He was named JDL's national chairman, to "encourage Jewish pride and identity," and, not surprisingly, to teach and practice self-defense skills. The latter came especially easily to Meir, a committed bodybuilder, wrestler and health enthusiast.
"Once we started our family," he remembers, "we decided we wanted to raise our children in Israel," so their next move, about three years later, was to the Jewish state, with a 6-month-old daughter in tow. In 1990, his mentor, Kahane was assassinated by an Arab gunman in New York.
When Meir had visited Israel throughout his adult life, he noticed the lack of an American-style gym. He seized the opportunity – and Samson's Gym was born in the very heart of Jerusalem. It was "a phenomenal success" from the very beginning and "magical, most of the time." Business thrived, there was no war – and his family grew to include two sabra sons. "The gym took on a life of its own, becoming the largest facility of its kind in the Middle East," he says, and Samson's Gym T-shirts, according to a Jerusalem Post article at the time, were the most popular tourist gift for purchase.
Meanwhile, Meir had remained in touch with Don Sher, a former JCC executive here in the Valley, who also had made aliyah. "Don told me about an opportunity that sounded really good; administrator and sports and fitness director at Brooklyn's Sephardic Community Center." With the gym "practically running on its own," the Jolovitz family came back to the states. It was about this time that he and his wife "divorced amicably." Meir went on to become SCC associate director. After a two-year stint as national executive director of the Zionist Organization of America, he returned to the SCC to oversee a $63 million expansion and "remained there as executive director for seven great years."
A self-described "workaholic who doesn't sleep much," Meir decided some years ago that "it was time to do something I really wanted to do and haven't had time for: writing and lecturing." Now, at age 65, he has settled into a cozy and eclectically decorated northeast Valley home, and is doing just that. He also is on staff at the Bureau of Jewish Education, teaching classes on Israel and the Middle East. His goal: to get the pro-Israel message out, to both Jewish and non-Jewish audiences. He wants to convey to others his deep appreciation for life and freedom. That, he says, is his mantra and raison d'etre.
"And, when all is said and done," Meir says, "nothing is more important in my life than affiliating with organizations and movements about the defense of the Jewish people."

---
---