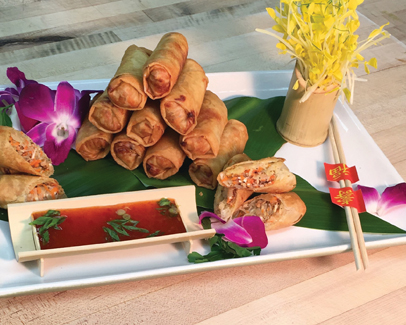 ---
Eating Chinese food on Christmas is a tradition for many families. The Scottsdale is proud to offer a new dining experience in Kitchen West Restaurant this year.
Inspired by the humorous and beloved holiday movie, "A Christmas Story," this dinner serves to help remind us of the true meaning of the holidays: togetherness.  Whether your homemade meal falls apart, as Mrs. Parker's did in the film, or you are proactively seeking to simplify, we are here for you.
(Please note: this meal is not kosher.) To begin, enjoy chef's flavorful hot & sour soup or seafood salad.  Move on to your choice of shrimp toast, fried wontons or vegetable spring rolls.  Entrée options include spiced roasted chicken, short rib Lo Mein, ginger scallion sea bass and oyster duck.
Guests may also enjoy any two of the following accompaniments to their meal; sausage and shrimp fried rice, pan noodles, garlic string beans, pickled vegetables or spiced cashews.  Finish the festive evening with a selection of sweet treats such as sticky buns, cookies or rice pudding.
The Scottsdale's Chinese Dinner is available Dec. 25 from 5 to 10 pm. The cost is $29 for adults, $15 for children ages 5-12, and complimentary for kids under five (prices do not include sales tax and 20% gratuity).
See below for the holiday buffet menu. Reservations are required.
Tel: 480-596-7522. 7700 E. McCormick Parkway, Scottsdale; www.TheScottsdaleResort.com
Hot & Sour Soup or Seafood Soup
(Served individually)
Appetizers
(Served family style)
Shrimp Toast, Fried Wonton, Vegetable Spring Rolls
Entrées
 Mix & Match
Spiced Roasted Chicken
Short Rib Lo Mein
Ginger Scallion Sea Bass
Black Bean Ribs
Oyster Duck
Sides
(Choose 2)
Sausage & Shrimp Fried Rice
Or
Pan Noodles
Garlic String Beans
Pickled Vegetables, Spiced Cashews
Dessert
Sweet Buns, Cookies, Rice Pudding
Hot Tea

---
---