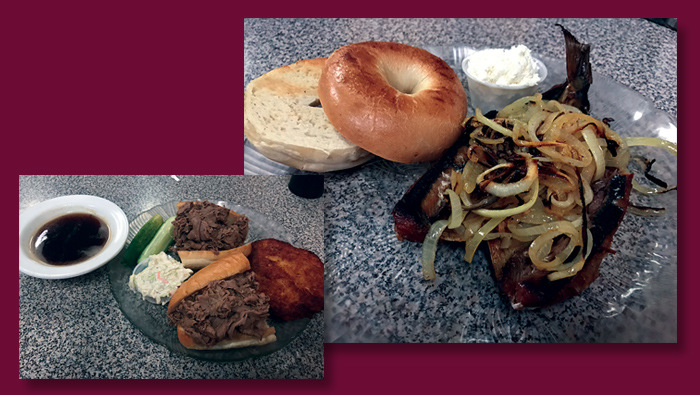 ---
There's a happy ending to this story, I promise.
For 28 years, Scott's Generations, a marvelous Jewish deli, has been serving hungry diners from the same Phoenix location, but that has come to an end. It's the last Jewish business to leave the once-robust strip mall at 7th Street and Missouri Avenue that housed the likes of Karsh's Bakery and the Israel Connection (a Judiaca shop). Gone are the gray faux-granite tables, the well-worn booths with no padding left and the wall-mounted photos of celebrities who frequented the deli. No more grabbing a quick sandwich, buying a menorah next door, then taking 10 extra steps to the bakery to pick up the best chocolate babka to take home. The end of an era is always sad.
But I did promise a happy ending and I am pleased to announce that Scott's Generations – unlike the other businesses – has not closed for good. The deli is relocating and reopening Jan. 6 on the northeast corner of 7th Street and Glendale, near the Safeway.
The two-mile move lets them not only keep serving loyal customers who swear by Scott's Generations, but also attract new customers to this happening corner. They are rehanging the old photos and schlepping the sports memorabilia long-time diners will recognize; but everything else will be brand new. Prices are staying the same, a big part of this deli's charm: good food at reasonable prices.
The restaurant's name evokes the ownership story, a family-owned New York kosher-style delicatessen that makes you feel like family, too. It is the site of gatherings and celebrations, the caterer of many family affairs. My brother always orders Scott's fabulous sliced roast beef and gravy by the pound for his annual Hanukkah party.
The menu will be the same, but there's also the opportunity to expand it a bit because of the new kitchen. They are also keeping the deli counter, where you can buy lox, chopped liver, salads and all sorts of goodies to take home.
Over the course of several end-of-an-era visits, I tried these dishes:
The New Yorker $12.50
(Corned beef & pastrami, coleslaw and Russian dressing piled high on your favorite bread served with pickles and American fries)
It's a big sandwich for sure, but what I like about it is that it's not one of those ridiculously monstrous concoctions that's impossible to fit in your mouth; you can actually finish it without taking half of it home. The pastrami has a wonderful, smoky flavor that combines well with the salty and tender corned beef. The coleslaw is fresh and sweet, with a nice vinegar bite. I chose rye bread. The American fries are an excellent, crispy, brown wedge/waffle-cut potato combination. In the end, you are stuffed and happy.
J.C.H.'s Smoked English Kippers  $10.95
(Pan-fried with sautéed onions, served with your favorite bagel and choice of butter and jelly or cream cheese)
There is quite a selection of smoked fish on the menu and I was pleasantly surprised to find this item. I inherited my love of kippers from my father. I never understood how this English classic came to be a favorite of a Jewish boy from Alabama; but you couldn't mistake the Sunday morning aroma wafting from the kitchen as he made one of his favorite breakfasts. Scott's Generations' take on this dish is to crispen the skin in a pan and smother it with delicately sliced sautéed onions. It's a delectably smoky, generous serving (watch out for bones) that's maybe not for everyone – but I encourage smoked-fish lovers to give it a try.
Nancy's French Dip $12.50
(Mouthwatering roast beef served on a club roll with fries and au jus)
I was expecting the same roast beef that my brother gets for his Hanukkah party, but this was different: thinly sliced, almost shredded, wetter, made more for a handheld sandwich than for a knife and fork. I asked if I could substitute a potato pancake for the fries and the server said, "You mean a latke?" "Yes, please," I responded sheepishly, knowing I should have asked that in the first place. I loved the soft bread, which acted like a sponge for the au jus. The latke was crisp, a bit peppery, and also spent time in the au jus.
I also had a bowl of matzah ball soup, but I'm not going to write about it. While nobody can top my sister-in-law's, Chompie's makes the best matzah ball soup – by a mile – I've ever had in a restaurant.
By the time you read this review, Scott's Generations will be open for business in its new location. You should go – then tell me how the new place measures up. You're going to find the same people, the same family atmosphere and the same good food they have been serving for 28 years. Breakfast and lunch are served until 5 pm; and they will happily cater your event. I wonder if they knew when they selected the word "generations" for the name that generations to come would enjoy it, too.
Scott's Generations
(new location)
742 E. Glendale Road #142, Phoenix
scottsgenerations.com
Contact A. Noshman at a.noshman@azjewishlife.com

---
---