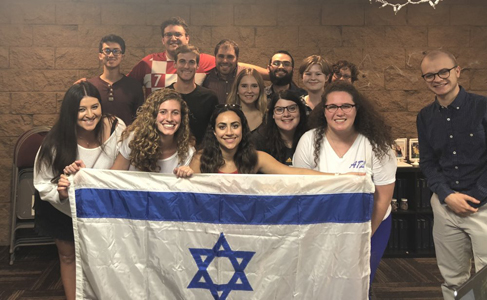 ---
Pictured above: Bottom row, left to right – Kate Chavez, StandWithUs High School Coordinator; Linda and Charline Delkhah, SWU Southwest Campus Coordinator
Second row, second from the left and right above Linda is Ron. Photos credit ASU Hillel
Reservists Linda and Ron visited Arizona State University as part of StandWithUs' "Israeli Soldiers Tour" on October 25.
They spoke at the ROTC class, attended by many members of the ASU Office for Veteran and Military Academic Engagement.  Later, they presented at ASU Hillel organized by Andrew Gibbs, Israel Education Coordinator.
SWU's "Israeli Soldiers Tour" features two reservists who reveal their never-before-heard stories of serving in the Israel Defense Forces (IDF).  They also share their backgrounds, life in Israel and answer tough questions, putting a "human" face to the IDF uniform.  The entire tour has six teams of two throughout the US from October 14 through 28.
Ron 26, competed in the Rio De Janeiro 2016 Olympics as a triathlete. He speaks about anti-Semitism in the one place it shouldn't be – sports.  Ron competed in countries where he had to hide his identity as a Jew and an Israeli; once forced to stand on the podium as a flagless man" after taking 3rd place.
Linda, 23, was born in Israel to Colombian and Venezuelan parents who made Aliyah to the "safety" of life in Israel. Linda marvels at Israel's diversity especially in the IDF.  Her unit takes care of the social welfare, financial and emotional needs of the soldiers; for example helping a Druze become a dental technician.
Fore more articles about StandWithUs, visit our archives:
Jacob Miller: New StandWithUs High School Intern

---
---