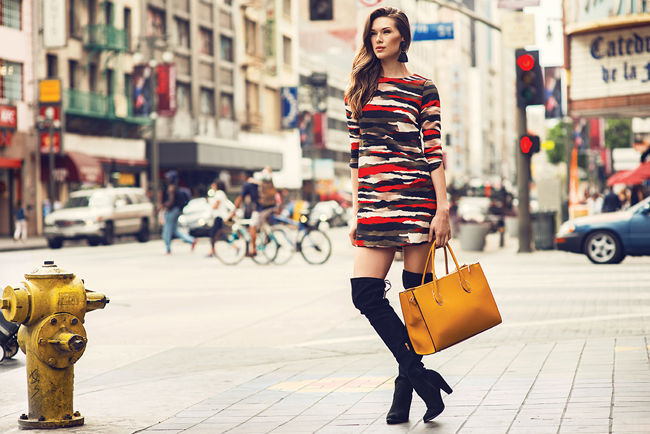 ---
In Phoenix, we don't see the snowy white weather our favorite holiday movies are made of, but that shouldn't stop us from making bold fashion choices like the big screen beauties in our favorite romantic comedies.
Cooler weather calls for staples such as chunky sweaters, beautiful coats and boots. But this season, I challenge you to channel your inner Hollywood actress and dress like a leading lady.
Sweaters
Layer up like the lovely Diane Keaton in "Because I Said So."
Since the average winter weather in Phoenix is around 56 degrees, women can wear skirts and dresses to spiff up our bold outfit choices. Don't worry about the chill in the air; you can always add a pair of stylish tights underneath to add an extra layer of detail and an extra layer of warmth to your outfit. Winter fashion is my absolute favorite because it allows for creativity in layering, while also keeping you warm and comfy.
Fun fact: You can get use of some of your summer dresses and skirts by layering sweaters over the top and tights underneath. Just because it's winter, doesn't mean your summer clothes are useless!
Coats
Look chic in fabulous coats like Cameron Diaz in "The Holiday."
Nothing makes a statement like a gorgeous winter coat. Yes, Arizona doesn't provide the coldest winter months, but that doesn't mean a coat won't come in handy during those windy mornings and chilly evenings.
This season, I'm loving the styles with faux fur collars, ruffle hems and biker-inspired silhouettes in faux leather and wool blends. You can wear these coats over jeans, a long-sleeved tee, and boots or layer a dressier style over a gown or cocktail dress when heading to a wedding or charity ball.
Boots
Strut your stuff in striking boots like Anne Hathaway in "The Devil Wears Prada."
Complete any winter outfit with a pair of fabulous boots. There are endless choices: heeled, flat, ankle, tall and over the knee, but all are very fashionable. By adding a pair of stylish boots, you can take a nice outfit and make it chic and sophisticated. A lot of shoes go out of style by the end of the season, but with good care, you can keep a pair of boots in your wardrobe for years to come.
While floral embroidery is the biggest boot trend of the season, there is nothing more timeless than a beautiful black leather boot. For an extra edge, look for a pair with a quilted detail or maybe ones with suede paneling or gold hardware.
For me, a typical winter outfit can range from a collared shirt covered with a cozy knit and jeans, to a knee-length coat and a pair of booties. Either way, winter weather is my absolute favorite to dress for. Nothing beats the sophistication of warm layers while being bundled up in cozy, soft textiles at the same time.

---
---