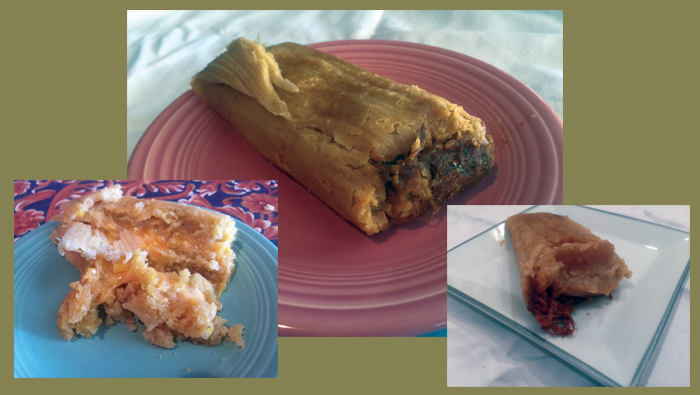 ---
The Tamale Store $$
13046 N Cave Creek Road
Phoenix, AZ 85022
602-435-2604
thetamalestore.com
It's not a restaurant, which makes this an unusual restaurant review. It's exactly what its name says, a tamale store. Those two words, Tamale Store, in bright red letters, caught my eye as I was careening down Cave Creek Road. A quick U-turn brought me around to an experience I feel obligated to share with food lovers, and might suggest as a delicious meal to eat after Passover ends.
Finding fabulous Mexican food that isn't made with lard or swimming in cheese is hard. Finding a tamale without a large olive (I'm not an olive guy) smack dab in the middle is difficult as well. Imagine my joy to discover a menu full of lard-free, olive-free and gluten-free (for so many who prefer that) tamales. Finally, I can write about Mexican food for Arizona Jewish Life, but will the tamales be good enough to write home about?
Tamales are generally considered a special occasion dish as they are handmade, one by one. This means the main ingredient is love: love of making tamales or love of the people you are making them for. In either case, tamales are a special treat.
If you think of tamales like an American sandwich, you open the possibility of dozens of variations and that is just what The Tamale Store has done. You will find the traditional chicken and beef tamales, but you will also find an adventure in imaginative combinations including monthly dessert tamale specials like blueberries and cream. I know! Sounds crazy, but wait until you hear more.
Remember, it's a shop. There are no tables, or wait staff, just friendly people to guide you through the chalkboard menu as items vary from day to day. There is always a fresh batch of tamales being made, and you can buy those hot and ready to eat, but the majority of tamales are sold frozen in packs of two or six. Frozen, you worry? Don't worry at all. Tamales are wonderful reheated and in fact, this is the best part of The Tamale Store formula. Because they are frozen, specially wrapped, sealed and marked with reheating instructions, you can have them anytime! My favorite time is at 2 am after coming home from the bars. I hope my mother isn't reading this.
As for pricing, I would say the average cost is around $3 per tamale, and I say average because there are price breaks on half-dozen and dozen batches. Here are some of the tamales I have brought home to eat at 2 am (and for lunch too, Mom):
Green Corn and Cream Cheese (vegetarian)
(fresh corn and mild New Mexican Hatch green chiles mixed into the masa with a mouthwatering cream cheese center)
This is not a tamale I would normally have ordered but the woman behind the counter, a member of the family who owns the shop, talked me into it and I'm glad she did. This was the first tamale I tried and I was hooked. This was one of the fresh (not frozen) ones I took home and I could barely contain myself on the ride home, it smelled so good. It was sweet, savory, rich, with a small amount of heat that enhanced the tamale and made you pay attention to the goodness. The masa was delicate and held together all of the different flavors. This is a must order.
Arizona Cornbread with Colby Jack (vegetarian)
(a marriage between a traditional green corn tamale and a warm slice of cornbread made with corn and jalapeño masa with a Colby Jack cheese center)
I brought this one home because of the great experience I had with the Green Corn and Cream Cheese tamale and sure enough, wow! It tasted like sweet cornbread with a gooey cheese center and a small jalapeño kick. The thing I like about The Tamale Store's use of spice is that it compliments and enhances the dish, never overpowers. I hate it when chefs add heat for heat's sake, just to make it hot, but love it The Tamale Store way when it makes all the flavors pop.
Chicken Green Chile
(all natural shredded chicken breast with mild salsa verde made from fresh tomatillos, cilantro, and roasted green chiles)
This was my first attempt at reheating a frozen tamale and there are two methods printed on the package. You can steam them or microwave them. Well, it's 2 am, which do you think I did? You simply wrap this traditional tamale in a damp paper towel and heat it for 4 minutes in the microwave and you've got yourself a delicious and satisfying late-night snack. The chicken was tender and the salsa verde was mild but there was some welcome spiciness to it. There was no difference from the reheated tamale in comparison to the hot, fresh one I ate earlier.
Beef Red Chile
(lean shredded beef with a mild red chile sauce made from all natural tomato sauce and an exotic blend of dried Mexican chiles)
This one is a traditional and very popular tamale, I was told. The beef is surprisingly tender, and the flavor of the whole tamale really worked. This was a reheat in the old microwave and I really couldn't tell that it didn't come right out of a steamer freshly made.
Chicken Mole (not gluten free)
(shredded chicken breast with a sweet and savory mole sauce made from mild Mexican chiles, cocoa, peanuts, cinnamon, and sesame seeds)
This was the only tamale on their extensive menu that wasn't gluten free. They use a small amount of flour to make the mole sauce. It was my favorite of the more traditional style tamales because of the way the flavors were combined so delicately. There are a lot of ingredients, yet it tasted so wonderfully simple. There is no heat here, not spicy at all, and I think this would be a favorite for those who avoid heat yet love flavor.
Every time I went, the special dessert tamale was sold out. This says something, I think. The Tamale Store has quite a following and sells only at farmers markets and out of their Cave Creek Road shop. Tamales make wonderful side dishes, main meals, and midnight snacks or hangover preventers, I am convinced. They have vegan tamales as well. Go get them, bring them home and enjoy this goodness anytime day or night.

---
---