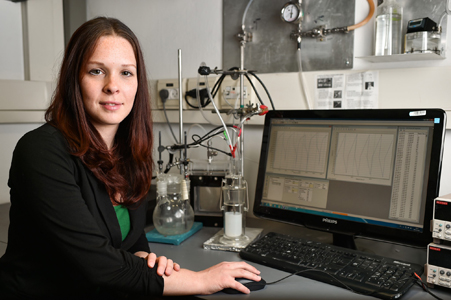 ---
Pictured above: Avigail Landman. Photo courtesy Technion
Avigail Landman is a Ph.D. candidate in the Grand Technion Energy Program and quickly becoming a rising star in the sustainability field, having been selected in a nationwide competition to represent Israel in the Falling Walls contest in Berlin, an international forum for up-and-coming creative thinkers.
At the end of February, Avigail was in Phoenix as part of Technion's annual U.S. Student Tour. The purpose of the tour is to share both Technion–Israel Institute of Technology's contributions to Israel (and the world) and the individual's personal stories as a student at the institute.
Avigail was born and raised in Haifa, Israel, and she attended high school right across the street from Technion. "I sort of always knew that was where I wanted to go when I grew up," she says. "Being from a Russian-Jewish family, it was subtly hinted that it was a good idea."
She developed an interest in science while in high school where she took physics, math and robotics. During her service in the Israel Defense Forces, she became interested in renewable energy.
"I had a long commute every day to the base, and I would spend the time reading and contemplating what I wanted to study," says Avigail. "That's when I decided I wanted to help the environment, and study something that will enable me to do that one day."
She started at the Technion in 2009 and received her bachelor's degree in biochemical engineering. She went on to get her master's, and now she is working on her Ph.D. Avigail is scheduled to finish in September 2019 – which will mark a decade for her at Technion.
Avigail is working on her doctorate under the guidance of Professor Avner Rothschild from the faculty of Materials Science and Engineering, and Professor Gideon Grader, dean of the faculty of Chemical Engineering.
In 2017, their research was published in Nature Materials. The article explains how they have developed a new approach to the production of hydrogen from water using solar energy.
"Hydrogen is a very energetic molecule, and it can be used to power houses, cars, etc.," says Avigail. "You convert the hydrogen back to electrical power and water using fuel cells."
This new process allows for the production of hydrogen at the point of sale (for example, at a gas station for electric cars fueled by hydrogen). By producing hydrogen in this way, it is expected to reduce the cost of shipping it to the customer significantly.
Aside from reducing the dependency on fossil fuels, another benefit of using hydrogen as a fuel is that water is the only byproduct.
After she receives her Ph.D., Avigail is unsure if she will go to industry or academics, but about one thing she's sure, "I still want to work on renewable energy, definitely. Either way, I'll probably do research. If I'm going to the industry, it will probably be research and development in the field of renewable energy."
She says that the advantages of staying at Technion for her whole college career are numerous. "This institute has the best facilities and equipment, not only in Israel but in the world," she says. "We have some very advanced equipment at Technion that you can use in your research. It's been great in all stages."
Another advantage to staying, "Never in my whole 10 years at the Technion have I felt discriminated against or 'lesser than,' " says Avigail. "On the contrary, Technion was the first place where I found out that I'm good at math!" She explains that in high school other kids would say that girls are not good at math. But when she got to the institute, she was encouraged to participate and ask questions. "I found out I was pretty good at it, and I liked it."
When she started her master's degree, she was introduced to many programs that Technion creates for women to advance in the sciences. "Technion initiates workshops, and it brings women from the industry and professors to speak to young students, and encourage them to follow this path," says Avigail. "As a woman, I think it's one of the best places to be."
Technion has universities in Israel and China, and the Jacobs–Technion Cornell Institute at Cornell Tech in New York City. To find out more, visit ats.org.

---
---