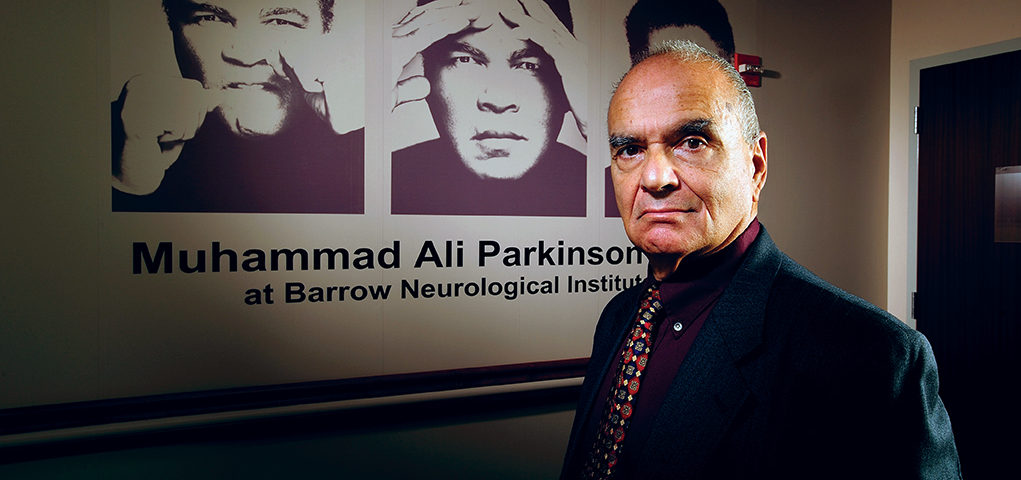 ---
When Abraham Lieberman, M.D., first arrived in Arizona in 1989 from New York, he started a clinic for those living with Parkinson's disease. It was a relatively small clinic with three doctors and a nurse. Little did he know what the future held in store for him.
Things began to change for Dr. Lieberman when he received an unexpected phone call from philanthropist Jimmy Walker. Jimmy had started Celebrity Fight Night to raise funds for boxers who were down on their luck. He had contacted Muhammad Ali, who told Jimmy to reach out to Dr. Lieberman to get the doctor involved. "I had known Muhammad Ali since 1984," says the doctor. "I met him in New York, and we became friends. I also treated him professionally."
Dr. Lieberman agreed to get on board if Barrow Neurological Institute, that he worked with, would receive some of the funds raised. "We did the next Fight Night, and I got St. Joseph's Hospital and Barrow involved, and we raised about $125,000. I thought that was terrific," he says.
"Muhammad Ali was probably one of the most recognized people in the world in the 1990s," says Dr. Lieberman. "Athletes loved him, and they would come to the event in support." Ali was diagnosed with Parkinson's disease in 1984.
In 1997, the Muhammad Ali Parkinson Center at Barrow Neurological Institute officially opened. "It really wasn't a 'center' then," jokes Dr. Lieberman. "It was just a couple of rooms." About 1,000 people showed up to the ribbon cutting.
At the opening, someone asked Dr. Lieberman what the probability was of there being a cure for Parkinson's disease in the next 10 years. "I don't know, but if you would have asked me 10 years ago what was the probability of a New York City Jew, Christians from Arizona and a Muslim from Louisville coming together on the campus of a Catholic hospital in Phoenix, AZ – well anything is possible," was his reply.
Ali had made it very clear that he wanted the money raised for the center to benefit the people, not research. "He said, 'Michael J. Fox does the research, I'm not going to compete with him, I want the money to go to patient services,'" explains Dr. Lieberman.
Ali felt that wherever he went, he was treated so well because he was Muhammad Ali, but he wanted everyone to experience that level of treatment. He wanted support groups to share information, exercise classes to keep patients moving and an outreach program at the center that bore his name.
Dr. Lieberman left Arizona briefly to work in academia at the University of Miami but returned to Phoenix in 2007. Upon his return, he says Ali told him he would like to see the center grow; it still was operating out of just a few rooms.
In 2009, Ali cut the ribbon on the 10,000-square-foot new center, which served about 400 new patients a year. "What I had learned while in Miami was that it was very important for patients with Parkinson's disease to have a full array of services (including) physical therapy, education, rehabilitation therapy, occupational therapy, speech therapy and social work," says Dr. Lieberman.
Today the center is 30,000 square feet and sees 10,000 patients a year. It retains its core mission of being very patient-oriented and offers a full outreach program, rehabilitation gym, 30 exam rooms, balance and gait lab, clinical research areas and numerous therapy services. "Every night we have programs for patients with Parkinson's disease," says Dr. Lieberman.
He is excited about the clinic's new telemedicine program. It is a project that Lonnie Ali, Muhammad's widow, wanted to see implemented. "It's hard for some of our patients to get to downtown Phoenix. It's difficult for them to drive," says Dr. Lieberman. "We can impact the whole state of Arizona through telemedicine and through the programs we've developed. It is going to make a difference, and we will be able to reach people who can't make it to the clinic."
Currently, Dr. Lieberman holds the titles of professor of neurology research, Lonnie and Muhammad Ali Movement Disorders Center at Barrow Neurological Institute and director of the Bob and Renee Parsons Fall Prevention Center. Holly Shill, M.D., was named the director of the Parkinson Center in 2015. The center has been named a National Parkinson's Foundation Center of Excellence.
"The money from Celebrity Fight Night, Muhammad and Lonnie Ali, and philanthropists have been key in keeping this a first-rate place," says Dr. Lieberman. "The treatment of the disease today is different than it was 20 years ago with more and more changes coming faster and faster, but the basic interaction between the patient and the doctor hasn't changed."

---
---