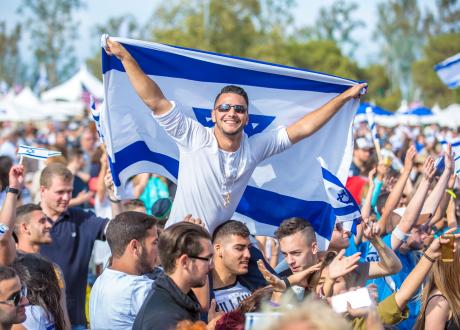 ---
 Community Mural
In celebration of Israel's 70th anniversary, the Valley of the Sun JCC has created a community mural featuring photos and memories of those who have visited Israel.
The mural will be on public display in the lobby at The J, 12701 N. Scottsdale Road, Scottsdale from April 8-30.
"The J is excited to present an Israel @ 70 mural to truly represent our community's love and passion for Israel with photographs, personal thoughts and a bit of Israel's history over the last 70 years. We invite everyone to be a part of it by joining us at The J at our opening event on April 8 or any time after throughout April," says COO Kim Subrin.
Family Shabbat: Happy Birthday Israel Dinner
April 13 at 6:30 pm
Valley of the Sun JCC, 12701 N. Scottsdale Road, Scottsdale
Celebrate Israel's 70th birthday with Israeli food, wine, music, dancing and entertainment for the kids. Your family will not want to miss it. Families of up to four members: $60 members; $75 guests; $18 per additional family member; $20 per individual. For more information, or to register, contact 480-634-4949 or youth@vosjcc.org.
Happy Birthday Israel ECC Celebration
April 15 from 9:30 to 11:30 am
Valley of the Sun JCC, 12701 N. Scottsdale Road, Scottsdale
Celebrate Israel's 70th birthday with fun activities, cookie decorating and more! Members: Free; Guests: $5 per family of up to four; $2 per additional person. For more information, or to register, contact 480-659-7769 or earlychildhood@vosjcc.org.
Israel @ 70 Festival
April 22 from 1 to 6 pm
The Weintraub Israel Center, along with the Jewish Federation of Southern Arizona, area synagogues and organizations, is excited to bring the Israel@70 celebration to Tucson. Join us to celebrate Yom Ha'atzmaut, Israel's 70th Independence Day, on April 22 from 1 to 6 pm, at the Tucson J and the Tucson Hebrew Academy, at the intersection of River Road & Dodge Blvd. Together, with an anticipated 8,000 festival goers, we will celebrate Israel's culture with live entertainment, music, a variety of food vendors, exciting booths, and fun and games for the entire family!
Celebration Overview
Parade – The celebration will begin with the UA Marching Band leading all of the religious school students, their parents and teachers, from the JCC tennis courts to the main stage at THA.
Shuk – A "shuk" (marketplace) will be created and booths will be rented to synagogues, agencies, organizations, art vendors, food trucks, etc.
12 Torches – This is a substantial opportunity to recognize people in the community whose work has made a difference for the state of Israel. Every congregation should consider nominating someone who has been active in supporting, promoting and building a bridge to/with Israel. The individual does not have to be a member of  the Jewish community.
For more information, visit jfsa.org/get-involved/weintraub-israel-center/israel-70-festival.
Family Shabbat Israel Night
April 20 from 5:45 to 8:30 pm
Congregation Anshei Israel, 5550 E. Fifth St., Tucson
Share an upbeat Shabbat celebration for families, with an Israeli sing-a-long and dancing, Israeli trivia bowl, and Israeli-style dinner. As with our regular Family Shabbat services, we will welcome Shabbat with rhythm, with movement, with ruach and with song. Come celebrate Israel with us! Join us and make friends, build community, learn about Judaism, and have fun! $25 per family (two adults & up to 4 children); adults (13+) $10 per person. RSVP needed by April 16 for dinner only. For more information, visit caiaz.org.
Celebrate Israel @ 70 Festival
April 29 from 2:30 to 7 pm
OdySea in the Desert, 9500 E. Via de Ventura, Scottsdale
Join the community in supporting and celebrating Israel. Presented by the Israeli American Council – IAC Arizona. For more information, visit israeliamerican.org/arizona.

---
---