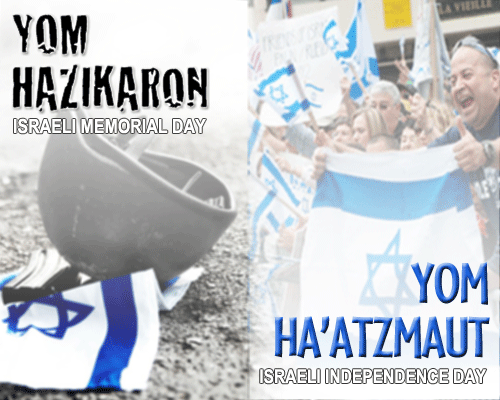 ---
Groups around the state are planning events to observe two Israeli holidays this month. Yom Hazikaron (Iyar 4/May 8, 2019) is Israel's day of remembrance for the men and women, boys and girls who lost their lives to war or terrorism. Yom Ha'atzmaut (Iyar 5/May 9, 2019) is the national independence day of Israel. It centers around the declaration of the state of Israel by David Ben-Gurion in Tel Aviv on May 14, 1948 (5 Iyar, 5708) and the end of the British Mandate of Palestine.
Yom Hazikaron – Memorial Ceremony
The Israeli American Council and the Israeli Scouts – Shevet Shemesh are presenting a community memorial ceremony for Israel's fallen soldiers and victims of terrorism on Tuesday, May 7 at 7 pm at Temple Chai at 4645 E. Marilyn Road in Phoenix.
For more information, visit shevetshemesh.com or israeliamerican.org/Arizona.
Yom Hazikaron in Tucson
Tucson's Weintraub Israel Center hosts a free memorial ceremony for the fallen at the Tucson Jewish Community Center at 3800 E. River Road in Tucson on Tuesday, May 7 from 6:30 to 8 pm.
Community rabbis will offer traditional memorial and mourner's prayers. There will be somber memorial music, stories of fallen soldiers, a historical exhibit and a Tucson Hebrew Academy choir performance. This program is not recommended for young children.
Weintraub Israel Center is a partnership between the Jewish Federation of Southern Arizona and the TJCC.
For more information, visit jfsa.org/get-involved/weintraub-israel-center or tucsonjcc.org/Israel or call 520-577-9393 or 520-299-3000.
Yom Ha'atzmaut Celebration
Celebrate Israel's birthday at the East Valley JCC at 908 N. Alma School Road in Chandler on Thursday, May 16 from 5 to 7:30 pm.
Activities include children's activities (bounce house, face painting, balloon twisting, juggling) Israeli dancing, music by Gal Drimmer and Erez Kessler and kosher food for purchase.
Tickets are $11 adults and $6 for children. For more information, visit evjcc.org/yom-haatzmaut.
Federation NowGen: Blue & White Night
The Jewish Federation of Greater Phoenix's NowGen group (adults in their 20's through 40's) invites you to celebrate Israel's independence on Saturday, May 18 from 9:30 pm to 2 am at a private Paradise Valley area home (address given upon registration).
The event features a live DJ playing Israeli tunes, unlimited hookah, Israeli food and bar featuring Israeli drinks.
The cost is $36 per person and includes access to the party, hookah, food and one drink ticket.
Register by May 10 at jewishphoenix.org/blueandwhite.
Celebrate Israel Festival
The Israeli American Council – Arizona is presenting a Celebration of Israel's 71st Independence Day on Sunday, May 19 from 4:30 to 9 pm at Moon Valley Country Club at 151 W. Moon Valley Dr. in Phoenix (near Seventh St. and Thunderbird Road).
Get ready to have fun and enjoy the best concert coming to Arizona from Los Angeles.
The event also features a DJ, kid's activities (face painting, balloon artist, bouncy house, henna artist), photo booth, teen zone and fun for adults! Kosher food and a bar will also be available.
Tickets are $5 per person and kids age 4 and under are free. For more information, visit israeliamerican.org/Arizona/celebrate-israel.

---
---