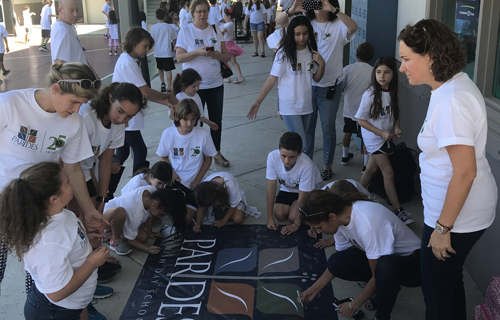 ---
Twenty-five years is a milestone for any institution and Pardes Jewish Day School is thriving as it enters its next quarter century. "We are constantly moving the school to be future ready," says Head of School, Peter Gordon. "And that means preparing our students for a future not yet imagined."
The power of being in a Jewish day school for these formative years is that students learn to find meaning, inspiration and purpose in their Jewish heritage as they navigate life's journey. In turn, with the combination of a strong secular education, Pardes develops its students into intellectually confident, ethically responsible, passionately engaged citizens and leaders who will become the creators of the future.
"We're not satisfied with the status quo," says Peter. "We are looking to the next 25 years of sustainability and excellence that will continue to speak to our values, programming, place within this community and trust of our constituents. That means ensuring that the teaching practices and curriculum continue to be at the highest possible level so that each student's experience, both secular and Jewish, results in passion and engagement that will inspire them to be their best selves."
The school's culminating celebratory event will highlight Pardes' STEAM (science, technology, engineering, arts, math) programs. The Silver STEAM Gala will take place on February 9 at 7:15 pm at Chateau Luxe in Phoenix and will include cocktails, live and silent auctions and dinner. "We decided to highlight STEAM because it encompasses so much of what we do at Pardes and where we are headed," says event chairs Andrea and Dan Kravets.
The entire community is invited to attend this event. To purchase tickets, visit pardesschool.org/silver-steam-gala.

---
---