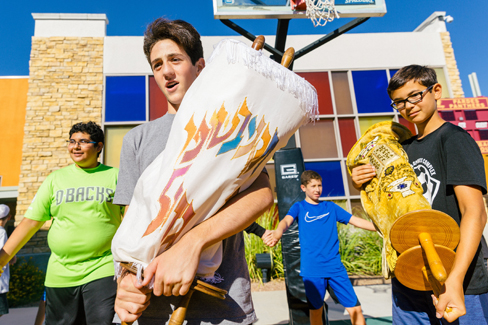 ---
Pictured above: Boys carrying the Torah at Pardes Jewish Day School. Photo by Josh Mason-Barkin
The Jewish Tuition Organization announced that its board has voted to broaden the organization's scholarship policy to accept recommended funds, effective Nov. 16, 2018. JTO supporters can now request that the money they give to the JTO go to the General Fund, one of its six affiliated schools' fund, or a specific student attending one of the six schools. Prior to the board's actions, the JTO did not accept recommended funds. The change in policy is answering the demand of many supporters in the community. "The JTO is a student tuition organization and as most student tuition organizations accept recommended funds the JTO did not want to lose those supporters," explains Executive Director Linda Zell. "It's understandable that people would want their dollars going to support a school or student about whom they care."
The General Fund will provide need-based only scholarships and the recommended funds will have additional criteria that needs to be met. Arizona law states that an STO cannot award, restrict or reserve scholarships solely based on donor recommendation. Swapping is prohibited, a taxpayer may not claim the tax credit if they agree to swap donations with another taxpayer.  Therefore, recommendations are not guaranteed and are at the complete and sole discretion of the STO per Arizona law. "Of course, we will do our best to honor recommendations, or what's the point of accepting them." says Linda.
The JTO prides itself on being a community organization. While STOs are allowed by law to retain 10 percent of all funds raised for overhead, the JTO keeps its budget very tight so that it can give more of the funds raised to the students. "We usually award about 93% of what we raise in scholarships," notes Linda. "We feel the JTO is here for the community and for the children in our schools, so the more we can help them the better it is for everyone – our students, our schools and our supporters."
To support the JTO, or for more information, call 480-634-4926 or visit jtophoenix.org.

---
---