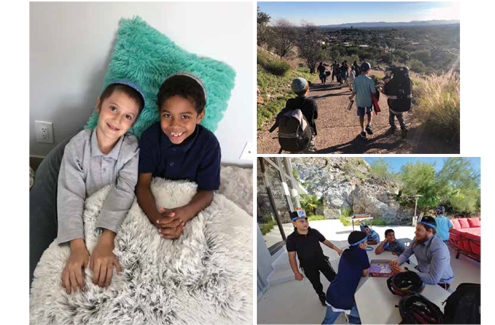 ---
Chaya Mushka Ben-Shabat and her husband, Mordechai are the founders of the Menachem Mendel Academy in Scottsdale – which may seem odd considering the two have no background in education.
"The way that we ended up where we are … we've traveled internationally over the last several years," says Chaya. "We have had our son in schools in three different continents and everywhere that we travel we have not been able to find a good solution for Jewish education."
Mordechai is a founding partner of Seacret, a global skincare and nutrition company that operates in more than 40 countries around the world. Chaya has been an entrepreneurial coach to professional women for the last 15 years.
"In business, if something is missing and you want it, you can wait forever and hope it comes out, or you can create it yourself," says Chaya. "It was never our plan to open a school, but we realized that if we waited any longer, our son would have gone through his entire upbringing in what we believed was a subpar educational system."
MMA opened for the 2018-2019 school year, teaching boys in grades 1 through 6, with a plan to add a new grade each coming year. For the 2019-2020 school year, they also plan on adding a girls' school at a separate location, close to the boys' school. A preschool and kindergarten program is scheduled to open in 2020.
"What we want is a community that has a fusion of strong academics for today's environment, that doesn't compromise on core values, that has full integration of both – but at the same time allows the kid to be a kid," says Chaya.
Through her coaching adults, she also noticed that there was an ongoing conversation that children today are lacking basic life skills. "Why aren't we teaching life skills – time management, emotional management, communications skills, people skills, money management, financial planning, long-term planning?" she asks. Why aren't we teaching these things to our children? Like how to change a tire or how to sew on a button."
Learning at MMA is centered around three educational pillars: Jewish life, academic excellence, and everyday life skills; all based on one overriding philosophy: making sure that they know themselves for their strengths and not for their challenges.
"We don't have all the answers, and we are not trained experts but what we do know how to do is to surround ourselves with the experts, to go get the right people and bring the right people to create what we want," she adds.
Chaya grew up in a household where both of her parents have multiple degrees, so she grew up understanding the importance of a good, strong education. She understands the importance of education from a Jewish perspective, although she was not raised in the faith
"I only found out I was Jewish seven years ago," she states. Through a combination of blood tests, genealogy records and a lot of research, she started putting the pieces of her heritage together. She discovered that there was an adoption in her family 10 generations back, and that's when everything fell into place.
"It has been a massive life change for me," says Chaya. "When I found out, I started looking into my roots and what it means to be Jewish. I'm an all-or-nothing kind of gal, so I really embraced it."
Mordechai was born and raised in Israel and moved to the United States after finishing his service as a paratrooper in the IDF. "When we first met, he was not observant at all," remembers Chaya. "So as I found my way and what it all means, he started on a parallel path as well."
Her and Mordechai keep kosher and are shomer Shabbat. The kitchen at MMA is also kosher, and they use only organic ingredients and serve minimally packaged foods.
The budget for each child at MMA is about $27,000 a year. "That is the cost of the level of quality education we are providing and creating," says Chaya. Their ultimate goal is to provide free education to all of their students, but for right now there is tuition that includes most activities and all meals and snacks.
"For me, my personal mission is to create a system where Jewish education once again becomes the benchmark to the rest of the world instead of having to apologize for where we're at," says Chaya. "If we can help the life of one child it's an important enough mission

---
---