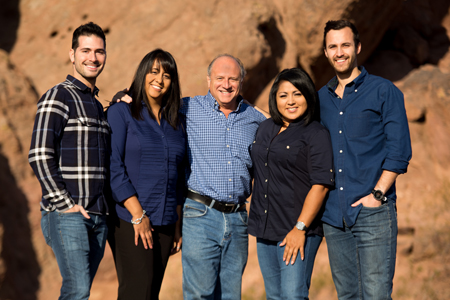 ---
Pictured above: The team from Olgin+Efune Recycling Company, from left, Chad Olgin, Julissa Portillo, Marc Olgin, Becky Palacio and Brad Efune.
Brad Efune and Chad Olgin have always been in each other's life – albeit indirectly. Brad is two years younger than Chad but they both attended The King David School (now closed and Pardes  Jewish Day School resides at that location) they both went to the University of Arizona, and they both worked for Tucson Iron and Metal while in college. Less than a year ago the two connected to become business partners.
Marc Olgin (Chad's father) has been in the recycling industry for 40 years. Chad has been involved in the family business for almost 10 years. Marc started in Pennsylvania, and alongside his father, Jerry, grew their business to become the 10th largest scrap metal recycling company in the country.
Marc moved to Arizona in 2004 and ran a facility here called Liberty Iron & Metal Holdings. Then in 2016, the Olgin family sold their interest in Liberty Iron.
Brad had been working for a recycling company in California and had been doing business with Marc and Chad. "I moved back to Arizona to be closer to my family, and I met with Chad and Marc," says Brad. "It was about a year after they had sold their company, and we decided to open up something ourselves."
The business they opened is Olgin+Efune Recycling Company. They are a wholesale recycler of ferrous (iron, steel, cast iron) and nonferrous (copper, aluminum, brass) metals.
Brad handles the nonferrous side of the business. "We ship copper, aluminum and brass mainly to China, Korea, Japan, Taiwan, India and Southeast Asia," he says.
He explains that once the metal gets shipped, it is melted down for use in various manufacturing needs. "Say we ship a load of high-grade copper to Korea. They melt it down and make it into copper foil or wire that goes into cell phone chips, chargers and medical devices," says Brad. "Every window frame you've ever seen is a made from a certain type of an alloy of aluminum. We sell our aluminum to an aluminum mill in the United States that makes window frames."
Marc handles the ferrous side – the steel and iron. Iron mainly stays in the United States. There is a large steel mill in Mesa. With steel, a lot of the scrap becomes rebar used in construction. The advantage to recycling metal is that the strength of the metal does not erode over time as plastic does.
Chad and Brad are newer players in the industry. "Marc is this old-school scrap guy, and Chad and I are more recycling-minded and trying to add value to supply chains and shift focus," says Brad. "We are not a scrapyard; we are a recycling company."
Brad says that in the early 1940s the scrap metal business was probably 90% Jewish owned. It all started in Detroit, Indiana and the Midwest – where the auto manufacturers were located. "It was considered such a lowly business – taking apart junk cars – that the only people that really did it were these old-school Jewish guys who found a way to monetize it. I would say today that all the big players in the industry still are Jewish."
He jokes, "Any convention you go to you could probably have five different minyans every day."
Since it is an "older generation" business there tends to be a lot of nepotism in the industry as children learn the business from their fathers and grandfathers. Brad estimates that there are about 50 people in the industry in the United States, and they are a very tight-knit group driven to succeed.
Brad says that a lot of people ask him if he's a "junk guy." He jokes, "I always tell girls I'm a commodities trader. So she doesn't run away until she actually gets to know me."
He admits that he if anyone had told him this would be his occupation 10 years ago, he wouldn't have believed them.
"There is a whole other world that exists after you drop something in the trash can or drop your old refrigerator off," says Brad. "There is a lot of machinery that has put recycling ahead of where it was even a few years ago. Trash is cash."
To find out more about Olgin+Efune Recycling Company, visit oerc.com.

---
---