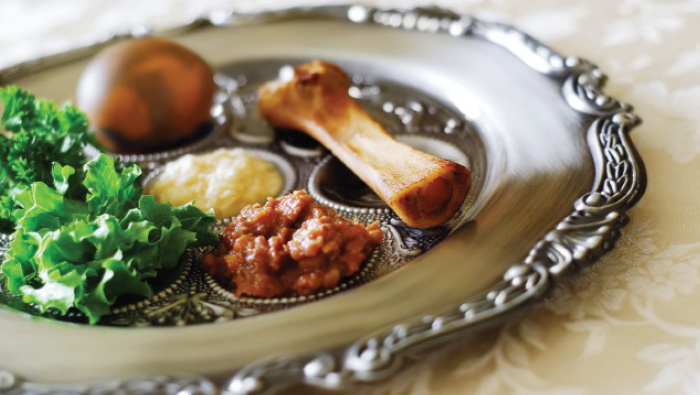 ---
When we think of Passover, we think of food. Yes, of course there's more to the holiday than just matzah. But everything we do to prepare for the seder and plan for a week without chametz (bread and other leavened foods) brings us back to old favorite dishes and new adaptations.
We asked our readers to submit recipes that please the palates of their friends and families. And they did not disappoint. Choosing the winners was no easy task – they all sound so delicious. In fact, our judges have been inspired to adopt some of them for their own Passover menus this year.
The winning dishes from our Passover Recipe Contest are featured here, along with the stories behind them. Grand Prize winners in each category received a gift certificate for a one-night stay from The Phoenician in Scottsdale. Runners-up were given autographed editions of The Seasonal Jewish Kitchen by Amelia Saltsman.
We want to thank everyone who entered the contest. You can find their mouthwatering recipes after the winners listed on this page.
Classic Traditions Grand Prize
Floymen Tsimmes (Sweet Potato and Prunes with Matzah Balls)
Submitted by: Esther Zack, Scottsdale
"Because my mother cooked for a large family before she became a professional Jewish cook (Lill the Cook), we all got to sample all her fabulous recipes. We watched her lovingly prepare these dishes and carried on the tradition with our own family seders!"
Ingredients:
olive oil, enough to coat the bottom of a heavy pot
1 large onion, sliced thin
2 pounds short ribs, cut apart so that each rib is separate
6 large sweet potatoes, peeled and cut into 2-inch pieces
1 tablespoon salt
1 teaspoon pepper
8-10 pitted prunes
1 box Passover matzah ball mix
Directions:
In a heavy pot, lightly saute the onion in olive oil until slightly brown.
Add the short ribs and brown for 5-10 minutes.
Add the sweet potatoes and enough water to cover them; add salt and pepper. 4.  Cover and cook for 1 hour over medium heat.
Add the pitted prunes and continue cooking.
Prepare the matzah ball mix per package instructions and drop balls onto the top of the meat, potato and prune mixture. Cover and cook another half hour.
Uncover and stir the matzah balls into the mix and finish on low for 30 minutes.
Serve hot.
Classic Traditions Runner Up
Passover Matzo Charlotte
Submitted by: Carol Abrams, Scottsdale
"This recipe was given to me by my friend Susan Lorant many years ago when we were living in and raising our families in Highland Park, IL. I always thought it was an old family recipe of hers. Her parents were from Germany and thankfully were able to get to England during the early days of World War II. Susan always made this kugel for second seder, which we celebrated together when our children were growing up. After I submitted the recipe for the 2nd Annual Kugl Kukh-off, sponsored by YiddishKeit LA, back in 2008, I learned the real origins of the recipe! I called Susan, by then retired to Prescott, to gleefully tell her the recipe had won Grand Prize in the contest ('Best of Show,' in my words!). She informed me then that the recipe was actually given to her by a relative who had grown up in Atlanta, and was most likely from either a temple cookbook or newspaper feature on Passover recipes, at least 50 years ago. Though our children have grown up and scattered across the country, it's the holiday recipes that continue the traditions – and evoke the happy memories of past seders."
Ingredients:
The first set of proportions are for a 13 x 9 inch pan; the ones in parenthesis are for a 1½ quart square casserole.
4½ (3) pieces of matzah
9    (6) eggs
1    (½) cup sugar
1    (½) teaspoon salt
½   (¼) teaspoon cinnamon
6    (4) apples, grated
1    (½) cup raisins
1    (½) cup chopped almonds
grated rind of 1½ (1) orange
Topping:
½   (¼) teaspoon cinnamon
1½ (1) tablespoon sugar
½   (¼) cup melted butter or margarine
Directions:
Preheat oven to 350 degrees.
Crumble matzah into water and soak until soft. Squeeze out all excess moisture.
Add the eggs to a mixing bowl and beat well.
Add the sugar, salt and cinnamon. Continue beating until well blended.
Mix in the matzah, apples, raisins, almonds and orange rind.Pour into a well-greased pan.
Combine cinnamon and sugar for topping, and sprinkle over pan mixture.
Pour melted butter or margarine over all. Bake uncovered at 350 degrees until firm and browned, approximately 45 minutes.
This dish may be partially cooked the day before and reheated to finish browning.
Modern Adaptations Grand Prize
Passover Mud Pie
Submitted by: Ora Kurland, Cave Creek
"Clearly, this is not a classic dish!  Our family loves chocolate and chocolate/raspberry combinations, so this recipe fits the bill perfectly! Everyone who has shared this dessert with us over the years is astounded that it's kosher for Passover and pareve.
Ingredients:
1 cup margarine (or butter if you're serving a dairy meal)
2 cups sugar
8 eggs
12 ounces semisweet chocolate chips
2 cups almonds, cashews or hazelnuts, ground to the texture of cornmeal
2/3 cup matzah cake meal
1 jar of jam or preserves (raspberry is best!)
Directions:
Preheat oven to 375 degrees.
Grease bottoms of two 9-inch cake pans.
In a large bowl, combine margarine and sugar. Beat until fluffy, then mix in eggs.
Melt chocolate in a double boiler. Allow to cool for a minute, then add to the margarine, sugar and egg mixture. Stir in nuts and matzah meal and mix well.
Pour mixture into cake pans and bake 25 to 30 minutes until cake tests done.
When cakes have cooled, turn out and spread jam on one cake layer and top with the other layer.
Top with another layer of jam and decorate with chocolate chips
Modern Adaptations Runner Up
Rice-less Mushroom Risotto
Submitted by: Levi Gettleman, Scottsdale
"This contemporary dish is a new part of my Passover because, in my family, everyone loves pasta dishes. But this love of pasta and Italian food makes Passover difficult. That is why I developed this risotto; to have wonderful Italian food, during Passover, without the rather gross, store bought, kosher for Passover noodles."
Ingredients:
2 tablespoons olive oil
½ cup (approximately) cauliflower, riced or finely chopped
2 cloves minced garlic, divided
6 tablespoons butter, divided
½ of an onion, diced
1 ½ – 2 cups chopped mushrooms
2 sprigs fresh thyme, leaves removed from the stem
3 tablespoon heavy cream
2-3 tablespoons of fresh grated parmesan, plus more for garnish
salt and pepper to taste
Directions:
In a skillet, heat the olive oil. Add the cauliflower and 1 clove of minced garlic. Sauté until the cauliflower resembles the texture of rice. Remove from skillet, set aside.
In the same skillet, heat 2 tablespoons of the butter. Add the onion, remaining garlic and mushrooms. Sauté until the onions are translucent and mushrooms have softened. Add the thyme.
Combine the cauliflower and the mushroom and onion mixture.
Add the remaining 4 tablespoons of butter and 3 tablespoons of heavy cream. Mix until creamy, then stir in the parmesan.
Add salt and pepper to taste.
Serve warm with additional fresh parmesan for garnish.
…and more recipes from our readers
Tzimmes With Sweet Potato, Prunes, Apricots, Carrots & Flanken
Submitted by: Barry Berger
Ingredients:
3 pounds of flanken
salt and pepper
onion powder
garlic powder
2 pounds carrots, sliced
3 large sweet potatoes, cubed
1 small onion
½ pound dried apricots
½ pound pitted prunes
2 tablespoons sweet butter
2 tablespoons potato starch
¾ cup brown sugar
Directions:
Season the meat well with salt and pepper, onion powder and garlic powder.
Place the meat into a 6 quart pot and marinate in the refrigerator for about 3 hours.
Remove meat from the refrigerator, cover with water and bring to a boil. Turn heat down to simmer and cook for about 2-1/2 hours or until meat is tender. Add carrots, sweet potatoes, onion, apricots and prunes and cook for another ½ hour.
In a small pan, melt the butter. Add the potato starch to the butter and stir until smooth. Add brown sugar, salt and pepper to taste.
Preheat the oven to 350 degrees.
Transfer all to a 10x15x3 inch oven-proof pan or dish. Pour the sauce over everything and bake for an hour or until all vegetables are glazed and lightly browned.
Pesach Matzah Granola
Submitted by: Peggy Langert
Ingredients:
4 cups farfel
½ cup nuts
¾ cup coconut
½ cup honey
½ cup oil
½ cup raisins
Directions:
Preheat oven to 325 degrees.
Mix farfel, nuts and coconut. Add honey, oil and mix well.
Spread in large oiled pan (I use a large roasting pan) and bake for 30 min. Make sure to stir every 10 minutes to ensure even browning. When cool, add raisins.
Potato Kugelettes – no flour
Submitted by: Barbara Mark-Dreyfuss
Ingredients:
4 potatoes
1 onion
1 egg
½ teaspoon minced garlic
1 teaspoon salt
¼ teaspoon pepper
1 teaspoon canola oil
Directions:
Preheat oven to 400 degrees.
Grate potatoes on grater or in food processor. Mix all ingredients together.
Grease 2, 12-count muffin tins. Fill each cup 1/2 full.
Bake for 45 minutes to 1 hour until brown. Let cool for 20 minutes.
Remove from tins and serve hot.
Flourless Chocolate Cake
Submitted by: Sally Brodkin
Ingredients:
½ pound dark, bittersweet chocolate
4 ounces unsalted butter (optional – makes a richer cake)
6 eggs, separated
1/3 cup sugar
1 cup ground almonds
matzah meal
Directions:
Preheat the oven to 350 degrees. Grease a 9×3 round springform pan, line bottom with greased parchment paper. Dust with matzah meal. Shake out excess.
Melt the chocolate in a double boiler. (If using butter add to the pot together with the chocolate).
Beat the egg yolks with the sugar till pale. Add the ground almonds and the melted chocolate and mix very well.
In a separate, large bowl, beat the egg whites until stiff and fold them in.
Pour the mixture in the prepared pan and bake for 45 minutes. Cool pan on a wire rack.
Remove sides of the cake pan. Invert cake onto a plate. Remove bottom of pan and parchment paper. Cool completely. Place a doily on the surface, and sprinkle confectioners' sugar over the top to leave a pattern. Carefully lift off the doily and discard.

Sweet Potato and Apple Kugel Recipe (vegetarian/vegan)
Submitted by: Susan Shrager
Ingredients:
3 apples, peeled and grated (Granny Smith is recommended)
6 small-medium sweet potatoes, peeled and grated
1 cup raisins
1 cup walnuts or almonds, chopped (optional)
½ teaspoon nutmeg
1 teaspoon cinnamon
1 cup matzah meal
1 cup of water
¼ cup orange juice or lemon juice (optional)
Directions:
Preheat oven to 375 degrees.
Place apples and sweet potatoes in medium to large bowl along with raisins, nuts, nutmeg and cinnamon. Mix well.
Alternate adding the matzah meal and water, a small amount at a time, mixing after each addition.
If desired sprinkle orange or lemon juice over the top.
Gently press mixture into a non-stick baking pan.
Bake for 45 minutes, or until lightly crisp on top.

---
---